Wasser 3.0 gGmbH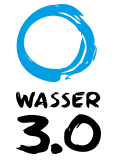 Exhibitor Profile
Wasser 3.0 is an award-winning GreenTech startup enabling new standards in (waste)water treatment by combining high-tech materials, low-tech processes, and a systemic perspective.
We offer economically and ecologically meaningful solutions for micropollutants and microplastics in waters. With our strategy detect | remove | reuse, we take a completely new approach to the complexities and diversity of (waste)water treatment making new levels of efficiency and sustainability possible.
Wasser 3.0 detect is a simple, fast, and low-cost detection and process control method for microplastic. It enables for the first-time on-site process control.
Wasser 3.0 PE-X® is the world's first filter-free process that removes microplastics and/or micropollutants from waters. It uses non-toxic organosilanes and an agglomeration-fixation: The agglomerates float to the surface and can be easily skimmed off. We achieve removal efficiencies of reproducible > 95 %, independent of polymer type, pH, and pollutant concentration in any kind of water.
Considering waste/water a resource, we close the loop with Wasser 3.0 reuse. The discharged agglomerates of our removal processes become the basis for new products. Treated waters can be either reused as process water or deployed as micropollutant-free wastewater.
The optimal interaction within our strategy Wasser 3.0 detect | remove | reuse delivers ECO³: (1) saving water, energy, and costs; (2) reducing waste; (3) improving water quality.
Products / Markets
Product Index
Abscheider – Fest/Flüssig
Abwasserfilter
Analytische Messtechnik
Chemikalien für die Vorbehehandlung
Entsalzung
Flockungsmittel
Forschunganlagen
In-Line Qualitätskontrolle/Prozesskontrolle
Meerwasserentsalzung
Mikrofiltration
Nanofiltration
Partikelanalysemethoden
Pilotanlagen
Poröse Kunststoffe
Schlammentwässerung
mobile Filtrationseinheit
Market Scope
Abwasserwirtschaft
Chemische Industrie
Filtrations- und Separationsindustrie
Kunststoffverarbeitende Industrie
Lebensmittel-,Getränkeindustrie
Textilindustrie
Umweltschutz
Wasserbehandlung, versorgung
Zellstoff-, Papierindustrie
Product Index
Analytical Instruments
Chemicals for Pretreatment
Desalination
Flocculants
In-line quality control / process control
Microfiltration
Mobile Filtration Unit
Nanofiltration
Particle Measuring Methods
Pilot Plants
Porous Plastics
Research Plants
Sea Water Desalination
Separators - Solid/Liquid
Sludge Dewatering
Waste Water Filters
Market Scope
Chemical Industries
Environmental Protection
Filtration and Separation Industry
Food, Beverage Industry
Plastic Industry
Pulp, Paper Industry
Textile Industry
Waste Water Treatment
Water Treatment, Supply
Product Index
凝聚剂
分析仪器
分离器 固体/液体
化学预处理
在线质量控制/过程控制
多孔塑料
废水过滤器
微孔过滤
污泥脱水
海水淡化
研究设施
移动式过滤装置
纳米过滤
脱盐
试验工厂
颗粒测量方法
Market Scope
化学工业
塑料工业
废水处理
水处理、供应
环境保护
纸浆、造纸工业
纺织工业
过滤与分离工业
食品、饮料工业
Product Index
البحر تحلية المياه
التحاليل
الطيار النباتات
الفلترة الدقيقة
الفلترة الميكروية
بحث التسهيلات
تثقيب البلاستيك
تحلية المياه
سحب المياه من الأوحال
طرق قياس الجسيمات
فلاتر ماء التصريف
فواصل المواد الصلبة والسوائل
في خط مراقبة الجودة / التحكم في العمليات
كيماويات المعالجة الأولية
وحدات تلبد
وحدة ترشيح متنقلة
Market Scope
التغذية بالمياه وتصريفها
الصناعات الغذائية وصناعة المشروبات
الصناعة الكيماوية
الصناعة النسيجية
الصناعة الورقية
صناعات الفلترة وفصل المواد
صناعة الألبان
صناعة البلاستيك
معالجة مياه الصرف
Product Index
Contrôle de la qualité / contrôle en ligne processus
Desalination
Dessalement de l'eau de mer
Egouttage de boues
Filtres pour eau usées
Floculants
Installations de recherche
Installations pilotes
Instruments analytiques
Matières synthétiques poreuses
Microfiltration
Méthodes de mesures de particules
Nanofiltration
Produits chimiques de prétraitement
Séparateurs – solides/liquides
Unité de filtration mobile
Market Scope
Industrie chimique
Industrie de filtration et de séparation
Industrie de la pâte de cellulose et du papier
Industrie des matières synthétiques
Industrie laitière
Industrie textile
Industries alimentaires et des boissons
Traitement des eaux usées
Traitement d'eau, alimentation
Product Index
Agenti flocculanti
Controllo qualità in linea/ Controllo processo
Desalinazione
Desalinazione acqua marina
Disidratazione dei fanghi
Filtri acque reflue
Impianti di ricerca
Impianti pilota
Metodi di misurazione particelle
Microfiltrazione
Nanofiltrazione
Plastiche porose
Prodotti chimici per pretrattamento
Separatori - solido/liquido
Strumenti analitici
Unità di filtrazione mobile
Market Scope
Protezione ambientale
Settore alimenti e bevande
Settore chimico
Settore filtrazione e separazione
Settore industria dell carta e della cellulosa
Settore industria tessile
Settore plastica
Trattamento acque reflue
Trattamento approvvigionamento acqua
Product Index
Chemikalia do wstępnej obróbki
Filtry ścieków
Flokulanty
Instalacje badawcze
Instalacje pilotażowe
Kontrola jakości filtrów połączonych szeregowo/ Kontrola procesu
Metody pomiaru cząsteczek
Mikrofiltracja
Mobilna jednostka filtracyjna
Nanofiltracja
Narzędzia analityczne
Odsalanie
Odsalanie wody morskiej
Odwadnianie osadu
Plastik porowaty
Separatory - Ciała stałe/ciecze
Market Scope
Filtrowanie i separacja
Ochrona środowiska
Oczyszczanie ścieków (waste water)
Przemysł celulozowo-papierniczy
Przemysł chemiczny
Przemysł spożywczy
Przemysł tekstylny
Przemysł tworzyw sztucznych
Uzdatnianie wody i zaopatrzenie w wodę
Product Index
Desalination
Filtros de águas residuais
Floculantes
Instrumentos analíticos
Microfiltração
Métodos de medição de partículas
Na linha de controle de qualidade / controle de processo
Nanofiltração
Pesquisa Instalações
Plantas Piloto
Plásticos porosos
Químicos de pré-tratamento
Secagem de lamas
Separadores - sólidos/líquidos
Unidade de filtração móvel
Água do Mar Dessalinização
Market Scope
Indústria alimentar, de bebidas
Indústria de filtragem e separação
Indústria dos plásticos
Indústria leiteira
Indústria têxtil
Indústrias químicas
Pasta, indústria do papel
Tratamento de água de despejo
Tratamento de água, abastecimento
Product Index
Аналитические инструменты
В он-лайн контроля качества / управление процессом
Микрофильтрование
Нанофильтрация
Научно-исследовательских учреждений
Обезвоживание осадка
Опреснения морской воды
Пилотные установки
Пористые пластики
Реагенты для предварительной обработки
Сепараторы – твердые вещества / жидкости
Способы измерения частиц
Фильтры сточных вод
Флокулянты
мобильная установка фильтрации
опреснение
Market Scope
Бумажная промышленность
Молочная промышленность
Отрасль фильтрации и сепарирования
Очистка воды, водоснабжение
Очистка сточных вод
Производство пластмасс
Производство продуктов питания и напитков
Текстильная промышленность
Химическая промышленность
Product Index
Control de calidad / control de procesos en línea
Desalination
Deshidratación de lodos
Filtros de agua residual
Floculantes
Instalaciones de investigación
Instrumentos analíticos
Microfiltración
Métodos de medición de partículas
Nanofiltración
Plantas Piloto
Plásticos porosos
Sea Water Desalination
Separadores - sólido/líquido
Sustancias químicas de tratamiento previo
Unidad de filtración móvil
Market Scope
Industria de la alimentación y las bebidas
Industria de la filtración y la separación
Industria de la pasta de madera, el papel
Industria de los plásticos
Industria de los productos lácteos
Industria textil
Industrias químicas
Tratamiento de aguas residuales
Tratamiento, suministro de agua
Product Index
Analitik Cihazlar
Araştırma Tesisleri
Atıksu Filtreleri
Deniz Suyu Arıtma
Gözenekli Plastikler
In-line kalite kontrol / proses kontrol
Mikrofiltrasyon
Mobil filtrasyon ünitesi
Nanofiltrasyon
Partikül Ölçüm Yöntemleri
Pilot Tesisler
Separatörler - Katı/Sıvı
Topaklaştırıcılar
Tuz Giderme
Çamur Susuzlaştırma
Ön Arıtma Kimyasalları
Market Scope
Atıksu Arıtma
Filtrasyon ve Ayırma Endüstrisi
Gıda, İçecek Endüstrisi
Kimya Endüstrisi
Plastik Endüstrisi
Selüloz, Kağıt Endüstrisi
Su Arıtma, Temin
Tekstil Endüstrisi
Çevre Koruma
Product Index
나노 여과
다공질 플라스틱
모바일 여과 장치
분리기 - 고체/액체
분석 장치
슬러지 탈수
연구 시설
응집제
인라인 품질 관리/공정 관리
입자 측정 방법
전처리용 화학물질
정밀 여과
탈염
파일럿 플랜트
폐수 필터
해수 담수화
Market Scope
섬유 산업
수질 관리, 수자원 공급
식음료 산업
여과 및 분리 산업
제지, 종이 산업
폐수 처리
플라스틱 산업
화학 산업
환경 보호
Product Index
インライン品質管理・プロセス制御
ナノ濾過
パイロットプラント
凝集剤
分析機器
分離機 - 固形・液体
前処理用薬品
多孔質プラスチック
廃水フィルター
汚泥脱水
海水淡水化
研究用プラント
移動式濾過ユニット
粒子測定方法
精密濾過
脱塩
Market Scope
パルプ、製紙業界
プラスチック業界
化学工業
水処理および関連製品
汚水処理
濾過および分離技術工業
環境保護
繊維業界
食品、飲料業界
Press release
This is Wasser 3.0 gGmbH and our vision and mission
Founded in May 2020, Wasser 3.0 is a German non-profit company, which emerged from a university research project with a holistic vision: Clean water – worldwide. Inventor, founder, CEO and former junior professor for organic and ecological chemistry Dr. Katrin Schuhen has been on her mission for water purification since 2012.
This includes the implementation of strongly application-orientated research projects for the detection and elimination of microplastic (and micropollutants) from waters. Aligned with the SDGs, Wasser 3.0 aims to push innovation, resource efficiency and circular economy in wastewater treatment to new levels along with awareness raising campaigns for environmentally responsible behaviors.
We are a small team operating in network structures with partners from science and industry. With interdisciplinary know-how and highest levels of motivation, energy and idealism, Wasser 3.0 is driven to act for planet & people – generating impact by sustainably removing microplastics (and micro-pollutants) from water and reusing microplastics after its removal – across value chains and following the circular economy criteria.
Detecting and permanently removing microplastics and micropollutants in water presents science and industry with enormous challenges. Limit values have been discussed politically for years, but have not been adopted. With its approach, its potentials and goals, Wasser 3.0 is in a scientific, economic-industrial and socio-political area of tension. In order to continue to act solution-oriented and cooperatively in this area of tension and to successfully develop the approaches of Wasser 3.0, we have clearly positioned ourselves with the gGmbH in the interests of the common good and environmental protection.
With Wasser 3.0 PE-X® we can demonstrate the world's first process that removes microplastics from water sustainably and efficiently: procedurally very simple, cost-effective, low-maintenance and without negative effects on adjacent ecosystems. At the end of the process, there remains clean water, a recycling of the waste products and the protection of the sewage sludge from contamination by microplastics. All innovation areas of Wasser 3.0 PE-X® are in ongoing patenting processes and have been successfully piloted in municipal German sewage treatment plants as part of the 4th cleaning stage, in industrial processes and also for salt water applications since 2019.
The market transfer for use in sewage treatment plants (in combination with the fourth cleaning stage) and as an individual solution for industries is currently in the start-up phase.
Conference Presentation/s
Novel method for removal of microplastics from various waters using organosilanes
M. Sturm, D. Schober, A. Korzin, Wasser 3.0 gGmbH / abcr GmbH; S. Haubensack, K. Schuhen*, Wasser 3.0 gGmbH, Germany
Presentation at FILTECH 2022 Conference
Microplastics (MP) are ubiquitous in the aquatic environment and need to be removed. A new method uses organosilanes, based on Green Chemistry, for the removal of MP from various waters. When organosilanes are added to water containing MP, they attach to the surface of the microplastics, collect them, form agglomerates and fix them chemically. The trick is that MP agglomerates then float onto the surface and do not sink down to the ground. An easy separation with a skimmer leads to a reproducible MP removal efficiency of > 95%, independent of polymer type and concentration.
To ensure the functionality of the removal processes - and to generally identify microplastics hotspots and sources in the global watercycle -, microplastics in the water need to be quantified. However, microplastics´ monitoring in waters with conventional methods is very complex, time-consuming and expensive. Therefore, we developed a new approach to detect microplastics fast and inexpensive using fluorescent dyes. Those are selective for microplastics, which makes them easily detectable using a fluorescent imaging device. In the sense of a future circular economy, we also investigate ways to reuse and recycle the microplastics agglomerates from the treated water. One promising approach is the use in concrete production. Another, but less favorable approach, is energy production.
Summarized, Wasser 3.0 applies a holistic concept for the detection, removal, and reuse of microplastics from wastewater, industrial process water, seawater, and freshwater systems. It achieves environmental protection, sustainability, and resource efficiency with low-tech, low-maintenance and low-cost solutions...
...