Wetzel Technologies Europe GmbH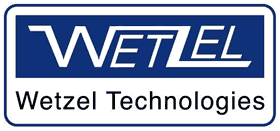 Exhibitor Profile
Wetzel Technologies bietet maßgeschneiderte Lösungen zur Verbesserung der Effizienz von Filtrationsprozessen in Normaltemperatur- oder Hochtemperatur- Luftfilteranwendungen an sowie Standardfilterprodukte oder individuelle kundenspezifische Filterlösungen in der Automobilindustrie, für Gasturbinen und Kompressoren, für Lebensmittel- umd Getränkeanwendungen, in der Chemie- und Pharmaindustrie oder Reinraumanwendungen.
Wir sind stolz darauf, dass unser Sortiment an innovativen, zertifizierten Filterprodukten in allen Filterklassen in unseren eigenen hochmodernen Produktionsstätten entwickelt, konstruiert und gebaut wird. Wir streben an, Sie mit einer optimalen Leistung vom Produktdesign bis zur Auslieferung zufrieden zu stell
Wetzel Technologies offers customized solutions to improve the efficiency of filtration processes in normal temperature or high temperature air filter applications and also standard filter products or individual customer-specific filter solutions in the automotive industry, for gas turbines and compressors, for food and beverage applications, in the chemical and pharmaceutical industry or clean room applications.
We are proud that our range of innovative, certified filter products in all filter classes is developed, designed and built in our own state-of-the-art production facilities. We strive to satisfy you with optimum performance from product design to delivery.
Products / Markets
Product Index
Adsorptionsfilter
Filterelemente
Filterpatronen
Filterrahmen
Hepa-Filter
Lackfilter
Vorfilter
Market Scope
Agrarwirtschaft
Automobilindustrie
Chemische Industrie
Farben-, Pigment-, Beschichtungsindustrie
Filtrations- und Separationsindustrie
Lebensmittel-,Getränkeindustrie
Medizintechnik, Health Care Industrie
Mineralöl/Öl/Gasproduktion
Pharmazeutische Industrie
Umweltschutz
Product Index
Adsorption Filters
Filter Cartridges
Filter Elements
Filter Frames
HEPA Filters
Paint Filters
Pre-Cleaning Filters
Market Scope
Agriculture
Automotive Industry
Chemical Industries
Environmental Protection
Filtration and Separation Industry
Food, Beverage Industry
Medical, Health Care Industry
Mineral / Oil / Gas Production
Paint, Pigments, Coatings Industry
Pharmaceutical Industry
Product Index
吸附式过滤器
对于过滤器框架
滤筒
滤芯
漆雾过滤器
预先清洁式过滤器
高效粒子空气过滤器
Market Scope
 农业
 汽车工业
制药工业
化学工业
医疗卫生保健业
油漆、颜料、涂料工业
环境保护
矿产/石油/天然气业
过滤与分离工业
食品、饮料工业
Product Index
"فلاتر هواء عالية الفاعلية ""هـيبا"" HEPA"
إطار لل مرشح
خراطيش فلتر
فلاتر إمتصاص كيماوي
فلاتر التنظيف الأولي / المسبق
فلاتر دهانات
قطع فلاتر
Market Scope
إنتاج المعادن والزيوت والغاز
الصناعات الدوائية
الصناعات الطبية والعناية الصحية
الصناعات الغذائية وصناعة المشروبات
الصناعة الكيماوية
الهندسة المعمارية
صناعات الفلترة وفصل المواد
صناعة الألبان
صناعة الدهانات والصبغات والتلبيس
صناعة السيارات
Product Index
Cadres pour filtres
Cartouches de filtres
Eléments de filtre
Filtres HEPA
Filtres de prénettoyage
Filtres à adsorption
Filtres à pentures
Market Scope
Agriculture
Industrie automobile
Industrie chimique
Industrie de filtration et de séparation
Industrie de peintures, pigments et revêtements
Industrie laitière
Industrie médicale et de la santé
Industrie pharmaceutique
Industries alimentaires et des boissons
Productions minérales / pétrolière / du gaz
Product Index
Cartucce filtri
Elementi filtranti
Filtri di assorbimento
Filtri hepa
Filtri per pittura
Prefiltri
Strutture filtro
Market Scope
Agricoltura
Produzioni minerali / petrolio / gas
Protezione ambientale
Settore alimenti e bevande
Settore automobilistico
Settore chimico
Settore filtrazione e separazione
Settore medicale e sanità
Settore parafarmaceutico
Settore pitture, pigmenti e rivestimenti
Product Index
Elementy filtra
Filtry HEPA
Filtry adsorbcyjne
Filtry powlekane
Filtry wstępne
Ramy filtrów
Wkłady filtra
Market Scope
Filtrowanie i separacja
Ochrona zdrowia
Ochrona środowiska
Produkcja farb i lakierów
Przemysł chemiczny
Przemysł farmaceutyczny
Przemysł samochodowy
Przemysł spożywczy
Rolnictwo
Wydobycie minerałów, ropy i gazu
Product Index
Cartuchos filtrantes
Elementos filtrantes
Filtros absolutos (HEPA)
Filtros de adsorção
Filtros de tinta
Pré-filtros
Quadro de filtros
Market Scope
Agricultura
Indústria alimentar, de bebidas
Indústria automóvel
Indústria de filtragem e separação
Indústria farmacêutica
Indústria leiteira
Indústria médica, cuidados de saúde
Indústrias químicas
Pintura, pigmentos, indústria de revestimentos
Produção mineral / óleo / gás
Product Index
Абсорбционные фильтры
Рамки для фильтра
Фильтрующие патроны
Фильтрующие элементы
Фильтры красок
Фильтры предварительной очистки
Фильтры тонкой очистки
Market Scope
Автомобильная промышленность
Добыча минералов/ нефти/ газа
Лакокрасочная промышленность
Медицина, здравоохранение
Молочная промышленность
Отрасль фильтрации и сепарирования
Производство продуктов питания и напитков
Сельское хозяйство
Фармацевтическая промышленность
Химическая промышленность
Product Index
Cartuchos de filtro
Elementos de filtro
Filtros HEPA
Filtros de absorción
Filtros de limpieza previa
Filtros de pintura
Marco de filtros
Market Scope
Agricultura
Industria de la alimentación y las bebidas
Industria de la automoción
Industria de la filtración y la separación
Industria de las pinturas, pigmentos, revestimientos
Industria de los productos lácteos
Industria farmacéutica
Industria médica, de la atención sanitaria
Industrias químicas
Producción de minerales / petróleo / gas
Product Index
Adsorpsiyon Filtreleri
Boya Filtreleri
Filtre Elemanları
Filtre Kartuşları
Filtre çerçeveleri
HEPA Filtreler
Ön Temizleme Filtresi
Market Scope
Boya, Pigment, Kaplama Endüstrisi
Filtrasyon ve Ayırma Endüstrisi
Gıda, İçecek Endüstrisi
Kimya Endüstrisi
Mineral / Petrol / Gaz Üretimi
Otomotiv Endüstrisi
Tarım
Tıp, Sağlık Sektörü
Çevre Koruma
İlaç Endüstrisi
Product Index
HEPA 필터
전처리 필터
페인트 필터
필터 엘리먼트
필터 카트리지
필터 프레임
흡수 필터
Market Scope
광물 / 석유 / 가스 생산
농업
식음료 산업
여과 및 분리 산업
의료, 보건 산업
자동차 산업
제약 산업
페인트, 안료, 도장 산업
화학 산업
환경 보호
Product Index
HEPAフィルター
フィルターエレメント
フィルターカートリッジ
フィルターフレーム
ペイントフィルター
吸収フィルター
洗浄前フィルター
Market Scope
化学工業
医療、ヘルスケア業界
医薬品業界
塗料、顔料、コーティング産業
濾過および分離技術工業
環境保護
自動車産業
農業
鉱物・石油・ガス生産
食品、飲料業界
Images