DHCAE Tools GmbH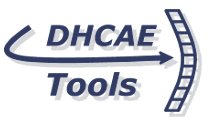 Exhibitor Profile
DHCAE Tools bietet individuelle Lösungen und Dienstleistungen im Bereich CFD und FEM für komplexe Anwendungen an.
Speziell für Filteranwendungen hat DHCAE Tools ein Berechnungstool geschaffen, das die allmähliche Filterbeladung durch Partikel mit der lokalen Widerstandserhöhung sowie die Wechselwirkungen mit der Anströmung berechnen kann.
Das Komplettangebot besteht aus einem Open-Source basierten Berechnungstool sowie Training, Support und individueller Anpassung an Ihre Problemstellung. Gerne optimieren wir auch Ihre Filteranwendungen als Engineering-Dienstleistung.
DHCAE Tools provides individual software solutions and CFD services.
Specially for filter applications, DHCAE Tools has created a simulation tool to predict the gradual filter load by particles with the local resistance increase and the interaction with the carrying flow.
The complete service consists of an open-source-based solver tool including training, support and individual adaptation to your specific needs. We also gladly optimise your filter applications as engineering service.
Products / Markets
Market Scope
Automobilindustrie
Bauindustrie
Chemische Industrie
Eisen-, Stahlherstellung
Filtrations- und Separationsindustrie
Metallverarbeitende Industrie
Umweltschutz
Wasserbehandlung, versorgung
Market Scope
Automotive Industry
Building & Construction Services
Chemical Industries
Environmental Protection
Filtration and Separation Industry
Iron, Steel Manufacturing
Metal Processing Industry
Water Treatment, Supply
Market Scope
 汽车工业
化学工业
建筑与施工服务业
水处理、供应
环境保护
过滤与分离工业
金属加工业
钢铁制造业
Market Scope
التغذية بالمياه وتصريفها
الصناعة الكيماوية
خدمات البناء والإنشاء
صناعات الفلترة وفصل المواد
صناعة الألبان
صناعة الحديد والصلب
صناعة السيارات
صناعة معالجة المعادن
Market Scope
Industrie automobile
Industrie chimique
Industrie de filtration et de séparation
Industrie du bâtiment et de la construction
Industrie laitière
Industrie métallurgique
Sidérurgie
Traitement d'eau, alimentation
Market Scope
Produzione ferro e acciaio
Protezione ambientale
Servizi settore edile
Settore automobilistico
Settore chimico
Settore filtrazione e separazione
Settore lavorazione metallo
Trattamento approvvigionamento acqua
Market Scope
Filtrowanie i separacja
Obróbka metali
Ochrona środowiska
Przemysł budowlany
Przemysł chemiczny
Przemysł hutniczy
Przemysł samochodowy
Uzdatnianie wody i zaopatrzenie w wodę
Market Scope
Fabrico de ferro, aço
Indústria automóvel
Indústria de filtragem e separação
Indústria de processamento de metal
Indústria leiteira
Indústrias químicas
Serviços de fabrico & construção
Tratamento de água, abastecimento
Market Scope
Автомобильная промышленность
Металлообрабатывающая промышленность
Молочная промышленность
Отрасль фильтрации и сепарирования
Очистка воды, водоснабжение
Производство железа, стали
Строительство жилых и общественных зданий
Химическая промышленность
Market Scope
Fabricación de hierro, acero
Industria de la automoción
Industria de la filtración y la separación
Industria de los productos lácteos
Industria de procesamiento de metales
Industrias químicas
Servicios de edificación y construcción
Tratamiento, suministro de agua
Market Scope
Bina ve İnşaat Hizmetleri
Demir, Çelik Üretimi
Filtrasyon ve Ayırma Endüstrisi
Kimya Endüstrisi
Metal İşleme Endüstrisi
Otomotiv Endüstrisi
Su Arıtma, Temin
Çevre Koruma
Market Scope
건축 및 건설 용역
금속 가공 산업
수질 관리, 수자원 공급
여과 및 분리 산업
자동차 산업
철, 철강 제조
화학 산업
환경 보호
Market Scope
化学工業
建築・建設業
水処理および関連製品
濾過および分離技術工業
環境保護
自動車産業
製鉄、製鋼業
金属加工業界
Press release
Special tools for flow analyses (CFD) in filtration applications
DHCAE Tools develops special tools for flow analyses (CFD) in filtration applications. By optimising a filter system through CFD analyses, the utilisation of the installed filter area is optimised, operating costs are reduced, and the operating life is increased. In addition, the system is optimised in advance to guarantee stable operation and to avoid high costs due to system failures or plant downtimes.
The simulation tools have now been extensively expanded in order to efficiently reproduce and specifically optimise the flow of geometrically complex multi-filter systems. The interactions that occur during filter loading due to a higher local resistance and the associated constant relocation of the continuous flow are taken into account in an iterative approach. In this way, a particularly accurate modelling of the filter loading is realised over the entire operating time until cleaning. In the model extension, different damage models for the filters were also integrated to evaluate not only the particle deposits, but additionally the impact of large and fast particles on the filter and the resulting risk of damage. Components at risk can now be identified, and optimisations of the filter system can be numerically verified before the actual construction.
Images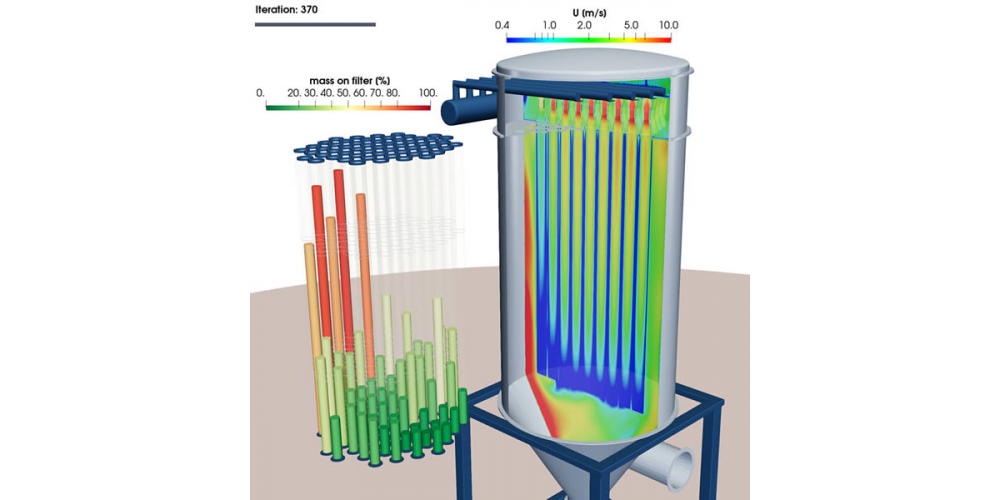 DHCAE Tools develops special tools for flow analyses (CFD) in filtration applications.