EBTEKAR TOOS PAYA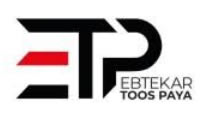 Exhibitor Profile
ETP or EBTEKAR TOOS PAYA (former EBTEKAR TOOS) with around 40 years' experience, is the first Iranian company who manufactured Filter Press.
The Company established in 1983 and works specifically on filtration equipment for the mining, Petrochemical, and wastewater industries.
ETP through its research and technical developments is also known as the market leader in manufacturing Chamber and Membrane Filter Plates in Iran which has assisted the Iranian mines to be independent from foreign suppliers.
Products / Markets
Product Index
Druckfiltration/Entwässerung
Druckplattenfilter
Entwässerungsanlagen
Filterplatten
Filterpressen
Kammerfilterelemente
Market Scope
Bergbauindustrie
Eisen-, Stahlherstellung
Filtrations- und Separationsindustrie
Keramik-, Glasindustrie
Oberflächentechnik
Product Index
Chamber Filter Elements
Dewatering Equipment
Filter Plates
Filter Presses
Pressure Filtration/Dewatering
Pressure Plate Filters
Market Scope
Ceramic, Glass Industry
Filtration and Separation Industry
Iron, Steel Manufacturing
Mining Industry
Plating Industry
Market Scope
电镀工业
过滤与分离工业
采矿业
钢铁制造业
陶瓷、玻璃工业
Product Index
صفائح فلترة
فلاتر صفائحية بالضغط
فلترة بالضغط / نزح المياه
قطع فلاتر المقصورات
معدات ترشيح
مكبس فلاتر صفائحي
Market Scope
صناعات الفلترة وفصل المواد
صناعة التعدين
صناعة الحديد والصلب
صناعة الزجاج والفخار / السيراميك
صناعة الصفيح
Product Index
Eléments de filtres à chambres
Equipements d'égouttage
Filtration sous pression/égouttage
Filtres à plaques sous pression
Plaques de filtres
Presses de filtres
Market Scope
Industrie de filtration et de séparation
Industrie de la céramique et du verre
Industrie des placages
Industrie minière
Sidérurgie
Product Index
Dispositivi di disidratazione
Elementri filtranti camera
Filtrazione/disidratazione a pressione
Filtri con piastre a pressione
Piastre di filtraggio
Presse filtranti
Market Scope
Produzione ferro e acciaio
Settore ceramica e vetro
Settore filtrazione e separazione
Settore industria galvanica
Settore minerario
Product Index
Elementy komory filtracyjnej
Filtracja ciśnieniowa/ odwadnianie
Prasy filtracyjne
Płytki filtracyjne
Płytki filtracyjne do filtrowania ciśnieniowego
Urządzenia do odwadniania
Market Scope
Filtrowanie i separacja
Produkcja szkła i ceramiki
Przemysł hutniczy
Przemysł platerniczy
Przemysł wydobywczy
Product Index
Drenagem/filtração sob pressão
Elementos de filtros de câmaras
Equipamento de drenagem
Filtros de placas sob pressão
Filtros-prensa
Placas de filtros
Market Scope
Cerâmica, indústria vidreira
Fabrico de ferro, aço
Indústria da galvanização
Indústria de filtragem e separação
Indústria mineira
Product Index
Дренажное оборудование
Камерные фильтровальные элементы
Напорные пластинчатые фильтры
Фильтр-прессы
Фильтрация давлением / обезвоживание
Фильтровальные пластины
Market Scope
Гальванотехническая промышленность
Горнодобывающая промышленность
Керамическая, стекольная промышленность
Отрасль фильтрации и сепарирования
Производство железа, стали
Product Index
Elementos filtrantes de cámara
Equipo de extracción de agua
Filtración/extracción de agua a presión
Filtros de placas de presión
Placas de filtro
Prensas de filtro
Market Scope
Fabricación de hierro, acero
Industria de la cerámica y el cristal
Industria de la filtración y la separación
Industria de la minería
Industria de los revestimientos electrolíticos
Product Index
Basınçlı Filtrasyon/Susuzlaştırma
Basınçlı Plakalı Filtreler
Filtre Plakaları
Filtre Presleri
Hazne Filtresi Elemanları
Susuzlaştırma Ekipmanları
Market Scope
Demir, Çelik Üretimi
Filtrasyon ve Ayırma Endüstrisi
Kaplama Endüstrisi
Madencilik Endüstrisi
Seramik, Cam Endüstrisi
Product Index
거름판
압력 여과/탈수
압력판 필터
압착식 필터
챔버 필터 요소
탈수기
Market Scope
광업
도금 산업
세라믹, 유리 산업
여과 및 분리 산업
철, 철강 제조
Product Index
チャンバーフィルターのエレメント
フィルタープレス
フィルター板
加圧リーフフィルター
圧力濾過・脱水
脱水装置
Market Scope
セラミック、ガラス産業
メッキ業界
濾過および分離技術工業
製鉄、製鋼業
鉱業