Filtration Services Ltd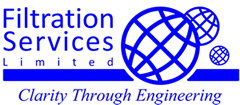 Exhibitor Profile
Filtration Services Ltd specialise in the design and manufacture of bespoke solid-liquid process filtration equipment and in particular, the rotary drum vacuum filter.
We are at the forefront of vacuum filtration design, which is evident in the Rotavac One and the Rotavac Lab (pilot and lab scale filters respectively). Filtration Services continue to develop exciting and innovative filtration equipment.
In addition to our expertise in manufacturing bespoke filters we provide a full, technical support service for the correct operation and maintenance for a range of vacuum filtration equipment. This includes the supply of spares and consumables, product and process optimisation, operator training, equipment servicing, process trouble-shooting and unit overhauls.
Filtration Services Ltd provide a unique service for all of the chemical, pharmaceutical and process industries. If your need is to separate solids from liquids then we are here to help solve your problem. Our in-house team of experts offer consultancy services and training programs for managers and operators, to help you get the most out of your process plant.
Filtration Services Ltd, providing clarity through engineering.
Products / Markets
Product Index
Abscheider – Fest/Flüssig
Anschwemmfilter
Drehfilter
Filteranlagen
Laboranlagen
Laborfilter
Pilotanlagen
Planfilter
Schlammentwässerung
Testeinrichtung
Trommelfilter
Vakuumdrehfilter
Vakuumfilter
Vakuumtrommelfilter
Market Scope
Abwasserwirtschaft
Chemische Industrie
Farben-, Pigment-, Beschichtungsindustrie
Filtrations- und Separationsindustrie
Lebensmittel-,Getränkeindustrie
Pharmazeutische Industrie
Product Index
Drum Filters
Filtration Plants
Laboratory Filters
Laboratory Plants
Pilot Plants
Precoat Filters
Rotary Filters
Rotary Vacuum Filters
Separators - Solid/Liquid
Sludge Dewatering
Table Filters
Test Rigs
Vacuum Drum Filters
Vacuum Filters
Market Scope
Chemical Industries
Filtration and Separation Industry
Food, Beverage Industry
Paint, Pigments, Coatings Industry
Pharmaceutical Industry
Waste Water Treatment
Product Index
分离器 固体/液体
实验台
实验室的植物
实验室过滤器
平面过滤机
旋转式真空过滤器
旋转过滤器
污泥脱水
真空过滤器
真空鼓式过滤器
试验工厂
过滤设备
预涂过滤器
鼓式过滤器
Market Scope
制药工业
化学工业
废水处理
油漆、颜料、涂料工业
过滤与分离工业
食品、饮料工业
Product Index
أجهزة إختبار
اسطوانات فلاتر شفط
الطيار النباتات
سحب المياه من الأوحال
صفائح دورانية
فلاتر أولية
فلاتر اسطوانية
فلاتر ترتيب
فلاتر سحب دورانية
فلاتر شفط
فلاتر مخبرية
فواصل المواد الصلبة والسوائل
مختبر النباتات
وحدات فلترة
Market Scope
الصناعات الدوائية
الصناعات الغذائية وصناعة المشروبات
الصناعة الكيماوية
صناعات الفلترة وفصل المواد
صناعة الدهانات والصبغات والتلبيس
معالجة مياه الصرف
Product Index
Egouttage de boues
Equipements d'essai
Filtre à tables
Filtres d'apprêts
Filtres de laboratoires
Filtres rotatifs
Filtres à tambours
Filtres à tambours à vide
Filtres à vide
Filtres à vide rotatifs
Installation de filtration
Installations pilotes
Plantes de laboratoire
Séparateurs – solides/liquides
Market Scope
Industrie chimique
Industrie de filtration et de séparation
Industrie de peintures, pigments et revêtements
Industrie pharmaceutique
Industries alimentaires et des boissons
Traitement des eaux usées
Product Index
Banchi di prova
Disidratazione dei fanghi
Filtri a prerivestimento
Filtri a tamburo
Filtri a vuoto
Filtri a vuoto rotanti
Filtri di laboratorio
Filtri piani
Filtri rotanti
Filtri tamburi a vuoto
Impianti di filtraggio
Impianti di laboratorio
Impianti pilota
Separatori - solido/liquido
Market Scope
Settore alimenti e bevande
Settore chimico
Settore filtrazione e separazione
Settore parafarmaceutico
Settore pitture, pigmenti e rivestimenti
Trattamento acque reflue
Product Index
Filtry bębnowe
Filtry laboratoryjne
Filtry obrotowe
Filtry próżniowe
Filtry stolikowe
Filtry z pomocniczą warstwą filtracyjną
Instalacje pilotażowe
Obrotowy filtr próżniowy
Odwadnianie osadu
Próżniowe filtry bębnowe
Separatory - Ciała stałe/ciecze
Stanowiska do testowania
Urządzenia filtracyjne
Urządzenia laboratoryjne
Market Scope
Filtrowanie i separacja
Oczyszczanie ścieków (waste water)
Produkcja farb i lakierów
Przemysł chemiczny
Przemysł farmaceutyczny
Przemysł spożywczy
Product Index
Banco de ensaios
Filtros de pré-revestimento
Filtros de tambor
Filtros de tambor de vácuo
Filtros de vácuo
Filtros de vácuo rotativos
Filtros para laboratório
Filtros planos
Filtros rotativos
Instalações de filtração
Laboratório de Plantas
Plantas Piloto
Secagem de lamas
Separadores - sólidos/líquidos
Market Scope
Indústria alimentar, de bebidas
Indústria de filtragem e separação
Indústria farmacêutica
Indústrias químicas
Pintura, pigmentos, indústria de revestimentos
Tratamento de água de despejo
Product Index
Барабанные фильтры
Вакуумные барабанные фильтры
Вакуумные фильтры
Испытательная аппаратура
Лаборатория растения
Лабораторные фильтры
Намывные фильтры
Обезвоживание осадка
Пилотные установки
Рамные фильтры
Ротационные вакуумные фильтры
Ротационные фильтры
Сепараторы – твердые вещества / жидкости
Фильтрационные установки
Market Scope
Лакокрасочная промышленность
Отрасль фильтрации и сепарирования
Очистка сточных вод
Производство продуктов питания и напитков
Фармацевтическая промышленность
Химическая промышленность
Product Index
Deshidratación de lodos
Dispositivos para pruebas
Filtros de laboratorio
Filtros de mesa
Filtros de revestimiento previo
Filtros de tambor
Filtros de tambor de vacío
Filtros de vacío
Filtros de vacío giratorios
Filtros giratorios
Laboratorio de Plantas
Plantas Piloto
Plantas de filtración
Separadores - sólido/líquido
Market Scope
Industria de la alimentación y las bebidas
Industria de la filtración y la separación
Industria de las pinturas, pigmentos, revestimientos
Industria farmacéutica
Industrias químicas
Tratamiento de aguas residuales
Product Index
Arıtma İstasyonları
Döner Filtreler
Döner Vakum Filtreler
Laboratuvar Donanımları
Laboratuvar Filtreleri
Pilot Tesisler
Separatörler - Katı/Sıvı
Tabla Filtre
Tambur Filtreler
Test Donanımları
Vakum Filtreler
Vakum Tambur Filtreler
Çamur Susuzlaştırma
Ön Astarlı Filtreler
Market Scope
Atıksu Arıtma
Boya, Pigment, Kaplama Endüstrisi
Filtrasyon ve Ayırma Endüstrisi
Gıda, İçecek Endüstrisi
Kimya Endüstrisi
İlaç Endüstrisi
Product Index
드럼 필터
분리기 - 고체/액체
슬러지 탈수
시험 장치
실험실 식물
실험실 필터
정수 처리장
진공 드럼 필터
진공 필터
테이블 필터
파일럿 플랜트
프리코트 필터
회전 진공 필터
회전 필터
Market Scope
식음료 산업
여과 및 분리 산업
제약 산업
페인트, 안료, 도장 산업
폐수 처리
화학 산업
Product Index
テスト装置
テーブルフィルター
ドラムフィルター
パイロットプラント
プレコートフィルター
ラボ用フィルター
ロータリーフィルター
分離機 - 固形・液体
回転式真空フィルター
汚泥脱水
濾過設備
真空ドラムフィルター
真空フィルター
研究用プラント
Market Scope
化学工業
医薬品業界
塗料、顔料、コーティング産業
汚水処理
濾過および分離技術工業
食品、飲料業界
Press release
AKAS: Automatic Knife Advance System for Precoat Filters
For all precoat knife discharge rotary drum vacuum filters (RDVFs) it is important that the knife advance system operates accurately and steadily so that the optimum usage of precoat material on the precoat filter can be attained.
This latest design of knife discharge system has been developed by Filtration Services following many years of practical experience with earlier mechanical, hydraulic and electro-mechanical assemblies. All Filtration Services precoat filters benefit from this unique AKAS System. But, you don't need to buy a new machine to benefit from this unique knife advance system. We can adapt it to suit most existing precoat filter assemblies (e.g. Stockdale, Paxman, Dorr-Oliver, Eimco etc) and install it on site.
Filtration Services Ltd utilise the latest design and engineering techniques to provide high quality solutions for all areas of the filtration industry.
Background – The Development Of AKAS
A high advance rate causes the knife to remove too much of the precoat bed as well as the surface filter cake on the precoat filter; this is wasteful of precoat material and reduces the overall filtration cycle time unnecessarily. Too slow an advance, and the surface filter cake layer does not get fully removed, the precoat surface is not refreshed and the overall filtration rate and, therefore, throughput decreases rapidly.
With increasing pressure on processing plants to improve efficiency and reduce wastage, Filtration Services Ltd has developed a precoat filter knife system that regulates the rate of knife advancement to the speed of rotation of the drum.
This ensures that the knife advances synchronously with the rotation of the drum and removes an even thickness of filter cake at all times.
How Does It Work?
An electronic pulse is received by the AKAS panel on each complete drum rotation. This initiates the 'advance' signal to the knife drive stepper motor. Any variation in drum speed, due to changes in material filterability or desired throughput is monitored. The knife remains synchronous to the drum.
The Knife Advance Control Panel Incorporates A Touch-Screen HMI With The Following Features:
Easy knife advance / retract operation
Simple commissioning
Numerical and graphical display of the position of the precoat knife relative to the drum
Easy configuration of the knife advance rate (in increments of 5 microns per drum revlolution)
Knife advance delay option (of 2 to 10 drum revolutions)
Forward and reverse limit alarms
Motor frequency tuning facility
Graphical and numerical diaplay of precoat thickness
PIN number 'lock' facility to prevent unauthorised changes to settings
4 recipe options available so that settings can be adjusted at the press of a button.
The maximum knife travel is governed by 'forward stop' and 'reverse stop' limit switches which are interlinked through the control panel. The control panel can be located close to the precoat filter (RDVF) or operated remotely if preferred.
Press release
Tipping Pan Filter
Possibly one of the simplest filtration units used in industry today, the tipping pan filter is ideal for batch processing rapid-settling, fast-filtering crystalline suspensions. The tipping pan filter is ideal for small batch applications where dedicated equipment and batch integrity is essential.
The tipping pan filter is an open-topped vessel which is fitted with a false base, drainage grids and filter medium. The solid-liquid suspension is fed onto the surface of the pan and, at the same time, vacuum is applied to the base of the pan. The vacuum assists in dewatering the suspension thereby producing a filter cake on the filter medium.
The filtered liquid [filtrate] is collected from the base of the pan through a special valve assembly. The filter cake can be washed in the pan as many times as is required by the process to achieve the desired product purity. Once the washing stage has completed, the pan is inverted and the filter cake is discharged.
The unit can be enclosed (as below) and if required can be supplied with the vacuum pump and filtrate receiver. We have a small pilot-scale tipping pan available for hire (subject to availability).
Press release
Rotary Drum Vacuum Filter
The basic principle of the rotary drum vacuum filter has been around for over 100 years and is one of the oldest types of filters used for solid and liquid separation. The rotary drum vacuum filter is used for a number of different applications such as the filtration of bulk or fine chemicals, pharmaceuticals, pigments, foods, bulk minerals, sludge dewatering, wastewater treatment, and biofuels. The list is not exhaustive. The rotary drum vacuum filter is a versatile filter that is reliable, continuous and requires minimal operator effort/attention. It is also available in wide range of sizes and choices from lab and pilot scale to full production scale.
Filtration Services Ltd is at the forefront in the design and manufacture of rotary drum vacuum filters and has developed advancements which have improved efficiency and helped in reducing costs. One such advancement is the Automatic Knife Advance System (AKAS) which is used to optimise precoat usage on a rotary drum vacuum filter.
Filtration Services offer bespoke manufacture and design of the rotary drum vacuum filter to meet both your site-specific requirements and the exacting standards of today's industry.
Rotary Drum Vacuum Filter – ROTAVAC™
The Filtration Services' Rotavac™ rotary drum vacuum filter (RDVF) is particularly suited for applications where large amounts of liquids and solids need to be separated continuously and with minimal operator input.
The Rotavac™ rotary drum vacuum filter is available in a variety of sizes, from 0.8m² up to 60m² filtration area, and in a range of solids discharge configurations. A rotary drum vacuum filter operates continuously with the solids and liquid being discharged at steady, predictable rates. The units require little or no manual intervention, being simple to operate and maintain.
Press release
Rotavac One - Pilot Scale Filter Station
The Rotavac One is our complete, compact pilot scale filter station.
The Rotavac One comprises of:
1.3m² skid mounted rotary drum vacuum filter (RDVF)
Filtrate receiver
Filtrate pump
Vacuum pump
Blower (scraper discharge version only)
Local control panel
With a small 2m x 1m footprint, the unit is easy to install and operate. The filter is ideal for small volume applications, process validation pilot-scale trials.
Two filter versions are available: Rotavac One S, scraper discharge and Rotavac One P, precoat discharge.
Scaper discharge filters are used where the solids being filtered form a good filter cake that discharges easily from the drum surface.
Precoat discharge are used, primarily, on applications where the liquid is the 'product' and the solids are gelatinous in nature.
Stainless Steel Construction
Pilot-Scale Trials
Process Validation
Small Volume Applications
Quick and Easy Installation
Complete Filtration Plant
Easy Cleaning and Maintenence
User Friendly and Simple to Operate
Press release
Rotavac Lab - Lab Scale Rotary Drum Vacuum Filter
The Rotavac Lab is our lab scale rotary drum vacuum filter. The Rotavac Lab scale filter is generally used for product evaluation tests, or as a preliminary step towards pilot scale and full scale equipment trials. The unit is a fully functional and representative lab scale rotary drum vacuum filter and filtration system. It can be used to validate the suitability of this type of continuous vacuum filtration equipment.
Key Points
Stainless Steel Construction
Scale-Up Trials
Filter Media Evaluation
Validation Tests
Precoat Automatic Kinfe Advance System (AKAS)
Precoat Optimisation
Separation Efficiencies
Filtration Flux Rate Profiles