GEBR. RÖDERS AG Hall 7 / M17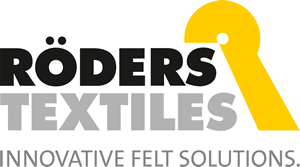 Exhibitor Profile
SOLTA®FILT - Nadelfilze für die Filtration
Seit über 40 Jahren stellen wir Filtermedien mit dem Qualitätsanspruch "Made in Germany" her.
Filtration von sehr feinen Partikeln
Neue Filtermedien mit Nanofasern
Filtermedien für die Heißgasfiltration
Filtermedien für die Flüssigfiltration
Plissierbare Filtermedien
Entwicklungen besonderer Produkte
Dichtfilze
Filterkerzen
Wir freuen uns auf Ihren Besuch.
SOLTA®FILT - Needle felts for filtration
Since more than 40 years we produce materials for filtration with the quality label "Made in Germany".
Filtration of fine particles
New filter media with nanofibers
Filter media for hot gas filtration
Filter media for liquid filtration
Pleatable filter media
Development of special materials
Gaskets
Filter candles
We are pleased to welcome you.
Products / Markets
Product Index
Beutel-/Taschenfilter
Dichtungen für Filter
Druckfiltration/Entwässerung
Filterbeutel
Filterfilze
Filtermedien
Filterpatronen
Filtertextilien
Flüssig-Filtermedien
Gasreinigung
Nanomedien
Patronenfilter
Synthetische Fasermedien
Technische Textilien
Trommelfilter
Vliesmaterialien
Wiederverwendbare Filtermedien
Market Scope
Automobilindustrie
Chemische Industrie
Eisen-, Stahlherstellung
Filtrations- und Separationsindustrie
Holzverarbeitende Industrie
Lebensmittel-,Getränkeindustrie
Metallverarbeitende Industrie
Schwerindustrie
Textilindustrie
Umweltschutz
Product Index
Bag Filters
Cartridge Filters
Drum Filters
Filter Bags
Filter Cartridges
Filter Felts
Filter Media
Filter Textiles
Gas Cleaning
Gaskets for Filters
Liquid Filter Media
Nano Media
Nonwovens
Pressure Filtration/Dewatering
Reusable Filter Media
Synthetic Fibre Media
Technical Textiles
Market Scope
Automotive Industry
Chemical Industries
Environmental Protection
Filtration and Separation Industry
Food, Beverage Industry
Heavy Industry
Iron, Steel Manufacturing
Metal Processing Industry
Textile Industry
Wood-processing Industry
Product Index
压滤/脱水
可再用过滤器介质
合成纤维媒体
工业用纺织品
无纺布
气体净化
液体过滤滤材
滤筒
滤筒
纳米介质
袋式过滤器
过滤介质
过滤器垫片
过滤毡
过滤织物
过滤袋
鼓式过滤器
Market Scope
 汽车工业
化学工业
木材加工业
环境保护
纺织工业
过滤与分离工业
重工业
金属加工业
钢铁制造业
食品、饮料工业
Product Index
أقمشة تقنية
أكياس فلاتر
أكياس فلترة
الألياف الاصطناعية وسائل الإعلام عية وسائل الإعلام
تنظيف الغاز
خراطيش فلتر
غير المنسوجات / اللانسيج
فلاتر اسطوانية
فلاتر الإستخدام المتكرر
فلاتر الكارترج / الخراطيش
فلاتر شعرية
فلترة بالضغط / نزح المياه
مانعات تسرب للفلاتر
مواد فلترة
مواد فلترة الغازات
مواد في غاية الدقة
نسيج فلاتر
Market Scope
الصناعات الثقيلة
الصناعات الغذائية وصناعة المشروبات
الصناعة الخشبية
الصناعة الكيماوية
الصناعة النسيجية
صناعات الفلترة وفصل المواد
صناعة الألبان
صناعة الحديد والصلب
صناعة السيارات
صناعة معالجة المعادن
Product Index
Cartouches de filtres
Cartouches de filtres
Feutres de filtres
Filtration sous pression/égouttage
Filtres à sacs
Filtres à tambours
Joints pour filtres
Médias de filtration réutilisables
Médias de filtre
Médias de filtre pour liquides
Nanomédias
Nettoyage des gaz
Non tissés
Sacs de filtres
Synthetic Fiber Médias
Textiles pour filtres
Textiles techniques
Market Scope
Industrie automobile
Industrie chimique
Industrie de filtration et de séparation
Industrie de la transformation du bois
Industrie laitière
Industrie lourde
Industrie métallurgique
Industrie textile
Industries alimentaires et des boissons
Sidérurgie
Product Index
Cartucce filtri
Feltri filtro
Filtrazione/disidratazione a pressione
Filtri a tamburo
Filtri a tasche
Filtri cartuccia
Guarnizioni per gas
Mezzi filtraggio liquidi
Mezzi filtranti
Mezzi filtranti riutilizzabili
Mezzi per fibre sintetiche
Nano media
Non tessuti
Pulizia gas
Tasche filtri
Tessuti per filtri
Tessuti tecnici
Market Scope
Produzione ferro e acciaio
Protezione ambientale
Settore alimenti e bevande
Settore automobilistico
Settore chimico
Settore filtrazione e separazione
Settore industria lavorazione legno
Settore industria pesante
Settore industria tessile
Settore lavorazione metallo
Product Index
Filtracja ciśnieniowa/ odwadnianie
Filtry bębnowe
Filtry workowe
Materiały nietkane
Media filtrów
Media filtrów cieczy
Media filtrów wielorazowego użytku
Media włókna syntetycznego
Nanomedia
Oczyszczanie gazu
Tekstylia techniczne
Tkaniny filcowe
Tkaniny filtracyjne
Uszczelki do filtrów
Wkłady filtra
Wkłady filtracyjne
Worki filtracyjne
Market Scope
Filtrowanie i separacja
Obróbka metali
Ochrona środowiska
Przemysł chemiczny
Przemysł ciężki
Przemysł hutniczy
Przemysł samochodowy
Przemysł spożywczy
Przemysł tekstylny
Przetwórstwo drewna
Product Index
Cartuchos filtrantes
Drenagem/filtração sob pressão
Feltros de filtros
Filtros de cartuchos
Filtros de saco
Filtros de tambor
Meios de filtragem
Meios de filtragem para líquidos
Meios de filtragem reutilizáveis
Meios de nanotecnologia
Não-tecidos
Purificação de gases
Sacos filtrantes
Synthetic Fiber Mídia
Têxteis de filtros
Têxteis para usos técnicos
Vedações para filtros
Market Scope
Fabrico de ferro, aço
Indústria alimentar, de bebidas
Indústria automóvel
Indústria de filtragem e separação
Indústria de processamento de madeira
Indústria de processamento de metal
Indústria leiteira
Indústria pesada
Indústria têxtil
Indústrias químicas
Product Index
Барабанные фильтры
Газоочиститель
Нано-вещества
Нетканые материалы
Прокладки фильтров
Рукавные фильтры
Синтетические волокна Медиа
Технический текстиль
Фильтрация давлением / обезвоживание
Фильтровальные мешки
Фильтровальный войлок
Фильтровальный текстиль
Фильтрующие патроны
Фильтрующий материал
Фильтрующий материал для жидкостей
Фильтрующий материал многократного использования
Фильтры со сменным фильтрующим элементом
Market Scope
Автомобильная промышленность
Деревообрабатывающая промышленность
Металлообрабатывающая промышленность
Молочная промышленность
Отрасль фильтрации и сепарирования
Производство железа, стали
Производство продуктов питания и напитков
Текстильная промышленность
Тяжёлая промышленность
Химическая промышленность
Product Index
Bolsas de filtro
Cartuchos de filtro
Fibra Sintética de Medios
Fieltros de filtro
Filtración/extracción de agua a presión
Filtros de bolsa
Filtros de cartucho
Filtros de tambor
Juntas para filtros
Limpieza de gas
Medios de filtro
Medios de filtros para líquidos
Medios filtrantes reutilizables
Nanomedios
Non-Wowens
Tejidos de filtros
Tejidos técnicos
Market Scope
Fabricación de hierro, acero
Industria de la alimentación y las bebidas
Industria de la automoción
Industria de la filtración y la separación
Industria de los productos lácteos
Industria de procesamiento de metales
Industria del procesamiento de la madera
Industria pesada
Industria textil
Industrias químicas
Product Index
Basınçlı Filtrasyon/Susuzlaştırma
Dokunmamış Mamuller
Filtre Contaları
Filtre Kartuşları
Filtre Keçeleri
Filtre Ortamı
Filtre Tekstilleri
Filtre Torbaları
Gaz Temizleme
Kartuşlu Filtreler
Nano Ortam
Sentetik Elyaf Medya
Sıvılar için Filtre Ortamı
Tambur Filtreler
Teknik Tekstiller
Tekrar Kullanılabilir Filtre Ortamı
Torba Filtreler
Market Scope
Ahşap İşleme Endüstrisi
Ağır Sanayi
Demir, Çelik Üretimi
Filtrasyon ve Ayırma Endüstrisi
Gıda, İçecek Endüstrisi
Kimya Endüstrisi
Metal İşleme Endüstrisi
Otomotiv Endüstrisi
Tekstil Endüstrisi
Çevre Koruma
Product Index
가스 정화
기능성 섬유
나노 매체
드럼 필터
백 필터
부직포
압력 여과/탈수
액체 여과재
여과재
재사용 가능한 여과재
카트리지 필터
필터 백
필터 직물
필터 카트리지
필터 펠트
필터용 가스켓
합성섬유 매체
Market Scope
금속 가공 산업
목재 가공 산업
섬유 산업
식음료 산업
여과 및 분리 산업
자동차 산업
중공업
철, 철강 제조
화학 산업
환경 보호
Product Index
カートリッジ・フィルター
ガス洗浄
テクニカル繊維
ドラムフィルター
ナノメディア
バッグフィルター
フィルターカートリッジ
フィルターバッグ
フィルターフェルト
フィルターメディア
フィルター用ガスケット
フィルター繊維
不織布
再利用可能なフィルター媒体
合成繊維媒体
圧力濾過・脱水
液体フィルター媒体
Market Scope
化学工業
木材加工業界
濾過および分離技術工業
環境保護
繊維業界
自動車産業
製鉄、製鋼業
重工業
金属加工業界
食品、飲料業界