Intensiv Filter Himenviro Technologies GmbH

Exhibitor Profile
With a legacy of over a 100 years, we strive to innovate and be ahead of the Industry and believe in providing the best benefits to our customers on a macro as well as, micro level.
Additionally, we strive to create the right mix between positively and innovation in all our daily affairs.Our presence spans 15 countries across Asia Pacific, Africa, Middle East, USA, South America and Europe. We have more than 50,000 successful projects in Cement, Power, Steel, Sugar, Food, Coal mill, Textile.
Our business practices, customer care and focus on R&D has put us among the world's top Bag Filter manufacturers and we continue to strive to maintain this position by building our organization with highly qualified engineers and superior products, many of which work together to meet a wide variety of applications in virtually every industry.
With a wide range of environmental technologies available to IFH, we can provide plant upgrades to meet the most stringent emission legislation's. We can supply products from individual components to complete turnkey and partnering packages.
Products / Markets
Product Index
Beutel-/Taschenfilter
Edelstahlfilter
Entstaubungsanlagen
Filteranlagen
Filterbeutel
Filtergehäuse
Filtermedien
Filtermedien f. Gase
Filterpatronen
Glasfaserschläuche
Hepa-Filter
Luftfilter
Luftfiltermedien
Patronenfilter
Staubabscheider
Ventilatoren
Zyklone
elektrostatische Abscheider
Market Scope
Bergbauindustrie
Chemische Industrie
Eisen-, Stahlherstellung
Filtrations- und Separationsindustrie
Keramik-, Glasindustrie
Lebensmittel-,Getränkeindustrie
Metallverarbeitende Industrie
Milchindustrie / Molkerei
Petrochemische Industrie
Umweltschutz
Product Index
Air Filter Media
Air Filters
Bag Filters
Cartridge Filters
Cyclones
Dedusters
Dust Collectors
Electrostatic Precipitators
Fans
Filter Bags
Filter Cartridges
Filter Housings
Filter Media
Filter Media for Gases
Filtration Plants
Glass Filter Bags
HEPA Filters
Stainless Steel Filters
Market Scope
Ceramic, Glass Industry
Chemical Industries
Dairy Industry
Environmental Protection
Filtration and Separation Industry
Food, Beverage Industry
Iron, Steel Manufacturing
Metal Processing Industry
Mining Industry
Petrochemical Industry
Product Index
不锈钢过滤器
旋流器
气体过滤器介质
滤壳
滤筒
滤筒
玻璃过滤袋
球迷
空气过滤器
空气过滤器介质
袋式过滤器
过滤介质
过滤袋
过滤设备
除尘器
集尘器
静电沉淀器
高效粒子空气过滤器
Market Scope
乳品加工业
化学工业
环境保护
石化工业
过滤与分离工业
采矿业
金属加工业
钢铁制造业
陶瓷、玻璃工业
食品、饮料工业
Product Index
"فلاتر هواء عالية الفاعلية ""هـيبا"" HEPA"
أكياس زجاج تصفية
أكياس فلاتر
أكياس فلترة
المشجعين
تصفية العلب
خراطيش فلتر
سايكلونات / وحدة دوامات
فلاتر الكارترج / الخراطيش
فلاتر الهواء
فلاتر من معادن مقاومة للصدأ
مجمعات الغبار
مرسبات كهرساكنة
مصافي الغبار
مواد فلاتر الهواء
مواد فلترة
مواد فلترة السوائل
وحدات فلترة
Market Scope
الصناعات الغذائية وصناعة المشروبات
الصناعة الإلكترونية والإلكترونيات الدقيقة
الصناعة البتروكيماوية
الصناعة الكيماوية
صناعات الفلترة وفصل المواد
صناعة الألبان
صناعة التعدين
صناعة الحديد والصلب
صناعة الزجاج والفخار / السيراميك
صناعة معالجة المعادن
Product Index
Cartouches de filtres
Cartouches de filtres
Collecteurs de poussières
Cyclones
Dispositifs antipoussières
Fans
Filtres HEPA
Filtres en acier inoxydable
Filtres à air
Filtres à sacs
Fluides pour filtres à air
Installation de filtration
Les boîtiers de filtre
Médias de filtre
Médias de filtre pour gaz
Précipitant électrostatique
Sacs de filtre en verre
Sacs de filtres
Market Scope
Industrie chimique
Industrie de filtration et de séparation
Industrie de la céramique et du verre
Industrie laitière
Industrie minière
Industrie métallurgique
Industrie pétrochimique
Industrie électronique et microélectrique
Industries alimentaires et des boissons
Sidérurgie
Product Index
Abbattitori
Alloggiamenti filtro
Cartucce filtri
Cicloni
Collettori di polvere
Fan
Filtri a tasche
Filtri aria
Filtri cartuccia
Filtri hepa
Filtri in acciaio inossidabile
Impianti di filtraggio
Mezzi filtranti
Mezzi filtranti aria
Mezzi filtranti per gas
Precipitatori elettrostatici
Tasche filtri
Tasche in fibra di vetro
Market Scope
Produzione ferro e acciaio
Protezione ambientale
Settore alimenti e bevande
Settore caseario
Settore ceramica e vetro
Settore chimico
Settore filtrazione e separazione
Settore lavorazione metallo
Settore minerario
Settore petrolchimico
Product Index
Filtry HEPA
Filtry powietrza
Filtry workowe
Filtry workowe z włókna szklanego
Filtry ze stali nierdzewnej
Media filtrów
Media filtrów gazu
Media filtrów powietrza
Obudowy filtrów
Odpylacze
Odpylacze
Odpylacze cyklonowe
Odpylacze elektrostatyczne
Urządzenia filtracyjne
Wentylatory
Wkłady filtra
Wkłady filtracyjne
Worki filtracyjne
Market Scope
Filtrowanie i separacja
Obróbka metali
Ochrona środowiska
Produkcja szkła i ceramiki
Przemysł chemiczny
Przemysł hutniczy
Przemysł mleczarski
Przemysł petrochemiczny
Przemysł spożywczy
Przemysł wydobywczy
Product Index
Carcaças de Filtro
Cartuchos filtrantes
Ciclones
Colectores de poeiras (aspiradores)
Despoeiradores
Filtros absolutos (HEPA)
Filtros de ar
Filtros de aço inoxidável
Filtros de cartuchos
Filtros de saco
Filtros de saco de vidro
Fãs
Instalações de filtração
Meios de filtragem
Meios de filtragem para gases
Meios de filtro do ar
Precipitadores electrostáticos
Sacos filtrantes
Market Scope
Cerâmica, indústria vidreira
Electrónica, indústria microelectrónica
Fabrico de ferro, aço
Indústria alimentar, de bebidas
Indústria de filtragem e separação
Indústria de processamento de metal
Indústria leiteira
Indústria mineira
Indústria petroquímica
Indústrias químicas
Product Index
Вентиляторы
Воздушные фильтры
Корпуса фильтров
Пылеотделители
Пылесборники
Рукавные фильтры
Сумки стеклянный фильтр
Фильтрационные установки
Фильтровальные мешки
Фильтрующие патроны
Фильтрующий материал
Фильтрующий материал
Фильтрующий материал для газов
Фильтры из нержавеющей стали
Фильтры со сменным фильтрующим элементом
Фильтры тонкой очистки
Циклоны
Электростатические фильтры
Market Scope
Горнодобывающая промышленность
Керамическая, стекольная промышленность
Металлообрабатывающая промышленность
Молочная промышленность
Нефтехимическая промышленность
Отрасль фильтрации и сепарирования
Производство железа, стали
Производство продуктов питания и напитков
Химическая промышленность
Электроника, микроэлектроника
Product Index
Aspiradores de polvo
Bolsas de filtro
Cartuchos de filtro
Ciclones
Colectores de polvo
Fans
Filtro de Viviendas
Filtro de vidrio Bolsas
Filtros HEPA
Filtros de acero inoxidable
Filtros de aire
Filtros de bolsa
Filtros de cartucho
Medios de filtro
Medios de filtros de aire
Medios de filtros para gases
Plantas de filtración
Precipitadotes electrostáticos
Market Scope
Fabricación de hierro, acero
Industria de la alimentación y las bebidas
Industria de la cerámica y el cristal
Industria de la electrónica, microelectrónica
Industria de la filtración y la separación
Industria de la minería
Industria de los productos lácteos
Industria de procesamiento de metales
Industria petroquímica
Industrias químicas
Product Index
Arıtma İstasyonları
Cam Elyaf Torbalar
Elektrostatik Çöktürücüler
Fanlar
Filtre Gövdeleri
Filtre Kartuşları
Filtre Ortamı
Filtre Torbaları
Gazlar için Filtre Ortamı
HEPA Filtreler
Hava Filtreleri
Hava Filtresi Ortamı
Kartuşlu Filtreler
Paslanmaz Çelik Filtreler
Siklonlar
Torba Filtreler
Toz Gidericiler
Toz Toplayıcılar
Market Scope
Demir, Çelik Üretimi
Filtrasyon ve Ayırma Endüstrisi
Gıda, İçecek Endüstrisi
Kimya Endüstrisi
Madencilik Endüstrisi
Metal İşleme Endüstrisi
Petrokimya Endüstrisi
Seramik, Cam Endüstrisi
Süt Endüstrisi
Çevre Koruma
Product Index
HEPA 필터
가스용 여과재
공기 여과재
공기 필터
백 필터
분진제거기
스텐레스 스틸 필터
싸이클론
여과재
유리 필터 백
정수 처리장
정전식 집진기
집진기
카트리지 필터
팬
필터 백
필터 카트리지
필터 하우징
Market Scope
광업
금속 가공 산업
석유화학 산업
세라믹, 유리 산업
식음료 산업
여과 및 분리 산업
유제품 산업
철, 철강 제조
화학 산업
환경 보호
Product Index
HEPAフィルター
エアフィルター
エアフィルターメディア
カートリッジ・フィルター
ガス用濾過材
ガラス繊維フィルターバッグ
サイクロン機
ステンレス鋼フィルター
バッグフィルター
ファン
フィルターカートリッジ
フィルターハウジング
フィルターバッグ
フィルターメディア
濾過設備
除塵機
集塵機
静電集塵器
Market Scope
セラミック、ガラス産業
化学工業
濾過および分離技術工業
環境保護
石油化学工業
製鉄、製鋼業
酪農産業
金属加工業界
鉱業
食品、飲料業界
Press release
Bag House
Intensiv Filter Himenviro is proud to share our recently commissioned Cooler ESP of massive volume 13,40,000 CMH , CoalMill , BagHouse 2,40,000 CMH with 6.5 Mtr bag length , and RABH 16,15,000 CMH with bag length of 10 Mtr each for our prestigious long time client ShreeCement , while maintaining the outlet emission below 10. We'll continue to collaborate in the future to achieve more such incredible feats.
Learn more about what makes our Filter Solutions unique by visiting our official website : https://lnkd.in/gEkwPUc9
Press release
Project Cleaning-in-Place Filter
Intensiv Filter Himenviro is introducing the new generation of a seamless, space-saving CIP filter for your operation with filter lengths up to 8 m!
This new design ensures a reduced maintenance interval, lower compressed air consumption, and fewer installation parts. The clean gas chamber is made of stainless steel and can be easily washed.
This filter including the ProTex® CIP filter Media – will give an excellent cleaning with a short drying time and a perfect washing. With this filter, you can forget about clogged lines, which saves you time and money.
Order your New CIP Filter Now!
Press release
Dedusting Solutions for Cement Kiln Plant in Nowiny, Polska
Success Story: Intensiv-Filter Himenviro's Dedusting Solutions for Cement Kiln Plant in Nowiny, Polska.
We designed a De-dusting solution for a cement kiln in Nowiny, Polska with an Exhaust gas flow volume (operation mode) of less than 430,000 m3/h, Temperature of less than 120°C, and Raw gas dust content of less than 40 g/m3.
Dust type was Raw meal, kiln dust, and our design guaranteed Residual dust content of less than 10 mg/m3 n.c and a Bag length of 8 m.
Press release
ProTex Filter Media
Filtering emissions is the task Intensiv-Filter has been addressing itself since its founding in 1922. We are a leading specialist in filtering installations in the international markets. This applies to new buildings and conversions for a wide range of applications.
For More Enquiries Regarding Bag Filter, Air Pollution Control Equipments, or Industry Services, Reach out to us at sales_at_intensiv-filter-himenviro.com Or Visit Our Website https://lnkd.in/fDD_3SP
Press release
ProJet mega-Filter for the dedusting of a cement kiln in Germany
Our team at Intensiv Filter Himenviro has successfully installed a ProJet mega-Filter for the dedusting of a cement kiln in Germany. With an impressive exhaust gas flow volume of 555,000 m3/h and a temperature of 240°C, this filter is built to handle even the toughest of industrial environments.
The raw gas dust content was a staggering 100 g/m3, but thanks to the ProJet mega-Filter, the residual dust content was reduced to raw meal and kiln dust. Our team's hard work paid off as the final dust type achieved an impressive design of <5 mg/m3. With a bag length of 8 meters, this filter is truly a work of engineering excellence.
Trust Intensiv Filter Himenviro for your industrial air filtration needs. "Don't let dust control be a problem for your industry." Contact us today at sales_at_intensiv-filter-himenviro.com and see how the ProJet mega-Filter and the team at Intensiv Filter Himenviro can help improve the air quality in your facility.
Images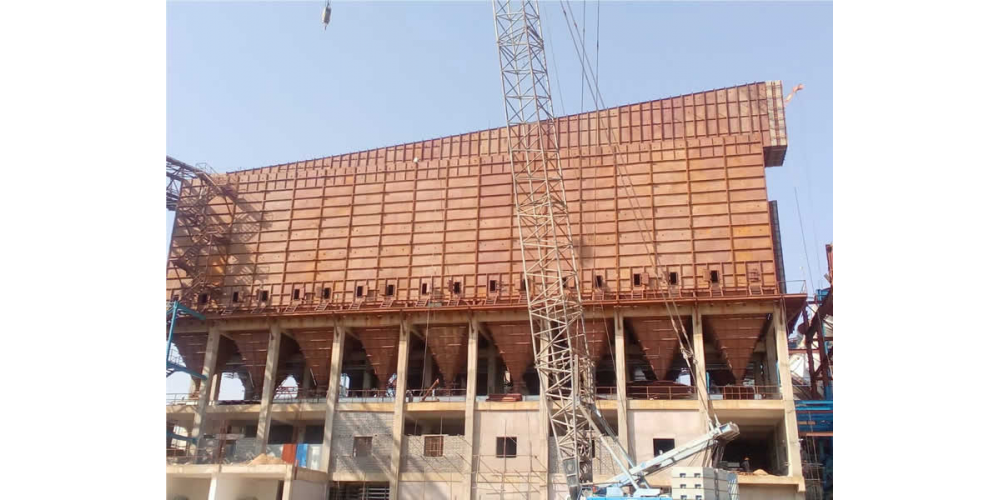 Intensiv Filter Himenviro is proud to share our recently commissioned Cooler ESP of massive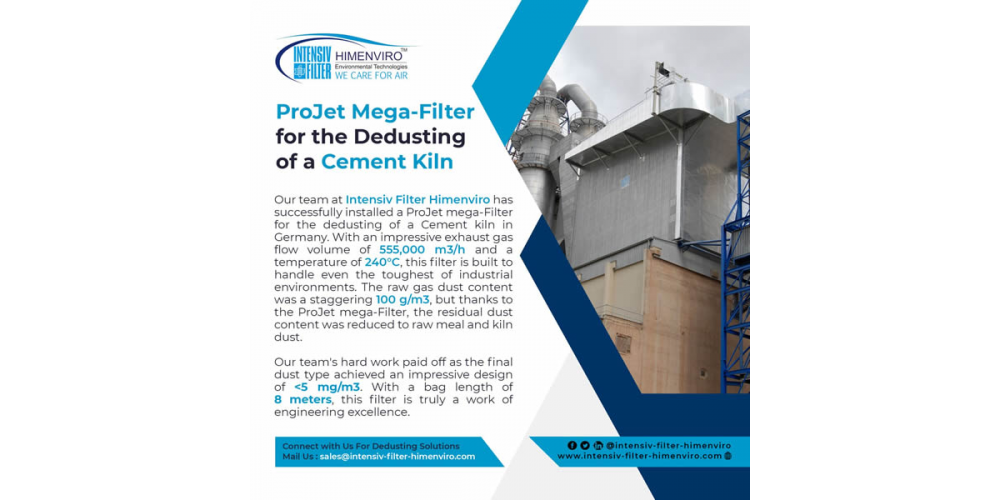 ProJet mega-Filter for the dedusting of a cement kiln in Germany
ProTex Filter Media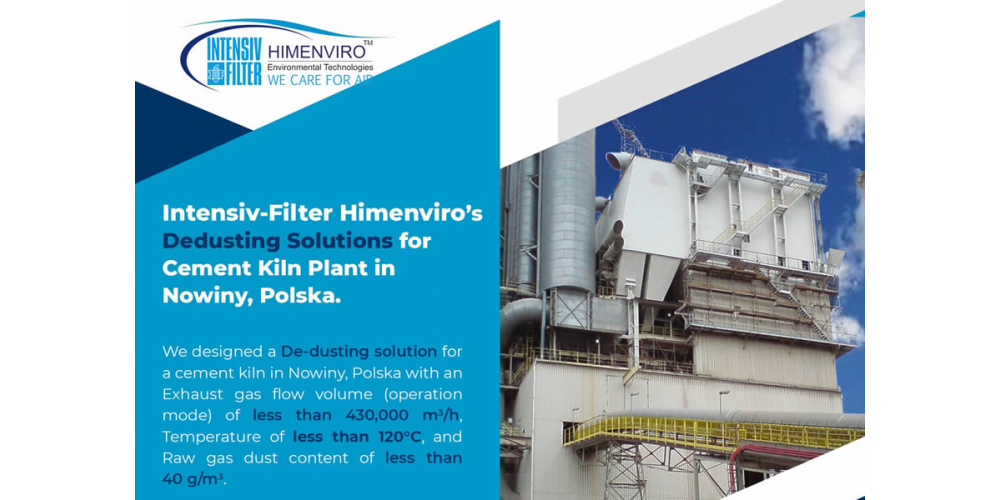 Dedusting Solutions for Cement Kiln Plant in Nowiny, Polska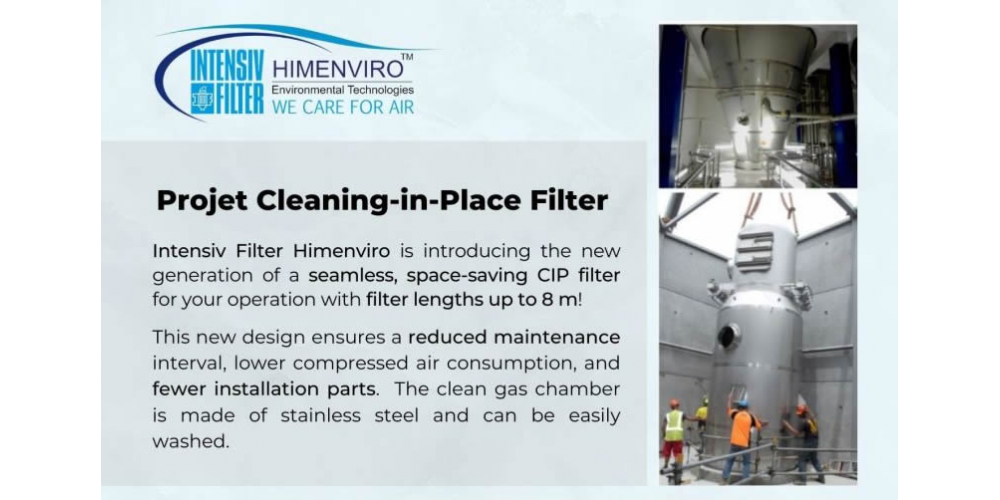 Project Cleaning-in-Place Filter