Molecular Plasma Group SA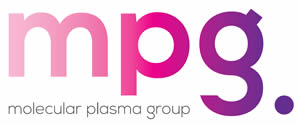 Exhibitor Profile
Molecular Plasma Group offers a new sustainable functionalization technology for filters.
It can add value to products in air or liquid filtration for use in batteries, medical devices, automotive, personal protective equipment, HVAC and other applications. Functionalities include selective filtration, virucidal and antimicrobial, biomolecule immobilization, repellence, antifouling, hydrophilic and others.
MPG's technology enables non-stop treatment without need for vacuum to achieve fibre surface functionalization in a single step, without drying or curing process. It's cold plasma process enables covalent binding of pure organic chemistry, while reducing energy consumption and even without solvents. A wide range of precursor molecules can be used for different functions.
R&D services and equipment are offered to help customer to develop unique innovations with this new technology. A team of scientists specialized in plasma chemistry is available to run projects for customers. MPG's PlasmaSpot® and PlasmaLine® R&D machines available as a service or rental.
In collaboration with P. Glatzeder GmbH, MPG offers coating service for scale-up or small productions. For larger projects MPG's coating equipment includes variable-width plug-and-play industrial roll-to-roll machines or bespoke in-line units. Quality is ensured by fully monitored performance and traceability, with automated inline quality control system for 100% inspection.
Products / Markets
Product Index
Batterieseparatoren
Beschichtete Filter,antibakteriell
Chemikalien für die Vorbehehandlung
In-Line Qualitätskontrolle/Prozesskontrolle
Klebstoffauftragsysteme
Membranherstellung
Nanofiltration
Oberflächenbehandlung
Plasma Behandlung
Market Scope
Automobilindustrie
Biotechnologie/Biopharmazie
Elektronik-, Mikroelektronikindustrie
Filtrations- und Separationsindustrie
Luft- und Raumfahrtindustrie
Medizintechnik, Health Care Industrie
Pharmazeutische Industrie
Wasserbehandlung, versorgung
Product Index
Adhesive Application Systems
Battery Separators
Chemicals for Pretreatment
Coated Filters, antibacterical
In-line quality control / process control
Membrane Manufacturing
Nanofiltration
Plasma Treatment
Surface Treatment
Market Scope
Aerospace Industry
Automotive Industry
Biotechnology/Biopharmac. Industry
Electronic, Microelectronic Industry
Filtration and Separation Industry
Medical, Health Care Industry
Pharmaceutical Industry
Water Treatment, Supply
Product Index
化学预处理
在线质量控制/过程控制
等离子体处理
粘合应用系统
纳米过滤
蓄电池隔板
薄膜制作
表面处理
镀膜滤色镜,抗菌式
Market Scope
 汽车工业
制药工业
医疗卫生保健业
水处理、供应
生物技术/生物制药业
电子、微电子工业
航空航天业
过滤与分离工业
Product Index
أنظمة تطبيقية للمواد الاصقة
البلازما المعاملة
الفلترة الدقيقة
المعالجة السطحية
تصنيع الاسطوانات
خرطوشات فلترة
فلاتر مغلفة، مضادة للجراثيم
في خط مراقبة الجودة / التحكم في العمليات
كيماويات المعالجة الأولية
Market Scope
التغذية بالمياه وتصريفها
الصناعات الدوائية
الصناعات الطبية والعناية الصحية
الطاقة والإمداد بالطاقة
صناعات الفلترة وفصل المواد
صناعة التقنية البيولوجية والبيوصيدلية
صناعة السيارات
صناعة الفضاء
Product Index
Contrôle de la qualité / contrôle en ligne processus
Fabrication de membranes
Filtres à revêtement, antibactérien
Nanofiltration
Produits chimiques de prétraitement
Systèmes d'application d'adhésifs
Séparateurs de batterie
Traitement de surface
Traitement plasma
Market Scope
Energies et fourniture d'énergies
Industrie automobile
Industrie aérospatiale
Industrie biotechnologie/biopharmaceutique
Industrie de filtration et de séparation
Industrie médicale et de la santé
Industrie pharmaceutique
Traitement d'eau, alimentation
Product Index
Controllo qualità in linea/ Controllo processo
Filtri rivestiti, antibatterici
Nanofiltrazione
Prodotti chimici per pretrattamento
Produzione membrana
Separatori di batterie
Sistemi di applicazione collanti
Trattamento delle superfici
Trattamento plasma
Market Scope
Biotecnologie/biofarmaceutica
Settore aerospaziale
Settore automobilistico
Settore elettronico, microelettronico
Settore filtrazione e separazione
Settore medicale e sanità
Settore parafarmaceutico
Trattamento approvvigionamento acqua
Product Index
Chemikalia do wstępnej obróbki
Filtry powlekane, antybakteryjne
Kontrola jakości filtrów połączonych szeregowo/ Kontrola procesu
Nanofiltracja
Obróbka plazmowa
Obróbka powierzchni
Produkcja membran
Separatory baterii
Systemy aplikacji klejów
Market Scope
Biotechnologia/biofarmaceutyka
Filtrowanie i separacja
Ochrona zdrowia
Przemysł elektroniczny i mikroelektroniczny
Przemysł farmaceutyczny
Przemysł lotniczy
Przemysł samochodowy
Uzdatnianie wody i zaopatrzenie w wodę
Product Index
Filtros revestidos, antibacteriano
Na linha de controle de qualidade / controle de processo
Nanofiltração
Plasma Tratamento
Produção de membranas
Químicos de pré-tratamento
Separadores de baterias
Sistemas de aplicação de adesivos
Tratamento de superfície
Market Scope
Energia, abastecimento de energia
Ind. de biotecnologia/biofarmac.
Indústria aeroespacial
Indústria automóvel
Indústria de filtragem e separação
Indústria farmacêutica
Indústria médica, cuidados de saúde
Tratamento de água, abastecimento
Product Index
В он-лайн контроля качества / управление процессом
Изготовление мембран
Нанофильтрация
Плазменной обработки
Разделитель аккумуляторной батареи
Реагенты для предварительной обработки
Системы нанесения клеящего состава
Фильтры с покрытием, антибактериальные
обработка поверхностей
Market Scope
Авиакосмическая промышленность
Автомобильная промышленность
Биотехнология / Биофармацевтическая промышленность
Медицина, здравоохранение
Отрасль фильтрации и сепарирования
Очистка воды, водоснабжение
Фармацевтическая промышленность
Энергетика, электроснабжение
Product Index
Control de calidad / control de procesos en línea
El tratamiento de plasma
Fabricación de membranas
Filtros revestidos, antibacteriológicos
Nanofiltración
Separadores de batería
Sistemas de aplicación de adhesivos
Sustancias químicas de tratamiento previo
Tratamiento de Superficies
Market Scope
Energía, suministro de energía
Industria aeroespacial
Industria de la automoción
Industria de la biotecnología/biofarmacéutica
Industria de la filtración y la separación
Industria farmacéutica
Industria médica, de la atención sanitaria
Tratamiento, suministro de agua
Product Index
Batarya Separatörleri
In-line kalite kontrol / proses kontrol
Kaplı Filtreler, antibakteriyel
Membran Üretimi
Nanofiltrasyon
Plazma İşlemi
Yapıştırıcı Uygulama Sistemleri
Yüzey İşlem
Ön Arıtma Kimyasalları
Market Scope
Biyoteknoloji/Biyoeczacılık Endüstrisi
Elektronik, Mikroelektronik Endüstrisi
Filtrasyon ve Ayırma Endüstrisi
Havacılık Endüstrisi
Otomotiv Endüstrisi
Su Arıtma, Temin
Tıp, Sağlık Sektörü
İlaç Endüstrisi
Product Index
나노 여과
배터리 분리기
분리막 제조
인라인 품질 관리/공정 관리
전처리용 화학물질
접착제 도포 시스템
코팅 필터, 항균성
표면 처리
플라즈마 처리
Market Scope
생명공학/생물 약제학 산업
수질 관리, 수자원 공급
여과 및 분리 산업
의료, 보건 산업
자동차 산업
전자, 마이크로 전자 산업
제약 산업
항공우주 산업
Product Index
インライン品質管理・プロセス制御
コーティングフィルター
ナノ濾過
プラズマ処理
前処理用薬品
接着剤塗布システム
膜製造
表面処理
電池セパレーター
Market Scope
バイオテクノロジー・バイオ医薬品産業
医療、ヘルスケア業界
医薬品業界
水処理および関連製品
濾過および分離技術工業
自動車産業
航空宇宙産業
電子、マイクロエレクトロニクス産業