PORAL

Exhibitor Profile
Mit mehr als 50 Jahren Erfahrung, ist PORAL ein führender Hersteller von Sintermetallprodukten.
PORAL ist unser weltmeit berühmter Markenname für Hochqualität poröse Sintermetallfilter - aus Edelstahl, Bronze oder Sonderlegierungen - als Lösungen zur Filtration von Gasen oder Flüssigtkeiten.
Einfach zu reinigen, bieten PORAL Produkte hohe Korrosions-, Temperatur- und Mechanische-Beständigkeit.
Premium metallic filters fitting for your demanding applications
With more than 70 years of experience, PORAL is a leader company in powder metallurgy.
PORAL is a well-known brand name for high performance porous sintered metal filters - in stainless steel, bronze or nickel-alloys - for liquid or gas filtration.
Easy to clean, PORAL products are offering high corrosion & mechanical resistance, with a wide range of temperatures.
PORAL® sintered porous products are available in many standard shapes like tubes, candles, cartridges, cones, discs, plates or mufflers.
Nevertheless, no matter if you need standard shapes and fittings or customized filter solutions, our team will be your partner to develop customized filter solutions that meet your requirements.
Products / Markets
Product Index
Additive Fertigung
Destillation
Edelstahlfilter
Entsalzung
Filterpatronen
Filterscheiben
Gasfilter
Heißgasfilter
Kerzenfilter
Kraftstoff-Filtermedien
Lufttrockner
Poröse Filtermittel
Poröse Metalle
Pulver
Röhrenfilter
Rückspülfilter
Schmierölfilter
Market Scope
Agrarwirtschaft
Chemische Industrie
Eisen-, Stahlherstellung
Energieerzeugung,-versorgung
Filtrations- und Separationsindustrie
Lebensmittel-,Getränkeindustrie
Luft- und Raumfahrtindustrie
Mineralöl/Öl/Gasproduktion
Petrochemische Industrie
Product Index
Additive Manufacturing
Air Dryers
Back Flush Filters
Candle Filters
Desalination
Distillation
Filter Cartridges
Filter Discs
Fuel Filter Media
Gas Filters
Hot-Gas Filters
Lubrication Oil Filters
Porous Filter Media
Porous Metals
Powders
Stainless Steel Filters
Tube Filters
Market Scope
Aerospace Industry
Agriculture
Chemical Industries
Energy, Energy Supply
Filtration and Separation Industry
Food, Beverage Industry
Iron, Steel Manufacturing
Mineral / Oil / Gas Production
Petrochemical Industry
Product Index
不锈钢过滤器
多孔过滤器介质
多孔金属
气体过滤器
润滑油过滤器
添加剂制造
滤片
滤筒
烛形过滤器
热气过滤器
燃油过滤器介质
空气干燥器
管式过滤器
粉末
脱盐
蒸馏
袋式平槽过滤器
Market Scope
 农业
化学工业
石化工业
矿产/石油/天然气业
能源、能源供应
航空航天业
过滤与分离工业
钢铁制造业
食品、饮料工业
Product Index
أقراص فلاتر
أكياس فلترة للدفق العالي
التصنيع المضافة
بودرات
تثقيب المعادن
تحلية المياه
تقطير
خراطيش فلتر
فلاتر الغازات الحارة
فلاتر المحروقات
فلاتر انبوبية
فلاتر تشحيم وتزييت
فلاتر طولانية
فلاتر غازات
فلاتر من معادن مقاومة للصدأ
مجففات الهواء
مواد تثقيب الفلاتر
Market Scope
إنتاج المعادن والزيوت والغاز
الصناعات الغذائية وصناعة المشروبات
الصناعة البتروكيماوية
الصناعة الكيماوية
الهندسة المعمارية
حماية البيئة
صناعات الفلترة وفصل المواد
صناعة الحديد والصلب
صناعة الفضاء
Product Index
Cartouches de filtres
Desalination
Disques de filtres
Distillation
Fabrication additive
Filtres en acier inoxydable
Filtres en forme de bougie
Filtres à gaz
Filtres à gaz chaud
Filtres à huile de lubrifaction
Filtres à tubes
Médias de filtres poreux
Médias de filtres à carburant
Métaux poreux
Poudres
Sacs de filtres de décolmatage
Sécheurs à air
Market Scope
Agriculture
Industrie aérospatiale
Industrie chimique
Industrie de filtration et de séparation
Industrie pétrochimique
Industries alimentaires et des boissons
Productions minérales / pétrolière / du gaz
Protection de l'environnement
Sidérurgie
Product Index
Asciugatori ad aria
Cartucce filtri
Desalinazione
Dischi filtro
Distillazione
Filtri candele
Filtri di risciacquo
Filtri gas
Filtri gas caldi
Filtri in acciaio inossidabile
Filtri olio lubrificante
Filtri per tubi
Metalli porosi
Mezzi filtranti carburante
Mezzi filtranti porosi
Polveri
Produzione collanti
Market Scope
Agricoltura
Energia, approvvigionamento energetico
Produzione ferro e acciaio
Produzioni minerali / petrolio / gas
Settore aerospaziale
Settore alimenti e bevande
Settore chimico
Settore filtrazione e separazione
Settore petrolchimico
Product Index
Destylacja
Dyski filtra
Filtry ciśnieniowe
Filtry do oczyszczania gorącego gazu
Filtry gazu
Filtry oleju smarowego
Filtry rurowe
Filtry ze stali nierdzewnej
Filtry świecowe
Media filtrów paliwa
Media filtrów porowatych
Metale porowate
Odsalanie
Proszki
Suszarki powietrzne
Wkłady filtra
Wytwarzanie przyrostowe
Market Scope
Filtrowanie i separacja
Przemysł chemiczny
Przemysł energetyczny
Przemysł hutniczy
Przemysł lotniczy
Przemysł petrochemiczny
Przemysł spożywczy
Rolnictwo
Wydobycie minerałów, ropy i gazu
Product Index
Cartuchos filtrantes
Desalination
Destilação
Discos de filtros
Filtros de aço inoxidável
Filtros de gases
Filtros de gases quentes
Filtros de saco de águas residuais
Filtros de tubos
Filtros de velas
Filtros de óleo lubrificante
Manufacturing aditivo
Meios de filtragem de combustível
Meios de filtragem porosa
Metais porosos
Pós
Secadores de ar
Market Scope
Agricultura
Fabrico de ferro, aço
Indústria aeroespacial
Indústria alimentar, de bebidas
Indústria de filtragem e separação
Indústria petroquímica
Indústrias químicas
Produção mineral / óleo / gás
Protecção ambiental
Product Index
Воздушная сушилка
Газовые фильтры
Дистилляция
Добавка Производство
Пористые металлы
Пористый фильтрующий материал
Порошки
Рукавные проточные фильтры
Свечевые фильтры
Трубные фильтры
Фильтрующие диски
Фильтрующие патроны
Фильтрующий элемент топливного фильтра
Фильтры горячих газов
Фильтры из нержавеющей стали
Фильтры смазочного масла
опреснение
Market Scope
Авиакосмическая промышленность
Добыча минералов/ нефти/ газа
Защита окружающей среды
Нефтехимическая промышленность
Отрасль фильтрации и сепарирования
Производство железа, стали
Производство продуктов питания и напитков
Сельское хозяйство
Химическая промышленность
Product Index
Cartuchos de filtro
Desalination
Destilación
Discos de filtro
Fabricación aditiva
Filtros de aceite de lubricación
Filtros de acero inoxidable
Filtros de descarga de bolsa
Filtros de gas
Filtros de gas caliente
Filtros de tubo
Filtros de vela
Medios de filtros de combustible
Medios de filtros porosos
Metales porosos
Polvos
Secadores de aire
Market Scope
Agricultura
Fabricación de hierro, acero
Industria aeroespacial
Industria de la alimentación y las bebidas
Industria de la filtración y la separación
Industria petroquímica
Industrias químicas
Producción de minerales / petróleo / gas
Protección del medio ambiente
Product Index
Damıtma Destilasyon
Filtre Diskleri
Filtre Kartuşları
Gaz Filtreleri
Gözenekli Filtre Ortamı
Gözenekli Metaller
Hava Kurutucular
Katkı İmalat
Mum Filtreler
Paslanmaz Çelik Filtreler
Sıcak Gaz Filtreleri
Ters Yıkamalı Filtreler
Tozlar
Tuz Giderme
Tüp Filtreler
Yakıt Filtresi Ortamı
Yağlama Yağı Filtreleri
Market Scope
Demir, Çelik Üretimi
Enerji, Enerji İkmali
Filtrasyon ve Ayırma Endüstrisi
Gıda, İçecek Endüstrisi
Havacılık Endüstrisi
Kimya Endüstrisi
Mineral / Petrol / Gaz Üretimi
Petrokimya Endüstrisi
Tarım
Product Index
가스 필터
고압 가스 필터
공기 건조기
다공질 금속
다공질 여과재
백 플러시 필터
분말
스텐레스 스틸 필터
연료 여과재
윤활유 필터
증류
첨가제 제조
캔들 필터
탈염
튜브 필터
필터 디스크
필터 카트리지
Market Scope
광물 / 석유 / 가스 생산
농업
석유화학 산업
식음료 산업
에너지, 에너지 공급
여과 및 분리 산업
철, 철강 제조
항공우주 산업
화학 산업
Product Index
ガスフィルター
キャンドルフィルター
ステンレス鋼フィルター
チューブフィルター
バックフラッシュフィルター
フィルターカートリッジ
フィルターディスク
多孔質フィルターメディア
多孔質メタル
潤滑油フィルター
燃料フィルター媒体
積層造形
空気乾燥機
粉末
脱塩
蒸留
高温ガスフィルター
Market Scope
エネルギー、エネルギー供給
化学工業
濾過および分離技術工業
石油化学工業
航空宇宙産業
製鉄、製鋼業
農業
鉱物・石油・ガス生産
食品、飲料業界
Press release
A metal filter solution that adapts to your needs
PORAL® porous products may be used for filtration of gas or liquid, separation, flow equalization, flow restriction, bubbling, aspiration, flame arrestor, coalesce, fluidized bed and noise reduction & protection.
PORAL® sintered filter provides solutions for multiple markets and application fields worldwide:
Chemical & Petrochemical: Corrosive liquids or gases, cryogenic fluids,
Medical, Pharmaceutic & cosmetic: Respiratory devices, separation…
Aeronautic, Space & Military: Oil or kerozene filtration,...
Food & Beverage: Aeration, hydrogenation, oxygen stripping…
Mechanical & Construction: Hydraulic filtration, silencers, plastic mould gas evacuation, fluidized beds…
Nuclear: Calciner exhaust gaz filtration…
Welding Device, Metrology & Instrumentation, Valves: Flame arresters, sensors protection, high pressure valves protection…
Water treatment: Ozone diffusion, purification…
Design & luxury appearance parts
THE MAIN ADVANTAGES OF PORAL® SINTERED METAL FILTERS ARE:
High temperature resistance, stability over a wide temperature range from cryogenic (<150°C) to 900°C,
High filtration efficiency, from 0.2 to 270 µm according to the material and grade.
High corrosion resistance, chemical stability
High mechanical strength, high differential pressure capability, resistance to vibration and abrasion,
Easy cleaning for significant operational cost savings by reverse flushing with a clean fluid, by appropriate solvents, chemical reagents, ultrasonic washing or calcining (long useful life),
Easy to implement in any installation design (machinable and weldable, complex shapes),
Regular behavior, homogeneous repartition of porosity.
Images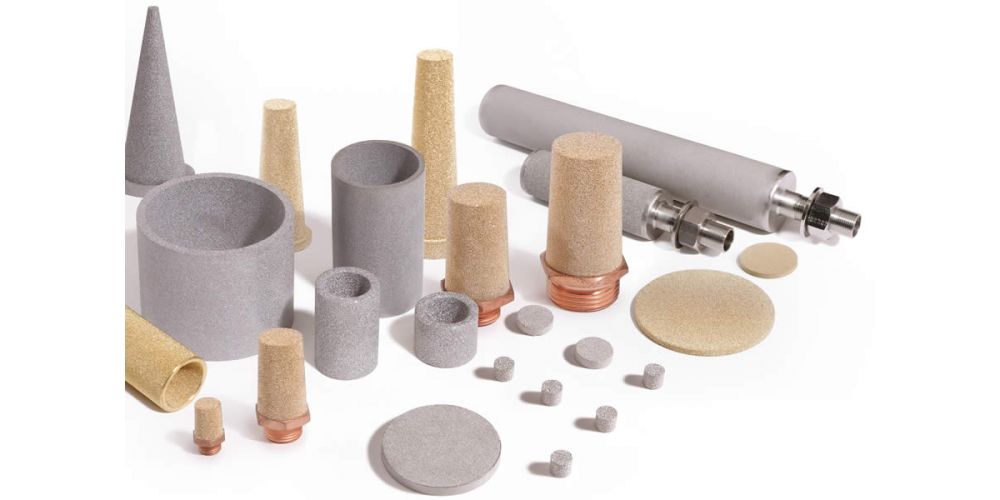 PORAL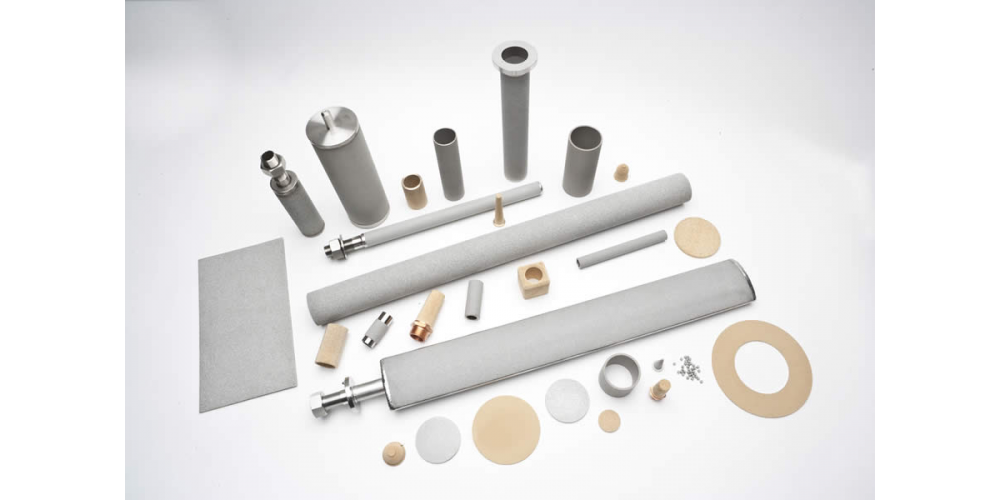 PORAL