Porous Measurement Int'l Ltd Hall 7 / R32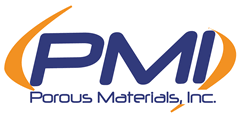 Exhibitor Profile
Porous Materials, Inc. (PMI) manufactures novel platforms for testing of porous materials and is a well-recognized market leader in porosity solutions.
With more than 37 years of experience, PMI provides a wide array of lab instruments targeting both academia and industries for the analysis of Filter materials, pore size, pore size distribution, Membranes, Powder and porous materials, surface area, density, specific gas and vapor interactions and much more.
In addition, PMI's testing services division offers contract testing services for a wide variety of tests. PMI holds several US and International patents based on novel technologies for the characterization of pore structure.
Our Products are:
Porometer
Pycnometer
Porosimeter
BET-Sorptometer/volumetric gas sorption analyzer
Surface Area Analyzer
Membrane Making Machine/
MBR
Membrane Testing and Characterization machines
Products / Markets
Product Index
Analytische Messtechnik
Batterieseparatoren
Destillation
Filtertextilien
Keramikmembranen
Luftfilterprüfung
Medizinische Filter
Membranbioreaktor
Membranherstellung
Mikrofiltration
Nanofiltration
Patronenfilter
Porengrößenmessgerät
Poröse Filtermittel
Ultrafiltration
Vliesmaterialien
Vliesmaterialien, Meltblown
Wasserfilterprüfung
Market Scope
Abwasserwirtschaft
Automobilindustrie
Chemische Industrie
Filtrations- und Separationsindustrie
Keramik-, Glasindustrie
Lebensmittel-,Getränkeindustrie
Pharmazeutische Industrie
Textilindustrie
Umweltschutz
Zellstoff-, Papierindustrie
Product Index
Air Filter Testing
Analytical Instruments
Battery Separators
Cartridge Filters
Ceramic Membranes
Distillation
Filter Textiles
Medical Filters
Membrane Bioreactors MBR
Membrane Manufacturing
Microfiltration
Nanofiltration
Nonwovens
Nonwovens, Meltblown
Pore Size Meter
Porous Filter Media
Ultrafiltration
Water Filter Testing
Market Scope
Automotive Industry
Ceramic, Glass Industry
Chemical Industries
Environmental Protection
Filtration and Separation Industry
Food, Beverage Industry
Pharmaceutical Industry
Pulp, Paper Industry
Textile Industry
Waste Water Treatment
Product Index
分析仪器
医用过滤器
多孔过滤器介质
孔径分析仪
微孔过滤
无纺布
水过滤器测试
滤筒
熔喷无纺布
空气过滤测试
纳米过滤
膜生物反应器MBR
蒸馏
蓄电池隔板
薄膜制作
超过滤
过滤织物
陶瓷膜
Market Scope
 汽车工业
制药工业
化学工业
废水处理
环境保护
纸浆、造纸工业
纺织工业
过滤与分离工业
陶瓷、玻璃工业
食品、饮料工业
Product Index
أغشية السراميك
اختبار تصفية المياه
التحاليل
الفلترة الدقيقة
الفلترة المضاعفة
الفلترة الميكروية
اللانسيج، تذويب وتنفيش
تصفية الهواء اختبار
تصنيع الاسطوانات
تقطير
حجم المسام محلل
خرطوشات فلترة
غير المنسوجات / اللانسيج
فلاتر الكارترج / الخراطيش
فلاتر طبية
مفاعل بيولوجي اسطواني MBR
مواد تثقيب الفلاتر
نسيج فلاتر
Market Scope
الصناعات الدوائية
الصناعات الغذائية وصناعة المشروبات
الصناعة الكيماوية
الصناعة النسيجية
الصناعة الورقية
صناعات الفلترة وفصل المواد
صناعة الألبان
صناعة الزجاج والفخار / السيراميك
صناعة السيارات
معالجة مياه الصرف
Product Index
Analyseur de taille des pores
Bioréacteurs à membrane MBR
Cartouches de filtres
Distillation
Fabrication de membranes
Filtres médicaux
Instruments analytiques
Membranes céramiques
Microfiltration
Médias de filtres poreux
Nanofiltration
Non tissés
Non tissés, toiles soufflées à chaud
Séparateurs de batterie
Test de filtre à air
Test de filtre à eau
Textiles pour filtres
Ultrafiltration
Market Scope
Industrie automobile
Industrie chimique
Industrie de filtration et de séparation
Industrie de la céramique et du verre
Industrie de la pâte de cellulose et du papier
Industrie laitière
Industrie pharmaceutique
Industrie textile
Industries alimentaires et des boissons
Traitement des eaux usées
Product Index
Bioreattore a membrana MBR
Distillazione
Filtri cartuccia
Filtri medicali
Membrane in ceramica
Mezzi filtranti porosi
Microfiltrazione
Misuratore dimensioni pori
Nanofiltrazione
Non tessuti
Non tessuti, meltblown
Produzione membrana
Separatori di batterie
Strumenti analitici
Tessuti per filtri
Ultrafiltrazione
Verifica filtro acqua
Verifica filtro aria
Market Scope
Protezione ambientale
Settore alimenti e bevande
Settore automobilistico
Settore ceramica e vetro
Settore chimico
Settore filtrazione e separazione
Settore industria dell carta e della cellulosa
Settore industria tessile
Settore parafarmaceutico
Trattamento acque reflue
Product Index
Bioreaktory membranowe MBR
Destylacja
Filtry do zastosowań medycznych
Materiały nietkane
Materiały nietkane, zgrzewalne
Media filtrów porowatych
Membrany ceramiczne
Mikrofiltracja
Nanofiltracja
Narzędzia analityczne
Pomiar wielkości porów
Produkcja membran
Separatory baterii
Testowanie filtrów powietrza
Testowanie filtrów wody
Tkaniny filtracyjne
Ultrafiltracja
Wkłady filtracyjne
Market Scope
Filtrowanie i separacja
Ochrona środowiska
Oczyszczanie ścieków (waste water)
Produkcja szkła i ceramiki
Przemysł celulozowo-papierniczy
Przemysł chemiczny
Przemysł farmaceutyczny
Przemysł samochodowy
Przemysł spożywczy
Przemysł tekstylny
Product Index
Analisador de tamanho de poros
Destilação
Filtros de cartuchos
Filtros medicinais
Instrumentos analíticos
Meios de filtragem porosa
Membranas cerâmicas
Microfiltração
Nanofiltração
Não-tecidos
Não-tecidos, fusão
Produção de membranas
Reactores de membrana (MBR)
Separadores de baterias
Teste de Filtro de ar
Teste de filtro de água
Têxteis de filtros
Ultrafiltração
Market Scope
Cerâmica, indústria vidreira
Indústria alimentar, de bebidas
Indústria automóvel
Indústria de filtragem e separação
Indústria farmacêutica
Indústria leiteira
Indústria têxtil
Indústrias químicas
Pasta, indústria do papel
Tratamento de água de despejo
Product Index
Аналитические инструменты
Воздушный фильтр Тестирование
Дистилляция
Изготовление мембран
Керамические мембраны
Медицинские фильтры
Мембранные биореакторы
Микрофильтрование
Нанофильтрация
Нетканые материалы
Нетканые материалы, плавление
Пор по размерам анализатора
Пористый фильтрующий материал
Разделитель аккумуляторной батареи
Тестирование фильтра для воды
Ультрафильтрация
Фильтровальный текстиль
Фильтры со сменным фильтрующим элементом
Market Scope
Автомобильная промышленность
Бумажная промышленность
Керамическая, стекольная промышленность
Молочная промышленность
Отрасль фильтрации и сепарирования
Очистка сточных вод
Производство продуктов питания и напитков
Текстильная промышленность
Фармацевтическая промышленность
Химическая промышленность
Product Index
Analizador de tamaño de poro
Biorreactores de membrana MBR
Destilación
Fabricación de membranas
Filtros de cartucho
Filtros médicos
Instrumentos analíticos
Medios de filtros porosos
Membranas cerámicas
Microfiltración
Nanofiltración
Non-Wowens
Non-Wowens, Meltblown
Prueba del filtro de aire
Pruebas de filtro de agua
Separadores de batería
Tejidos de filtros
Ultrafiltración
Market Scope
Industria de la alimentación y las bebidas
Industria de la automoción
Industria de la cerámica y el cristal
Industria de la filtración y la separación
Industria de la pasta de madera, el papel
Industria de los productos lácteos
Industria farmacéutica
Industria textil
Industrias químicas
Tratamiento de aguas residuales
Product Index
Analitik Cihazlar
Batarya Separatörleri
Damıtma Destilasyon
Dokunmamış Mamuller
Dokunmamış Mamuller, Meltblown
Filtre Tekstilleri
Gözenek Boyutu Ölçüm Cihazı
Gözenekli Filtre Ortamı
Hava Filtresi Test
Kartuşlu Filtreler
Membran Biyoreaktörleri
Membran Üretimi
Mikrofiltrasyon
Nanofiltrasyon
Seramik Membranlar
Su Filtresi Test
Tıbbi Filtreler
Ultrafiltrasyon
Market Scope
Atıksu Arıtma
Filtrasyon ve Ayırma Endüstrisi
Gıda, İçecek Endüstrisi
Kimya Endüstrisi
Otomotiv Endüstrisi
Selüloz, Kağıt Endüstrisi
Seramik, Cam Endüstrisi
Tekstil Endüstrisi
Çevre Koruma
İlaç Endüstrisi
Product Index
공기 필터 테스트
기공도 측정기
나노 여과
다공질 여과재
멜트블로운 부직포
물 필터 테스트
배터리 분리기
부직포
분리막 생물반응조 MBR
분리막 제조
분석 장치
세라믹 분리막
의료 필터
정밀 여과
증류
카트리지 필터
필터 직물
한외 여과
Market Scope
섬유 산업
세라믹, 유리 산업
식음료 산업
여과 및 분리 산업
자동차 산업
제약 산업
제지, 종이 산업
폐수 처리
화학 산업
환경 보호
Product Index
エアフィルター試験
カートリッジ・フィルター
セラミック膜
ナノ濾過
フィルター繊維
不織布
不織布, Meltblown
分析機器
医療用フィルター
多孔質フィルターメディア
水フィルターテスト
精密濾過
細孔径測定器
膜分離型バイオリアクターMBR
膜製造
蒸留
限外濾過
電池セパレーター
Market Scope
セラミック、ガラス産業
パルプ、製紙業界
化学工業
医薬品業界
汚水処理
濾過および分離技術工業
環境保護
繊維業界
自動車産業
食品、飲料業界