Sommer & Strassburger Edelstahlanlagenbau GmbH & Co. KG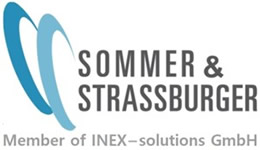 Exhibitor Profile
Kompetenz in Edelstahl - Anlagen, Behälter, Membrangehäuse - Know-how aus über 40 Jahren Erfahrung – Made in Germany!
Mehr als 140 engagierte Mitarbeiter und ein moderner Maschinenpark (z.B. digitales Röntgengerät) stehen für Sie bereit.
Ob Einzelkomponente oder Komplettlösung, wir von Sommer & Strassburger sind spezialisiert auf die kundenindividuelle Verarbeitung von Edelstahl.
Unser umfangreiches Leistungs- und Produktprogramm umfasst unter anderem den Anlagenbau, Prozessbehälter, Membrangehäuse, Filtergehäuse, Wärmetauscher, Rohraushalsungen und Sonderfertigungen.
Seit Anfang 2015 haben wir die Zulassung Druckbehälter und Gehäuse für die VR China zu fertigen und zu liefern. In Kombination mit unserem digitalen Röntgengerät können wir die Anforderungen der SELO China Manufacture License (Level D1 und D2) komplett im eigenen Hause durchführen.
Seit 2016 sind wir ASME U-Stamp zertifiziert.
Grundlage unserer Fertigung ist das AD 2000 Regelwerk. Außerdem werden von uns die Ansprüche nach GMP, FDA und UVV bis hin zur Abnahme nach DGRL 2014/68/EU umgesetzt.
Neben Edelstahl verarbeiten wir auch Sonderwerkstoffe wie z.B. Hastelloy, Duplex, etc.
Das Spektrum der Oberflächenbearbeitung reicht von Tauchbeizen über Glasperlenstrahlen, Gleitschleifen und Elektropolieren bis hin zum Hochglanz-Handpolieren.
Competence in Stainless Steel: Plants, Tanks, Membrane Housings, Cartridge Filter Housings
Know-how from over 40 years of experience - Made in Germany!
We manufacture according to AD 2000, ASME or EN13445, with conformity assessment according to PED 2014/68/EU, ASME, SELO or CRN, also satisfying GMP.
Since the beginning of 2015, we have been authorized to manufacture and supply pressure vessels and housings for the P.R. China. In combination with our digital X-ray machine, we can carry out the requirements of the SELO China Manufacture License (Level D1 and D2) completely in-house.
Since 2016 we are a ASME U-Stamp holder and since 2018 UM-Stamp holder – the only one in Germany producing membrane housings and cartridge filter housings.
More than 140 committed employees and a modern machinery park are ready for you.
Products / Markets
Product Index
Bakterienfilter
Beutel-/Taschenfilter
Edelstahlfilter
Einbaufilter
Filteranlagen
Filterbeutel
Filtergehäuse
Filtermedien f. Flüssigkeiten
Filtermedien f. Gase
Gasfilter
Kerzenfilter
Luftfilter
Luftsterilisation
Paneelfilter-Anlagen
Patronenfilter
Scheibenfilter
Wasserfilter
Market Scope
Biotechnologie/Biopharmazie
Elektronik-, Mikroelektronikindustrie
Filtrations- und Separationsindustrie
Halbleiterindustrie
Lebensmittel-,Getränkeindustrie
Medizintechnik, Health Care Industrie
Milchindustrie / Molkerei
Mineralöl/Öl/Gasproduktion
Pharmazeutische Industrie
Umweltschutz
Product Index
Air Filters
Air Sterilization
Bacteriological Filters
Bag Filters
Candle Filters
Cartridge Filters
Disc Filters
Filter Bags
Filter Housings
Filter Media for Gases
Filter Media for Liquids
Filtration Plants
Gas Filters
In-Line Filters
Panel Filter Lines
Stainless Steel Filters
Water Filters
Market Scope
Biotechnology/Biopharmac. Industry
Dairy Industry
Electronic, Microelectronic Industry
Environmental Protection
Filtration and Separation Industry
Food, Beverage Industry
Medical, Health Care Industry
Mineral / Oil / Gas Production
Pharmaceutical Industry
Semiconductor Industry
Product Index
不锈钢过滤器
串联过滤器
气体过滤器
气体过滤器介质
水过滤器
液体过滤器介质
滤壳
滤筒
滤菌器
烛形过滤器
盘式过滤器
空气消毒器
空气过滤器
袋式过滤器
过滤袋
过滤设备
面板式过滤器生产线
Market Scope
乳品加工业
制药工业
医疗卫生保健业
半导体工业
环境保护
生物技术/生物制药业
电子、微电子工业
矿产/石油/天然气业
过滤与分离工业
食品、饮料工业
Product Index
أكياس فلاتر
أكياس فلترة
تصفية العلب
تعقيم الهواء
خطوط فلاتر صفائحية
فلاتر الكارترج / الخراطيش
فلاتر الهواء
فلاتر طولانية
فلاتر غازات
فلاتر قرصية
فلاتر للأنابيب (على الخط)
فلاتر ماء
فلاتر من معادن مقاومة للصدأ
فلاتر ميكروبيولوجية
مواد فلترة السوائل
مواد فلترة الغازات
وحدات فلترة
Market Scope
إنتاج المعادن والزيوت والغاز
الصناعات الدوائية
الصناعات الطبية والعناية الصحية
الصناعات الغذائية وصناعة المشروبات
الصناعة الإلكترونية والإلكترونيات الدقيقة
الطاقة والإمداد بالطاقة
صناعات الفلترة وفصل المواد
صناعة أنصاف النواقل
صناعة الألبان
صناعة التقنية البيولوجية والبيوصيدلية
Product Index
Cartouches de filtres
Filtres bactériologiques
Filtres en acier inoxydable
Filtres en forme de bougie
Filtres en ligne
Filtres à air
Filtres à disques
Filtres à eau
Filtres à gaz
Filtres à sacs
Installation de filtration
Les boîtiers de filtre
Lignes de panneaux de filtres
Médias de filtre pour gaz
Médias de filtre pour liquides
Sacs de filtres
Stérilisation d'air
Market Scope
Energies et fourniture d'énergies
Industrie biotechnologie/biopharmaceutique
Industrie de filtration et de séparation
Industrie des semi-conducteurs
Industrie laitière
Industrie médicale et de la santé
Industrie pharmaceutique
Industrie électronique et microélectrique
Industries alimentaires et des boissons
Productions minérales / pétrolière / du gaz
Product Index
Alloggiamenti filtro
Filtri a disco
Filtri a tasche
Filtri aria
Filtri batteriologici
Filtri candele
Filtri cartuccia
Filtri gas
Filtri in acciaio inossidabile
Filtri in linea
Filtri per acqua
Impianti di filtraggio
Linee filtri a pannello
Mezzi filtranti per gas
Mezzi filtranti per liquidi
Sterilizzazione dell'aria
Tasche filtri
Market Scope
Biotecnologie/biofarmaceutica
Produzioni minerali / petrolio / gas
Protezione ambientale
Settore alimenti e bevande
Settore caseario
Settore elettronico, microelettronico
Settore filtrazione e separazione
Settore industria dei semiconduttori
Settore medicale e sanità
Settore parafarmaceutico
Product Index
Filtry bakteriologiczne
Filtry do wody pitnej
Filtry gazu
Filtry kasetowe
Filtry powietrza
Filtry połączone szeregowo
Filtry tarczowe
Filtry workowe
Filtry ze stali nierdzewnej
Filtry świecowe
Media filtrów cieczy
Media filtrów gazu
Obudowy filtrów
Sterylizacja powietrza
Urządzenia filtracyjne
Wkłady filtracyjne
Worki filtracyjne
Market Scope
Biotechnologia/biofarmaceutyka
Filtrowanie i separacja
Ochrona zdrowia
Ochrona środowiska
Produkcja półprzewodników
Przemysł elektroniczny i mikroelektroniczny
Przemysł farmaceutyczny
Przemysł mleczarski
Przemysł spożywczy
Wydobycie minerałów, ropy i gazu
Product Index
Carcaças de Filtro
Esterilização do ar
Filtros bacteriológicos
Filtros de ar
Filtros de aço inoxidável
Filtros de cartuchos
Filtros de discos
Filtros de encaixe
Filtros de gases
Filtros de saco
Filtros de velas
Filtros de água
Instalações de filtração
Instalações de filtros de painéis
Meios de filtragem para gases
Meios de filtragem para líquidos
Sacos filtrantes
Market Scope
Electrónica, indústria microelectrónica
Energia, abastecimento de energia
Ind. de biotecnologia/biofarmac.
Indústria alimentar, de bebidas
Indústria de filtragem e separação
Indústria de semicondutores
Indústria farmacêutica
Indústria leiteira
Indústria médica, cuidados de saúde
Produção mineral / óleo / gás
Product Index
Бактериальные фильтры
Водяные фильтры
Воздушные фильтры
Газовые фильтры
Дисковые фильтры
Корпуса фильтров
Линии по производству фильтровальных панелей
Проточные фильтры
Рукавные фильтры
Свечевые фильтры
Стерилизация воздуха
Фильтрационные установки
Фильтровальные мешки
Фильтрующий материал для газов
Фильтрующий материал для жидкостей
Фильтры из нержавеющей стали
Фильтры со сменным фильтрующим элементом
Market Scope
Биотехнология / Биофармацевтическая промышленность
Добыча минералов/ нефти/ газа
Медицина, здравоохранение
Молочная промышленность
Отрасль фильтрации и сепарирования
Полупроводниковая промышленность
Производство продуктов питания и напитков
Фармацевтическая промышленность
Электроника, микроэлектроника
Энергетика, электроснабжение
Product Index
Bolsas de filtro
Esterilización de aire
Filtro de Viviendas
Filtros bacteriológicos
Filtros de acero inoxidable
Filtros de agua
Filtros de aire
Filtros de bolsa
Filtros de cartucho
Filtros de disco
Filtros de gas
Filtros de vela
Filtros en línea
Líneas de filtros de paneles
Medios de filtros para gases
Medios de filtros para líquidos
Plantas de filtración
Market Scope
Energía, suministro de energía
Industria de la alimentación y las bebidas
Industria de la biotecnología/biofarmacéutica
Industria de la electrónica, microelectrónica
Industria de la filtración y la separación
Industria de los productos lácteos
Industria de los semiconductores
Industria farmacéutica
Industria médica, de la atención sanitaria
Producción de minerales / petróleo / gas
Product Index
Arıtma İstasyonları
Bakteriyolojik Filtreler
Disk Filtreler
Filtre Gövdeleri
Filtre Torbaları
Gaz Filtreleri
Gazlar için Filtre Ortamı
Hava Filtreleri
Hava Temizleme
Kartuşlu Filtreler
Mum Filtreler
Panel Filtre Hatları
Paslanmaz Çelik Filtreler
Su Filtreleri
Sıralı Filtreler
Sıvılar için Filtre Ortamı
Torba Filtreler
Market Scope
Biyoteknoloji/Biyoeczacılık Endüstrisi
Elektronik, Mikroelektronik Endüstrisi
Filtrasyon ve Ayırma Endüstrisi
Gıda, İçecek Endüstrisi
Mineral / Petrol / Gaz Üretimi
Süt Endüstrisi
Tıp, Sağlık Sektörü
Yarıiletken Endüstrisi
Çevre Koruma
İlaç Endüstrisi
Product Index
가스 필터
가스용 여과재
공기 살균
공기 필터
디스크 필터
물 필터
백 필터
세균 필터
스텐레스 스틸 필터
액체용 여과재
인라인 필터
정수 처리장
카트리지 필터
캔들 필터
패널 필터 라인
필터 백
필터 하우징
Market Scope
광물 / 석유 / 가스 생산
반도체 산업
생명공학/생물 약제학 산업
식음료 산업
여과 및 분리 산업
유제품 산업
의료, 보건 산업
전자, 마이크로 전자 산업
제약 산업
환경 보호
Product Index
インラインフィルタ
エアフィルター
カートリッジ・フィルター
ガスフィルター
ガス用濾過材
キャンドルフィルター
ステンレス鋼フィルター
ディスクフィルター
バッグフィルター
パネルフィルターライン
フィルターハウジング
フィルターバッグ
水フィルター
液体用濾過材
濾過設備
空気殺菌
細菌フィルター
Market Scope
バイオテクノロジー・バイオ医薬品産業
医療、ヘルスケア業界
医薬品業界
半導体業界
濾過および分離技術工業
環境保護
酪農産業
鉱物・石油・ガス生産
電子、マイクロエレクトロニクス産業
食品、飲料業界
Press release
Modul- und Tiefenfiltergehäuse mit effizienter und hygienischer Spanneinheit
Herausforderung
Die Verspannung von Filtereinsätzen bei handelsüblichen Modulfiltergehäusen stellt den Anwender oft vor Problemen hinsichtlich Federvorspannung und Reinigung der Spannvorrichtung.
Lösung
Sommer & Strassburger (Bretten in Deutschland) hat ein Modulfiltergehäuse entwickelt, bei dem die Filtereinsätze durch einen außenliegenden pneumatischen Zylinder verspannt werden. Hierdurch ist eine sichere und gleichmäßige Verspannung der Filterelemente unabhängig von der Betriebstemperatur stets gewährleistet. Die Spannkraft kann zudem jederzeit von außen korrigiert und angepasst werden.
Diese neue Generation von Modulfiltergehäusen ist in vier unterschiedlichen Höhen lieferbar. Die Gehäuse- und Funktions- ausführung ist beim Deutschen Patent- und Markenamt als Gebrauchs- musternummer registriert.
Ausgewählte technische Merkmale
Max. Betriebsdruck -1 / +6,7 bar.
Temperaturen: max. 140 °C
Oberflächen: bis Ra 0,4 μm und elektropoliert gefertigt
Standardmäßig werden die produktberührten Edelstahlteile aus dem Werkstoff 1.4404 bzw. auf Kundenwunsch in 1.4435 hergestellt. Als Dichtungswerkstoff wird EPDM mit FDA, alternativ mit USP-Class VI und BSE-Freiheitsbescheinigung eingesetzt.
Rückfragen, detaillierte Angebotserstellung, 3D-Modelle (STEP) sowie weitere Maßinformationen erhalten Sie gern über Herr Hans-Peter Uhl H.Uhl_at_sus-bretten.de.
Informieren Sie sich auch gern unter sus-bretten.de hinsichtlich unserer Lösungskompetenzen im Pharmabehälter- und Anlagenbau, bei Membranfiltration und Filtergehäusen sowie im Bereich der Chemie-Prozessbehälter.
Module and depth filter housing with hygienic press unit
The clamping mechanism for filter inserts in many commercially available module filter housings cause problems for the user with spring pre-tensioning and cleanability of the clamping mechanism.
Sommer & Strassburger has developed a module filter housing that uses an external pneumatic cylinder to clamp the filter inserts. This ensures reliable and even clamping of the filter elements independent of operating temperature. Moreover, the clamping force can be corrected and adjusted at any time from the outside.
Wetted stainless steel components are available in 1 .4404 stainless steel in the standard version and in 1.4435 stainless steel on request. The material of the seals is EPDM with FDA certificate or, alternatively, USP-Class VI and BSE certificate. The specified operating pressure is -1 to +6,7 bar. The max. temperature are 140 °C. Surfaces can be manufactured to Ra 0.4 µm and electro polished. This new generation of module filter housing is available in four different lengths.
The housing design and the function is registered with German Patent and Trade Mark Office.
Please contact us for a detailed quote. 3D models (STEP) and further dimensional specifications are available on request.
Contact Persons: Mr. Hans-Peter Uhl (H. Uhl_at_sus-bretten.de) and Mr. Peter Gehringer (P.Gehringer_at_sus-bretten.de)
Images