Taiwan Grace International Corp.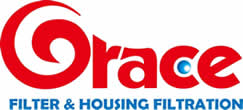 Exhibitor Profile
Taiwan Grace International Corp. is a Taiwan-based company serving Industrial Liquid Process Filtration around the globe.
Established in 2000, Grace manufactures a wide scope of filtration products and services for TFT-LCD, semiconductor, electronics, petrochemical, water treatment, food and beverage, pharmaceutical, semi-conductor, and chemical filtration industries. Grace is headquartered in Taipei, Taiwan. Having been registered in ISO 9001:2015 standard and partnering with customers in over 70 countries, Grace provides OEM services and helps clients with effective solutions for their fluid management challenges. Grace strives to understand the needs of our clients and provides products of good quality while remaining competitive in offers and prices.
Products / Markets
Product Index
Beutel-/Taschenfilter
Edelstahlfilter
Feinsiebe
Filterbeutel
Filterelemente
Filtergehäuse
Filtermedien f. Flüssigkeiten
Filterpatronen
Filterscheiben
Filtertücher
Flüssig-Filtermedien
Hepa-Filter
Kohlefilter
Mikrofiltration
Patronenfilter
Trinkwasserfilter
Wasserfilter
Market Scope
Chemische Industrie
Elektronik-, Mikroelektronikindustrie
Halbleiterindustrie
Lebensmittel-,Getränkeindustrie
Metallverarbeitende Industrie
Oberflächentechnik
Petrochemische Industrie
Pharmazeutische Industrie
Wasserbehandlung, versorgung
Product Index
Bag Filters
Carbon Filters
Cartridge Filters
Drinking Water Filters
Filter Bags
Filter Cartridges
Filter Cloth
Filter Discs
Filter Elements
Filter Housings
Filter Media for Liquids
HEPA Filters
Liquid Filter Media
Microfiltration
Stainless Steel Filters
Strainers
Water Filters
Market Scope
Chemical Industries
Electronic, Microelectronic Industry
Food, Beverage Industry
Metal Processing Industry
Petrochemical Industry
Pharmaceutical Industry
Plating Industry
Semiconductor Industry
Water Treatment, Supply
Product Index
不锈钢过滤器
微孔过滤
水过滤器
活性碳过滤器
液体过滤器介质
液体过滤滤材
滤壳
滤布
滤片
滤筒
滤筒
滤芯
袋式过滤器
过滤器
过滤袋
饮用水过滤器
高效粒子空气过滤器
Market Scope
制药工业
化学工业
半导体工业
水处理、供应
电子、微电子工业
电镀工业
石化工业
金属加工业
食品、饮料工业
Product Index
"فلاتر هواء عالية الفاعلية ""هـيبا"" HEPA"
أقراص فلاتر
أقمشة فلاتر
أكياس فلاتر
أكياس فلترة
الفلترة الميكروية
المصافي
تصفية العلب
خراطيش فلتر
فلاتر الكارترج / الخراطيش
فلاتر كربونية
فلاتر ماء
فلاتر ماء الشرب
فلاتر من معادن مقاومة للصدأ
قطع فلاتر
مواد فلترة الغازات
مواد فلترة الغازات
Market Scope
التغذية بالمياه وتصريفها
الصناعات الدوائية
الصناعات الغذائية وصناعة المشروبات
الصناعة البتروكيماوية
الصناعة الكيماوية
الطاقة والإمداد بالطاقة
صناعة أنصاف النواقل
صناعة الصفيح
صناعة معالجة المعادن
Product Index
Cartouches de filtres
Cartouches de filtres
Disques de filtres
Eléments de filtre
Filtres HEPA
Filtres en acier inoxydable
Filtres pour eau potable
Filtres à carbone
Filtres à eau
Filtres à sacs
Les boîtiers de filtre
Microfiltration
Médias de filtre pour liquides
Médias de filtre pour liquides
Sacs de filtres
Tamis
Tissus de filtre
Market Scope
Energies et fourniture d'énergies
Industrie chimique
Industrie des placages
Industrie des semi-conducteurs
Industrie métallurgique
Industrie pharmaceutique
Industrie pétrochimique
Industries alimentaires et des boissons
Traitement d'eau, alimentation
Product Index
Alloggiamenti filtro
Cartucce filtri
Dischi filtro
Elementi filtranti
Filtri
Filtri a tasche
Filtri acqua potabile
Filtri carbone
Filtri cartuccia
Filtri hepa
Filtri in acciaio inossidabile
Filtri per acqua
Mezzi filtraggio liquidi
Mezzi filtranti per liquidi
Microfiltrazione
Panno filtrante
Tasche filtri
Market Scope
Settore alimenti e bevande
Settore chimico
Settore elettronico, microelettronico
Settore industria dei semiconduttori
Settore industria galvanica
Settore lavorazione metallo
Settore parafarmaceutico
Settore petrolchimico
Trattamento approvvigionamento acqua
Product Index
Dyski filtra
Elementy filtra
Filtry HEPA
Filtry do wody pitnej
Filtry do wody pitnej
Filtry workowe
Filtry węglowe
Filtry ze stali nierdzewnej
Media filtrów cieczy
Media filtrów cieczy
Mikrofiltracja
Obudowy filtrów
Sitka
Tkanina filtracyjna
Wkłady filtra
Wkłady filtracyjne
Worki filtracyjne
Market Scope
Obróbka metali
Produkcja półprzewodników
Przemysł chemiczny
Przemysł elektroniczny i mikroelektroniczny
Przemysł farmaceutyczny
Przemysł petrochemiczny
Przemysł platerniczy
Przemysł spożywczy
Uzdatnianie wody i zaopatrzenie w wodę
Product Index
Carcaças de Filtro
Cartuchos filtrantes
Discos de filtros
Elementos filtrantes
Filtros absolutos (HEPA)
Filtros de aço inoxidável
Filtros de cartuchos
Filtros de carvão
Filtros de saco
Filtros de água
Filtros de água potável
Meios de filtragem para líquidos
Meios de filtragem para líquidos
Microfiltração
Peneiras finas
Sacos filtrantes
Tela filtrante
Market Scope
Energia, abastecimento de energia
Indústria alimentar, de bebidas
Indústria da galvanização
Indústria de processamento de metal
Indústria de semicondutores
Indústria farmacêutica
Indústria petroquímica
Indústrias químicas
Tratamento de água, abastecimento
Product Index
Водяные фильтры
Корпуса фильтров
Микрофильтрование
Рукавные фильтры
Сетчатые фильтры
Угольные фильтры
Фильтровальные мешки
Фильтрующая ткань
Фильтрующие диски
Фильтрующие патроны
Фильтрующие элементы
Фильтрующий материал для жидкостей
Фильтрующий материал для жидкостей
Фильтры из нержавеющей стали
Фильтры питьевой воды
Фильтры со сменным фильтрующим элементом
Фильтры тонкой очистки
Market Scope
Гальванотехническая промышленность
Металлообрабатывающая промышленность
Нефтехимическая промышленность
Очистка воды, водоснабжение
Полупроводниковая промышленность
Производство продуктов питания и напитков
Фармацевтическая промышленность
Химическая промышленность
Энергетика, электроснабжение
Product Index
Bolsas de filtro
Cartuchos de filtro
Coladores
Discos de filtro
Elementos de filtro
Filtro de Viviendas
Filtros HEPA
Filtros de acero inoxidable
Filtros de agua
Filtros de agua potable
Filtros de bolsa
Filtros de carbón
Filtros de cartucho
Medios de filtros para líquidos
Medios de filtros para líquidos
Microfiltración
Tela de filtro
Market Scope
Energía, suministro de energía
Industria de la alimentación y las bebidas
Industria de los revestimientos electrolíticos
Industria de los semiconductores
Industria de procesamiento de metales
Industria farmacéutica
Industria petroquímica
Industrias químicas
Tratamiento, suministro de agua
Product Index
Filtre Diskleri
Filtre Elemanları
Filtre Gövdeleri
Filtre Kartuşları
Filtre Kumaşı
Filtre Torbaları
HEPA Filtreler
Karbon Filtreler
Kartuşlu Filtreler
Mikrofiltrasyon
Paslanmaz Çelik Filtreler
Su Filtreleri
Süzgeçler
Sıvılar için Filtre Ortamı
Sıvılar için Filtre Ortamı
Torba Filtreler
İçme Suyu Filtreleri
Market Scope
Elektronik, Mikroelektronik Endüstrisi
Gıda, İçecek Endüstrisi
Kaplama Endüstrisi
Kimya Endüstrisi
Metal İşleme Endüstrisi
Petrokimya Endüstrisi
Su Arıtma, Temin
Yarıiletken Endüstrisi
İlaç Endüstrisi
Product Index
HEPA 필터
물 필터
백 필터
스텐레스 스틸 필터
스트레이너
식수 필터
액체 여과재
액체용 여과재
여과천
정밀 여과
카트리지 필터
탄소 필터
필터 디스크
필터 백
필터 엘리먼트
필터 카트리지
필터 하우징
Market Scope
금속 가공 산업
도금 산업
반도체 산업
석유화학 산업
수질 관리, 수자원 공급
식음료 산업
전자, 마이크로 전자 산업
제약 산업
화학 산업
Product Index
HEPAフィルター
カートリッジ・フィルター
ステンレス鋼フィルター
ストレーナー
バッグフィルター
フィルターエレメント
フィルターカートリッジ
フィルターディスク
フィルターハウジング
フィルターバッグ
水フィルター
活性炭フィルター
液体フィルター媒体
液体用濾過材
濾過布
精密濾過
飲料水用フィルター
Market Scope
メッキ業界
化学工業
医薬品業界
半導体業界
水処理および関連製品
石油化学工業
金属加工業界
電子、マイクロエレクトロニクス産業
食品、飲料業界