Technogaja UAB - TG Filter Hall 7 / L11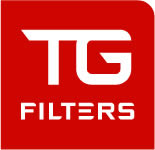 Exhibitor Profile
TGfilters is a specialized manufacturer of Air Filtration products for HVAC and Industrial use.
Over 15 years experience in ventilation and filtration have proven grounds for a deliberate approach towards the production techniques of flagship products for the international Air Filtration market.
Highly sustainable products with a wide range of customization possibilities is the key strength and distinction which distinguishes the TGfilters brand from the conventional air filtration solutions found today. A partnership orientated approach towards the customers has given the company the necessary foundation to develop a fast and responsive procurement system of specialized products from small to mass scale projects in the B2B sector.
TGfilters products are manufactured within strict precision, certified under the ISO 9001:2015; 14001:2015 & OHSAS 18001:2007 Quality Standards and existing filtration norms: EN779:2012; EN1822:2019; ISO16890; ISO29463.
Products / Markets
Product Index
Absorptionsfilter
Ansaugfilter
Beschichtete Filter,antibakteriell
Einwegfilter
Filterelemente
Hepa-Filter
Kohlefilter
Luftfilter
Market Scope
Bauindustrie
Biotechnologie/Biopharmazie
Chemische Industrie
Elektronik-, Mikroelektronikindustrie
Energieerzeugung,-versorgung
Filtrations- und Separationsindustrie
Lebensmittel-,Getränkeindustrie
Medizintechnik, Health Care Industrie
Milchindustrie / Molkerei
Umweltschutz
Product Index
Absorption Filters
Air Filters
Carbon Filters
Coated Filters, antibacterical
Disposable Filters
Filter Elements
HEPA Filters
Intake Filters
Market Scope
Biotechnology/Biopharmac. Industry
Building & Construction Services
Chemical Industries
Dairy Industry
Electronic, Microelectronic Industry
Energy, Energy Supply
Environmental Protection
Filtration and Separation Industry
Food, Beverage Industry
Medical, Health Care Industry
Product Index
一次性过滤器
入口过滤器
吸附式过滤器
活性碳过滤器
滤芯
空气过滤器
镀膜滤色镜,抗菌式
高效粒子空气过滤器
Market Scope
乳品加工业
化学工业
医疗卫生保健业
建筑与施工服务业
环境保护
生物技术/生物制药业
电子、微电子工业
能源、能源供应
过滤与分离工业
食品、饮料工业
Product Index
"فلاتر هواء عالية الفاعلية ""هـيبا"" HEPA"
فلاتر إمتصاص
فلاتر احادية الإستعمال
فلاتر السحب الداخلي
فلاتر الهواء
فلاتر كربونية
فلاتر مغلفة، مضادة للجراثيم
قطع فلاتر
Market Scope
الصناعات الطبية والعناية الصحية
الصناعات الغذائية وصناعة المشروبات
الصناعة الإلكترونية والإلكترونيات الدقيقة
الصناعة الكيماوية
الطاقة والإمداد بالطاقة
حماية البيئة
خدمات البناء والإنشاء
صناعات الفلترة وفصل المواد
صناعة الألبان
صناعة التقنية البيولوجية والبيوصيدلية
Product Index
Eléments de filtre
Filtres HEPA
Filtres d'admission
Filtres jetables
Filtres à absorption
Filtres à air
Filtres à carbone
Filtres à revêtement, antibactérien
Market Scope
Energies et fourniture d'énergies
Industrie biotechnologie/biopharmaceutique
Industrie chimique
Industrie de filtration et de séparation
Industrie du bâtiment et de la construction
Industrie laitière
Industrie médicale et de la santé
Industrie électronique et microélectrique
Industries alimentaires et des boissons
Protection de l'environnement
Product Index
Elementi filtranti
Filtri aria
Filtri carbone
Filtri di aspirazione
Filtri di assorbimento
Filtri hepa
Filtri monouso
Filtri rivestiti, antibatterici
Market Scope
Biotecnologie/biofarmaceutica
Energia, approvvigionamento energetico
Protezione ambientale
Servizi settore edile
Settore alimenti e bevande
Settore caseario
Settore chimico
Settore elettronico, microelettronico
Settore filtrazione e separazione
Settore medicale e sanità
Product Index
Elementy filtra
Filtr ssący
Filtry HEPA
Filtry absorbcyjne
Filtry jednorazowe
Filtry powietrza
Filtry powlekane, antybakteryjne
Filtry węglowe
Market Scope
Biotechnologia/biofarmaceutyka
Filtrowanie i separacja
Ochrona zdrowia
Ochrona środowiska
Przemysł budowlany
Przemysł chemiczny
Przemysł elektroniczny i mikroelektroniczny
Przemysł energetyczny
Przemysł mleczarski
Przemysł spożywczy
Product Index
Elementos filtrantes
Filtros absolutos (HEPA)
Filtros de absorção
Filtros de ar
Filtros de aspiração
Filtros de carvão
Filtros descartáveis
Filtros revestidos, antibacteriano
Market Scope
Electrónica, indústria microelectrónica
Energia, abastecimento de energia
Ind. de biotecnologia/biofarmac.
Indústria alimentar, de bebidas
Indústria de filtragem e separação
Indústria leiteira
Indústria médica, cuidados de saúde
Indústrias químicas
Protecção ambiental
Serviços de fabrico & construção
Product Index
Абсорбционный фильтр
Воздушные фильтры
Входные фильтры
Одноразовые фильтры
Угольные фильтры
Фильтрующие элементы
Фильтры с покрытием, антибактериальные
Фильтры тонкой очистки
Market Scope
Биотехнология / Биофармацевтическая промышленность
Защита окружающей среды
Медицина, здравоохранение
Молочная промышленность
Отрасль фильтрации и сепарирования
Производство продуктов питания и напитков
Строительство жилых и общественных зданий
Химическая промышленность
Электроника, микроэлектроника
Энергетика, электроснабжение
Product Index
Elementos de filtro
Filtros HEPA
Filtros de absorción
Filtros de admisión
Filtros de aire
Filtros de carbón
Filtros desechables
Filtros revestidos, antibacteriológicos
Market Scope
Energía, suministro de energía
Industria de la alimentación y las bebidas
Industria de la biotecnología/biofarmacéutica
Industria de la electrónica, microelectrónica
Industria de la filtración y la separación
Industria de los productos lácteos
Industria médica, de la atención sanitaria
Industrias químicas
Protección del medio ambiente
Servicios de edificación y construcción
Product Index
Absorpsiyon Filtreleri
Filtre Elemanları
Giriş Filtreleri
HEPA Filtreler
Hava Filtreleri
Kaplı Filtreler, antibakteriyel
Karbon Filtreler
Tek Kullanımlık Filtreler
Market Scope
Bina ve İnşaat Hizmetleri
Biyoteknoloji/Biyoeczacılık Endüstrisi
Elektronik, Mikroelektronik Endüstrisi
Enerji, Enerji İkmali
Filtrasyon ve Ayırma Endüstrisi
Gıda, İçecek Endüstrisi
Kimya Endüstrisi
Süt Endüstrisi
Tıp, Sağlık Sektörü
Çevre Koruma
Product Index
HEPA 필터
공기 필터
일회용 필터
코팅 필터, 항균성
탄소 필터
필터 엘리먼트
흡수 필터
흡입구 필터
Market Scope
건축 및 건설 용역
생명공학/생물 약제학 산업
식음료 산업
에너지, 에너지 공급
여과 및 분리 산업
유제품 산업
의료, 보건 산업
전자, 마이크로 전자 산업
화학 산업
환경 보호
Product Index
HEPAフィルター
エアフィルター
コーティングフィルター
フィルターエレメント
使い捨てフィルター
吸収フィルター
吸気フィルター
活性炭フィルター
Market Scope
エネルギー、エネルギー供給
バイオテクノロジー・バイオ医薬品産業
化学工業
医療、ヘルスケア業界
建築・建設業
濾過および分離技術工業
環境保護
酪農産業
電子、マイクロエレクトロニクス産業
食品、飲料業界
Press release
The TGFILTERS experience
We live with a timeless "customer-comes-first" approach, which constantly makes us think on how to deliver better value to our partners - encouraging market research and new product development. New experiences is what drives our business further and motives to do more - like a breath of clean air, which we can not exist without.
We invite you to be a part of the TGFILTER experience - Live, Think, Breath - Clean Air.
Images