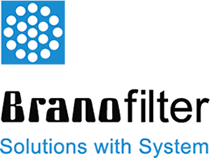 BRANOfilter – competence center for air filtration and fleece processing.
BRANOfilter has been producing top filter products made of non-wovens & paper for many decades. Its manufacturing facilities are located in Germany (Dietenhofen), Czech Republic (Hlinsko) and China (Ningbo).
These are our business units:
BRANOvac (dust bags for industry, household and special applications)
BRANOhvac (filters for heating-ventilation-air-conditioning)
BRANOscience (workshops, training, research & development)
Especially with the business unit BRANOhvac, we offer a large range of filter systems for air conditioning facilities. Our product focus is on filter mats, panel filters and Z-liners in different filter categories, frame types (rectangular or round) and measurements.
Our indoor filters are in accordance with the latest requirements.
BRANOfilter as a medium-sized company is extremely flexible to produce filters in different lot sizes within shortest lead time.
Product Index
Activated Carbon
Air Filter Media
Air Filters
Bag Filters
Disposable Filters
Dust Collectors
Filter Bags
Filter Cloth
Filter Elements
Filter Media
In-Line Filters
Nonwovens
Nonwovens, Meltblown
Nonwovens, Spunbonded
Nonwovens, Spunlaced
Panel Filter Lines
Pre-Cleaning Filters
Synthetic Fiber Media
Market Scope
Building & Construction Services
Energy, Energy Supply
Environmental Protection
Filtration and Separation Industry
Mineral / Oil / Gas Production
Paint, Pigments, Coatings Industry
Plastic Industry
Plating Industry
---
Printed on 2020-07-05