FILTECH 2022 Conference is the ideal platform to present your latest research to an international audience. 240+ technical papers will deliver solutions for current and future challenges.
Your abstract (word doc) should be 1-2 pages.
Start with title, name(s) of author(s), and affiliation(s). If more than 6 use "et al." Indicate by (*) the presenting author.
Give the preferred type of presentation
Make the title, background, aim, method and main results as concise as possible
List 4-8 Keywords. Graphics are allowed.
Late Abstracts are still accepted but go on a waiting list due to the large number of submissions.
If not included in the final programme they will be represented as posters without oral presentations.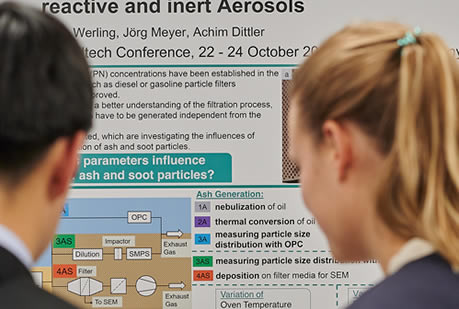 Types of Presentations
20 min presentation or
5 min short oral presentation
in a session room plus presentation in front of the poster in the poster area after the session
Acceptance Notice
4 October 2021
Full Paper Deadline
15 December 2021

Poster Printing Service for short oral presenters
Do you have any questions concerning your FILTECH 2022 Conference participation ? Please contact Suzanne Abetz at info_at_filtech.de
Speaker Login
FILTECH 2022 Presenters will receive their log-in data with their session confirmation October 4.