The FILTECH 2023 Show will once again offer Exhibitors a unique possiblity to generate new business. The Show will feature 440+ Exhibitors and will again be the international platform and solution provider for all industries covering every market segment.
FILTECH moved to bigger halls.
The filtration and separation industry is still growing at considerable rates. And FILTECH is the global platform to present solutions for all filtration tasks and to generate international business.
How to Exhibit
Step 1: Choose your space & reserve
Step 2: We will confirm your reservation
Step 3: Create/edit your Company profile to go online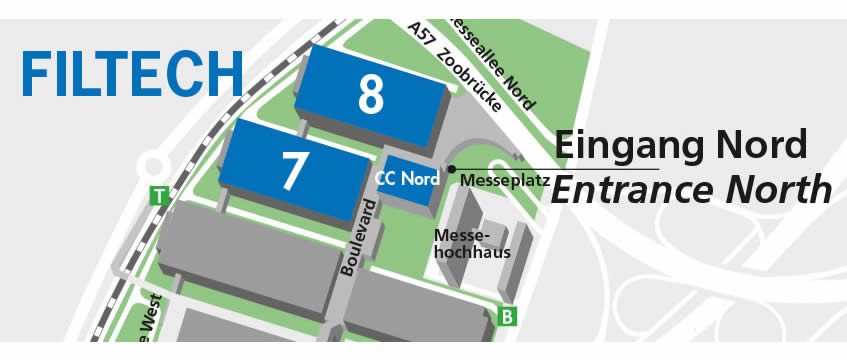 Choose & reserve your Space Online
Space price: 295 € per sqm plus 12,55 € Eco/Energy flat
The space price includes: Print & online communication package, catalogue entry, promotions codes to invite your prospects and free exhibitor passes. There are no additional costs or surcharges for corner, head or island spaces.
Do you need support with your space booking? Contact:
or phone us +49 (0)2132 935760.
A shell scheme stand solution is a very cost effective way to exhibit at the FILTECH 2023 Show. The schell scheme package is a turnkey solution at a very moderate price. A broad number of smart space options is available giving your stand a unique individual design.
Free Exhibitor Services – Perfect Tools for your B2B Communication
Free Print Communication Package
Free 1page entry in the Exhibition Catalogue incl. contact details, 4c Company logo, Company /Product description and 18 Keywords in the Product Index.
Free Online Communication Package
Free entry at FILTECH 2023 website incl. Company description (German & English), Company logo, product pictures&graphics, youTube links, press releases,18 keywords in the product index plus 10 keywords in the market index.
Free Company branded Stickers & Banners
Free banners branded with Company logo and stand number plus free stickers branded with Company logo.
Free Company branded Exhibitor Badges
Free Exhibitor badges with staff names & Company logo.
Free Promotion Codes
Free Promotion Codes to invite clients/customers (stand size <23 m2: 50 Codes; stand size 24-35 m2: 80 Codes; stand size >36 m2:100 Codes)
Conference Registration
Reduced registration fee for Companies presenting a paper at FILTECH Conference
Free Cologne Public Transport Tickets
Free Cologne public transport tickets for all staff attending
Free Press Publication
Free publication of Exhibitor news/press releases at the FILTECH 2023 Website.
Free Get-Together Reception
Enjoy a drink and a snack after a first busy FILTECH day.