The FILTECH 2022 Show was the first international gathering of the filtration community after 2 years. The world's largest filtration show made for an excellent mood amongst the 384 exhibitors. With 14,750 participants over 3 days FILTECH 2022 has clearly exceeded the expectations and set a strong signal for further growth of the world-wide filtration and separation sector. At FILTECH 2022 51,5% came from outside Germany. A substantial increase was registered in the number of trade visitors from Turkey, France, Poland, India and Northern Africa.
The experts came from 45 nations and all continents. Again the FILTECH Show was an intercultural experience and a unique platform for exhibitors to generate new business. Companies reported an high number of contacts of decision makers, a marked willingness amongst trade visitors to invest, promising new business contacts from all over the world, quite specific contract negotiations and concrete business deals.
FILTECH 2022
14.750 Participants
384 Exhibitors
37,6 % Top-Executives
Do business with international top-level decision makers. 51,5% came from abroad
The Filtration Event
14-16 February 2023
Cologne – Germany
440+ Exhibitors
will feature targeted solutions for filtration tasks of all industries at the FILTECH 2023 Show.
Exhibitor Statements…
Fua Nipah, President and General Manager, Life Sciences & Environment, MANN+HUMMEL
"FILTECH is an excellent platform for the filter industry and for filter manufacturers, suppliers, and their customers. For MANN+HUMMEL, this is the ideal event to present its sustainable solutions for Cleaner Mobility, Cleaner Air, and Cleaner Water. Filtech provides our company with a unique opportunity to talk with customers, suppliers, potential future employees, and members of the press who are specifically interested in our filtration products and solutions. MANN+HUMMEL was very pleased to once again be able to attend FILTECH onsite, and to meet face to face with our partners and potential future partners. Another great advantage of the onsite participation was the interaction with leading filtration scientists who attend the parallel conferences and also visit the exhibition. Dr. Harald Banzhaf and Dr. Martin Lehmann represent MANN+HUMMEL on the scientific committee, and we were pleased that Dr. Lehmann was able to open the conference with a plenary lecture."
Tomohiko Okutani, President, Okutani Ltd
First of all, we would like to express our gratitude to the FLITECH organizers for hosting FILTECH 2022 despite the difficult conditions. Since we participated FILTECH 2022 from Japan, we faced more problems than European companies for participation. However it was well worth all that hard work to participate!
1. Visitors to our booth were more than 2019 despite of COVID-19 pandemic.
2. Each visitor had a sense of purpose and is highly likely to lead to business negotiations.
3. We could exchange information with other exhibitors in the same industry.
If you are in the field of Filter business, FILTECH is the trade show you MUST participate.
まず、厳しい条件にもかかわらずFILTECH 2022を開催してくださったFLITECHの 主催者の皆様に感謝いたします。 日本からFILTECH 2022に参加したため、欧州企業よりも参加に際しての問題が多 くありました。 しかし、苦労して参加する価値は十分にありました 1. COVID-19の大流行にもかかわらず、弊社ブースへの来場者は2019年以上とな りました。 2. 来場者一人一人が目的意識を持っており、商談につながる可能性が高い。 3.同業他社の出展者と情報交換ができた。FILTECHは、フィルタービジネスに携わる者であれば、必ず参加すべき展示会で す。
Dr. Günter Müller, Head of Sales Department Filtration Products, Sandler AG
"Being a nonwovens manufacturer, FILTECH brings together exactly the audience Sandler is looking to address. The exhibition and conference provide an ideal platform to discuss current topics and challenges, and to get new insights into market developments and product innovations. Therefore, the FILTECH Show was again a great success for Sandler."
Peter Wink, Group Vice President Filtration for Industry and Environment, Hengst SE
"We are very pleased to have been able to meet numerous customers in person at FILTECH after a long period of hard times. Two years without a FILTECH Show is way too long. Together with our subsidiaries Delbag, Nordic Air Filtration and Hengst Filtration (formerly Bosch Rexroth) we had great talks with customers and suppliers and were able to inform ourselves about new products and services in the world of filtration. It was a pleasure for us to show our brand new booth with our new design at FILTECH for the first time and to present our broad portfolio with innovative filtration solutions in industries like private households, hydraulics or industrial filtration. We look forward to FILTECH 2023!"
Frank Steegmanns, Key Account Manager Adhesives, Stockmeier Urethanes GmbH & Co. KG
"FILTECH has become the most important trade fair for filter technology. Stockmeier Urethanes has also grown to one of the leading supplier of Adhesives, Sealants and Casting System for filtration. This combination has been successful for years. FILTECH brings all parts of the industry, from across the globe, to share experiences and information. We are looking forward to be a part of the coming FILTECH Show."
Positive Results Exhibitor Survey 2022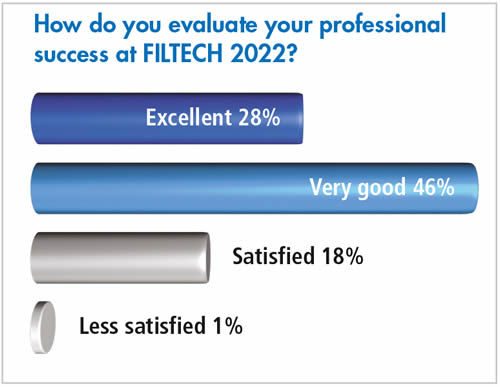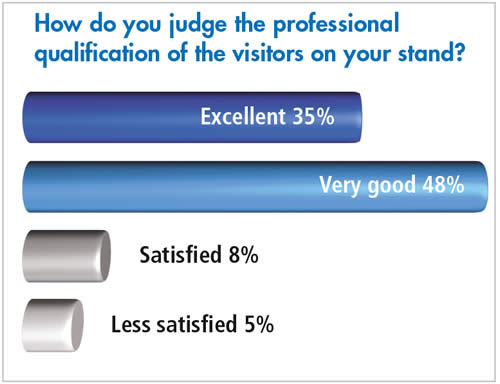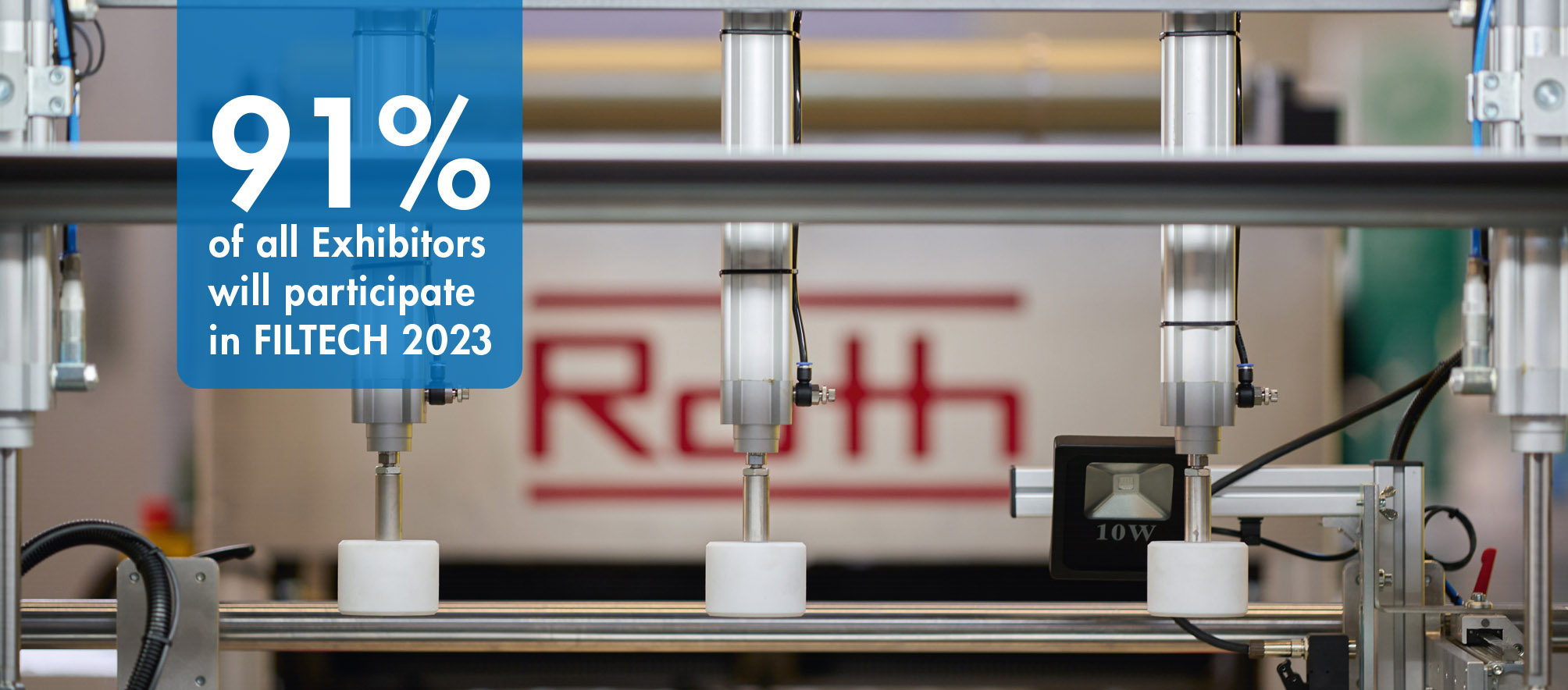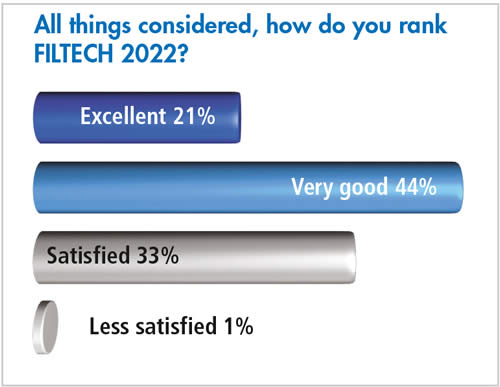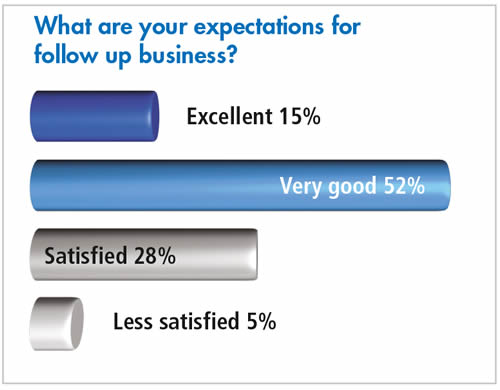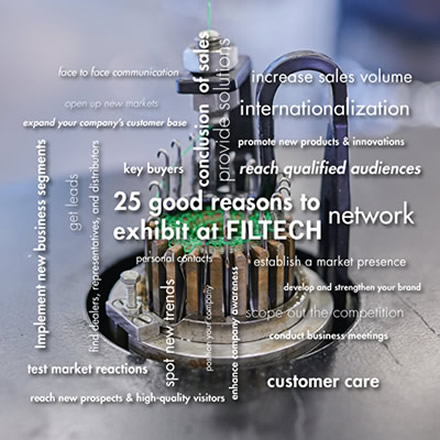 Dr. Stefano Santorsola Business Director, Evonik Fibres GmbH – Filiale Italiana
"I enjoyed a lively FILTECH 2022 and was able to meet a huge number of key market players. I already look forward to FILTECH 2023."
Mihriban Kiziltas, Regional Sales Manager, İkiler Otomotiv Filtre, Turkey
"Everything was great. See you next year!"
Gangadharan Alapatt, CEO, Queen Filter Trading, Dubai, UAB
"The FILTECH 2022 fair and the stay in Cologne was excellent."
Andy Leatt, Market Development Director, CPL Activated Carbons, UK
"I had a very successful visit. It was great to see the show running again after COVID. I have put the next exhibition dates in my diary already."