The positive market trend in the immediate run-up to the world's largest filtration show also characterised the course of FILTECH 2019 in Cologne and made for an excellent mood amongst the 428 exhibitors. With 16,500 participants over 3 days FILTECH 2019 has clearly exceeded all expectations and set a strong signal for further growth of the world-wide filtration and separation sector. At FILTECH 2019 58% came from foreign countries. A substantial increase was registered in the number of trade visitors from France, India, South Korea, Russia, Turkey, Brazil, Hungary, Slovenia, Scandinavia and Tunesia.
At FILTECH 2019 more than 58% of the trade visitors came from outside Germany. The experts came from 75 nations and all continents. 32,3% of all international guests came from non European countries making the Show an intercultural experience and a unique platform for exhibitors to generate new business. Companies reported an overwhelming number of contacts, a marked willingness amongst trade visitors to invest, promising new business contacts from all over the world, quite specific contract negotiations and concrete business deals.
FILTECH 2019
+18% Participants
+12% Exhibitors
36 % Top-Executives
Do business with top-level decision makers. 32,3% of all foreign guests came from non-european countries
The Filtration Event
8-10 March 2022
Cologne – Germany
450+ Exhibitors
will feature targeted solutions for filtration tasks of all industries at the FILTECH 2022 Show.
Exhibitor Statements…
Dr. Gunnar-Marcel Klein, Vice President Engineering Filter Elements, MANN+HUMMEL
"After great success with our first presence as exhibitor in 2018 we have doubled our booth size in 2019, resulting in more than 100 % growth of registered customer contacts. The FILTECH has developed now as a main event in our trade fair calendar. We are reaching out to important customers, especially in the Life Sciences & Environment filtration, but also in the Automotive filter business. For more than 20 years we have been participating in the conference with a large delegation. FILTECH is where we meet our most important suppliers and scientific partners in one place and get inspired by new ideas and the latest developments in filtration".
Dr. Thomas Netsch, Group Vice President Filtration for Industry & Environment, Hengst SE
"FILTECH is a must for all engaged in the field of filtration. For our "Filtration for Industry & Environment" division, the show was a great success in every respect. We were able to establish top-class contacts with customers, suppliers and the trade media and held interesting discussions. As a manufacturer of filter solutions for a broad range of applications and industries – ranging from vacuum cleaners, HVAC & Life Science all the way to air intake filtration for power gen and solutions for air pollution control – Filtech provides the right stage to present our expertise and wide range of products. The combination of the trade fair with the FILTECH Symposium make this event even more beneficial. Hengst Filtration will be there again at the coming FILTECH Show"
Peter Reich, Sales Director, Sandler AG
"Being a nonwovens manufacturer, FILTECH brings together exactly the audience we are looking to address. With the filtration market changing rapidly, the exhibition and conference provide an ideal platform to discuss the most current topics with clients and partners and to gain new insight into market developments Therefore, the FILTECH Show was again a great success for Sandler."
Tomohiko Okutani, President, Okutani Ltd
"We visited FILTECH 2018 to see what kind of Show it is and we decided to exhibit at FILTECH 2019 because the Show has much potential for our business and it is a great opportunity to expand our sales in not only Europe but also all over the world. To conclude, our decision was correct, FILTECH 2019 was very successful for Okutani Ltd. We did meet many potential customers during FILTECH 2019 and each customer had a strong sense of purpose. Also FILTECH is a very good place to exchange expert opinions connecting on filters & separations with suppliers in same field. We are looking forward to taking part in the coming FILTECH Show! "
Frank Steegmanns, Key Account Manager Adhesives, Stockmeier Urethanes GmbH & Co. KG
"FILTECH has become the most important trade fair for filter technology. Stockmeier Urethanes has also grown to one of the leading supplier of Adhesives, Sealants and Casting System for filtration. This combination has been successful for years. FILTECH brings all parts of the industry, from across the globe, to share experiences and information. We are looking forward to be a part of the coming FILTECH Show."
Positive Results Exhibitor Survey 2019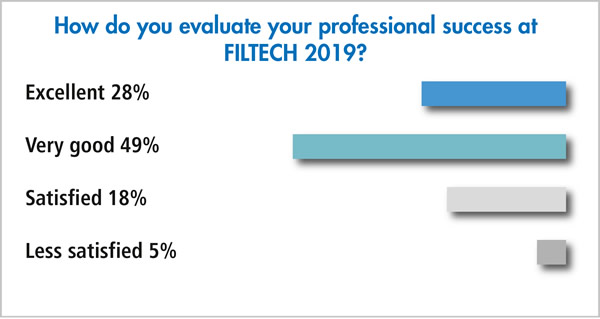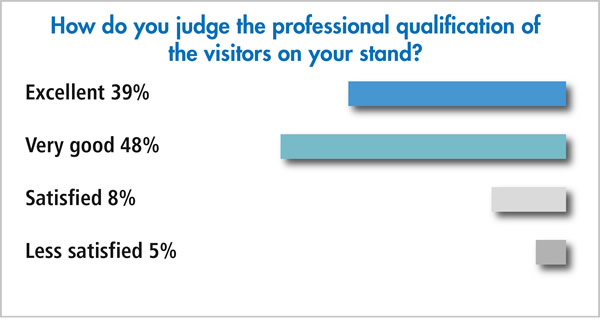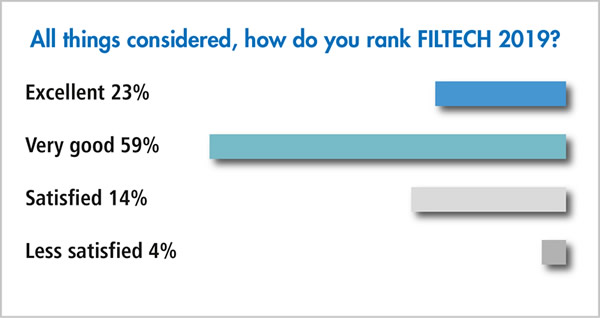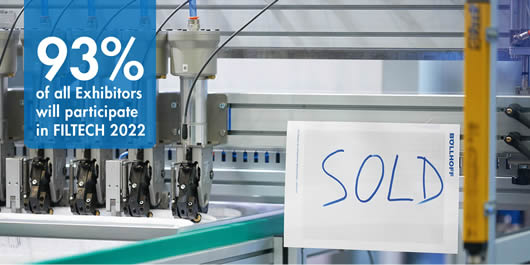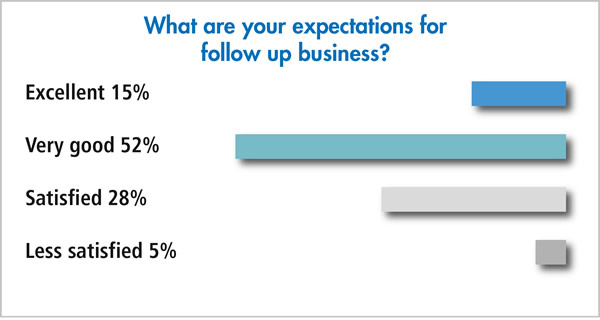 Choose & book your Space Online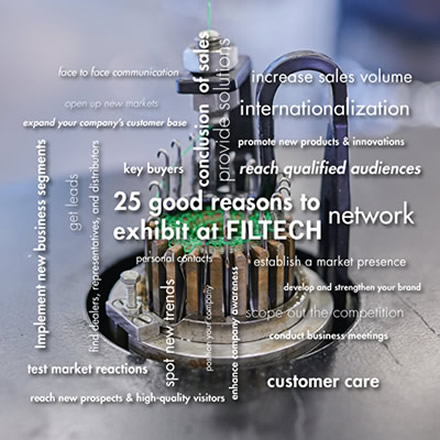 FILTECH 2019 Video