Aerofil International GmbH Hall 7 / M18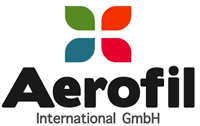 Exhibitor Profile
Aerofil International GmbH is a manufacturer and supplier of various filter media and filters related to HVAC, Gas Turbine and the Surface Coating Industry.
We are a one-stop solution for all your filtration needs right from the basic raw materials to the finished products. Our customers enjoy a quick delivery on consolidated lots, thanks to our large stock maintained for all items we deal with. We also operate our partner channels in Europe to ensure meeting customer demands at any time.
This FILTECH Aerofil features the new generation Plastic Framed V Bank HEPA Filters for asbestos removal industry.
Products / Markets
Product Index
Aktivkohle
Ansaugfilter
Bakterienfilter
Coalescer Medien
Einwegfilter
Filtergehäuse
Filtermedien
Gasfilter
Glasfaserfilter
Glasfasermedien
Hepa-Filter
Kohlefilter
Lackfilter
Luftfilter
Luftfiltermedien
Patronenfilter
Synthetische Fasermedien
Product Index
Activated Carbon
Air Filter Media
Air Filters
Bacteriological Filters
Carbon Filters
Cartridge Filters
Coalescer Media
Disposable Filters
Filter Housings
Filter Media
Gas Filters
Glass Fibre Filter
Glass Fibre Media
HEPA Filters
Intake Filters
Paint Filters
Synthetic Fibre Media
Product Index
一次性过滤器
入口过滤器
合成纤维媒体
气体过滤器
活性碳
活性碳过滤器
滤壳
滤筒
滤菌器
漆雾过滤器
玻璃纤维介质
玻璃纤维过滤器
空气过滤器
空气过滤器介质
聚结器介质
过滤介质
高效粒子空气过滤器
Product Index
"فلاتر هواء عالية الفاعلية ""هـيبا"" HEPA"
الألياف الاصطناعية وسائل الإعلام عية وسائل الإعلام
تصفية العلب
فلاتر احادية الإستعمال
فلاتر السحب الداخلي
فلاتر الكارترج / الخراطيش
فلاتر الهواء
فلاتر دهانات
فلاتر غازات
فلاتر كربونية
فلاتر ميكروبيولوجية
فلتر صوف زجاجي
كربون منشط
مواد إلتحام
مواد الصوف الزجاجي
مواد فلاتر الهواء
مواد فلترة
Product Index
Cartouches de filtres
Charbon actif
Filtres HEPA
Filtres bactériologiques
Filtres d'admission
Filtres en fibres de verre
Filtres jetables
Filtres à air
Filtres à carbone
Filtres à gaz
Filtres à pentures
Fluides coalescents
Fluides pour filtres à air
Les boîtiers de filtre
Médias de filtre
Médias en fibres de verre
Synthetic Fiber Médias
Product Index
Alloggiamenti filtro
Carbone attivo
Filtri aria
Filtri batteriologici
Filtri carbone
Filtri cartuccia
Filtri di aspirazione
Filtri gas
Filtri hepa
Filtri monouso
Filtri per pittura
Filtro fibra di vetro
Mezzi di miscelazione
Mezzi filtranti
Mezzi filtranti aria
Mezzi in fibra di vetro
Mezzi per fibre sintetiche
Product Index
Filtr ssący
Filtry HEPA
Filtry bakteriologiczne
Filtry gazu
Filtry jednorazowe
Filtry powietrza
Filtry powlekane
Filtry węglowe
Filtry z włókna szklanego
Media filtrów
Media filtrów powietrza
Media koagulantów
Media włókna syntetycznego
Media włókna szklanego
Obudowy filtrów
Wkłady filtracyjne
Węgiel aktywowany
Product Index
Carcaças de Filtro
Carvão activado
Filtro de fibra de vidro
Filtros absolutos (HEPA)
Filtros bacteriológicos
Filtros de ar
Filtros de aspiração
Filtros de cartuchos
Filtros de carvão
Filtros de gases
Filtros de tinta
Filtros descartáveis
Meios de fibra de vidro
Meios de filtragem
Meios de filtro do ar
Meios de separação de gotas
Synthetic Fiber Mídia
Product Index
Активированный уголь
Бактериальные фильтры
Воздушные фильтры
Входные фильтры
Газовые фильтры
Коалесцирующий материал
Корпуса фильтров
Одноразовые фильтры
Рабочий элемент стекловолоконного фильтра
Синтетические волокна Медиа
Стекловолоконный фильтр
Угольные фильтры
Фильтрующий материал
Фильтрующий материал
Фильтры красок
Фильтры со сменным фильтрующим элементом
Фильтры тонкой очистки
Product Index
Carbón activado
Fibra Sintética de Medios
Filtro de Viviendas
Filtro de fibra de vidrio
Filtros HEPA
Filtros bacteriológicos
Filtros de admisión
Filtros de aire
Filtros de carbón
Filtros de cartucho
Filtros de gas
Filtros de pintura
Filtros desechables
Medios de fibra de vidrio
Medios de filtro
Medios de filtros de aire
Medios de separadores coalescentes
Product Index
Aktif Karbon
Bakteriyolojik Filtreler
Birleştirici Ortamı
Boya Filtreleri
Cam Elyaf Filtre
Cam Elyaf Ortam
Filtre Gövdeleri
Filtre Ortamı
Gaz Filtreleri
Giriş Filtreleri
HEPA Filtreler
Hava Filtreleri
Hava Filtresi Ortamı
Karbon Filtreler
Kartuşlu Filtreler
Sentetik Elyaf Medya
Tek Kullanımlık Filtreler
Product Index
HEPA 필터
가스 필터
공기 여과재
공기 필터
세균 필터
여과재
유리 섬유 매체
유리 섬유 필터
일회용 필터
카트리지 필터
코어레서 매체
탄소 필터
페인트 필터
필터 하우징
합성섬유 매체
활성탄
흡입구 필터
Product Index
HEPAフィルター
エアフィルター
エアフィルターメディア
カートリッジ・フィルター
ガスフィルター
ガラス繊維フィルター
ガラス繊維メディア
コアレッサーメディア
フィルターハウジング
フィルターメディア
ペイントフィルター
使い捨てフィルター
合成繊維媒体
吸気フィルター
活性炭
活性炭フィルター
細菌フィルター