AFS American Filtration and Separations Society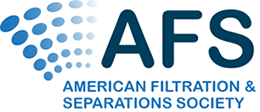 Exhibitor Profile
There is hardly a pollution, contamination, or environmental problem that cannot be prevented or remediated through the use of filtration and separation technologies.
AFS exists to create positive change worldwide by providing comprehensive educational opportunities and fostering a community of collaboration, networking, and idea-sharing within the filtration and separation industry.
Established in 1987 as a non-profit organization, AFS has 30+ years of organizing technical conferences and short courses, dedicated to educating individuals in all areas of filtration and separation.
SAVE THE DATE! AFS FiltCon 2023 will take place May 2 - 3 at the Galt House Hotel in Louisville, KY.
AFS FiltCon 2023 will feature plenary presentations, panel sessions, >100 technical presentations, an exposition featuring the latest technologies, a student poster competition, and networking events. A selection of short courses will be offered on Monday, May 1. Visit the website, https://filtcon.memberclicks.net/ to learn more and register before the early registration deadline of March 17!
BECOME CERTIFIED as an AFSCP (AFS Certified Professional), https://www.afssociety.org/certification.
AFS offers a variety of courses in-person at AFS FiltCon, virtually - live, and on-demand through the AFS Learning Center, https://afss.mclms.net/en/.
Complete the course requirements and apply to take the exam on Thursday, May 4 in Louisville, KY.
See you in Louisville, May 1 - 3!
Products / Markets
Market Scope
Filtrations- und Separationsindustrie
Market Scope
Filtration and Separation Industry
Market Scope
صناعات الفلترة وفصل المواد
Market Scope
Industrie de filtration et de séparation
Product Index
Associazione
Certificazione
Market Scope
Settore filtrazione e separazione
Product Index
Certyfikacja
Stowarzyszenie
Market Scope
Indústria de filtragem e separação
Market Scope
Отрасль фильтрации и сепарирования
Market Scope
Industria de la filtración y la separación
Product Index
Federasyon
Sertifikalandırma
Market Scope
Filtrasyon ve Ayırma Endüstrisi