Beaulieu Fibres International Hall 7 / R12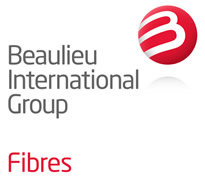 Exhibitor Profile
Beaulieu Fibres International puts innovation and sustainability central for a wide variety of industries such as Geotextiles, Hygiene & Wipes, Floor coverings, Automotive, Upholstery, Filtration, Composites and Construction.
As largest European producer of polyolefin fibres and bicomponent polyester/polyolefin fibres, our company is part of Beaulieu International Group with headquarters in Belgium. Three production sites in Europe – two in Belgium and one in Italy - supply MONO/BICO staple and shortcut fibres, in round and trilobal cross section with linear densities of 1.3 to 500 dtex.
Products / Markets
Product Index
Einwegfilter
Filterelemente
Filtertextilien
Flüssig-Filtermedien
Luftfiltermedien
Synthetische Fasermedien
Synthetische Fasern
Ölfilter
Market Scope
Automobilindustrie
Bauindustrie
Filtrations- und Separationsindustrie
Lebensmittel-,Getränkeindustrie
Medizintechnik, Health Care Industrie
Textilindustrie
Umweltschutz
Product Index
Air Filter Media
Disposable Filters
Filter Elements
Filter Textiles
Liquid Filter Media
Oil Filters
Synthetic Fibre Media
Synthetic Fibres
Market Scope
Automotive Industry
Building & Construction Services
Environmental Protection
Filtration and Separation Industry
Food, Beverage Industry
Medical, Health Care Industry
Textile Industry
Product Index
一次性过滤器
合成纤维
合成纤维媒体
液体过滤滤材
滤油器
滤芯
空气过滤器介质
过滤织物
Market Scope
 汽车工业
医疗卫生保健业
建筑与施工服务业
环境保护
纺织工业
过滤与分离工业
食品、饮料工业
Product Index
الألياف الاصطناعية وسائل الإعلام
الألياف الاصطناعية وسائل الإعلام عية وسائل الإعلام
فلاتر احادية الإستعمال
فلاتر زيوت
قطع فلاتر
مواد فلاتر الهواء
مواد فلترة الغازات
نسيج فلاتر
Market Scope
الصناعات الطبية والعناية الصحية
الصناعات الغذائية وصناعة المشروبات
الصناعة النسيجية
خدمات البناء والإنشاء
صناعات الفلترة وفصل المواد
صناعة الألبان
صناعة السيارات
Product Index
Eléments de filtre
Fibres Synthétiques
Filtres jetables
Filtres à huile
Fluides pour filtres à air
Médias de filtre pour liquides
Synthetic Fiber Médias
Textiles pour filtres
Market Scope
Industrie automobile
Industrie de filtration et de séparation
Industrie du bâtiment et de la construction
Industrie laitière
Industrie médicale et de la santé
Industrie textile
Industries alimentaires et des boissons
Product Index
Elementi filtranti
Fibra sintetica
Filtri monouso
Filtri olio
Mezzi filtraggio liquidi
Mezzi filtranti aria
Mezzi per fibre sintetiche
Tessuti per filtri
Market Scope
Protezione ambientale
Servizi settore edile
Settore alimenti e bevande
Settore automobilistico
Settore filtrazione e separazione
Settore industria tessile
Settore medicale e sanità
Product Index
Elementy filtra
Filtry jednorazowe
Filtry oleju
Media filtrów cieczy
Media filtrów powietrza
Media włókna syntetycznego
Tkaniny filtracyjne
Włókno syntetyczne
Market Scope
Filtrowanie i separacja
Ochrona zdrowia
Ochrona środowiska
Przemysł budowlany
Przemysł samochodowy
Przemysł spożywczy
Przemysł tekstylny
Product Index
Elementos filtrantes
Fibres Synthétiques
Filtros de óleo
Filtros descartáveis
Meios de filtragem para líquidos
Meios de filtro do ar
Synthetic Fiber Mídia
Têxteis de filtros
Market Scope
Indústria alimentar, de bebidas
Indústria automóvel
Indústria de filtragem e separação
Indústria leiteira
Indústria médica, cuidados de saúde
Indústria têxtil
Serviços de fabrico & construção
Product Index
Масляные фильтры
Одноразовые фильтры
Синтетические волокна
Синтетические волокна Медиа
Фильтровальный текстиль
Фильтрующие элементы
Фильтрующий материал
Фильтрующий материал для жидкостей
Market Scope
Автомобильная промышленность
Медицина, здравоохранение
Молочная промышленность
Отрасль фильтрации и сепарирования
Производство продуктов питания и напитков
Строительство жилых и общественных зданий
Текстильная промышленность
Product Index
Elementos de filtro
Fibra Sintética
Fibra Sintética de Medios
Filtros de aceite
Filtros desechables
Medios de filtros de aire
Medios de filtros para líquidos
Tejidos de filtros
Market Scope
Industria de la alimentación y las bebidas
Industria de la automoción
Industria de la filtración y la separación
Industria de los productos lácteos
Industria médica, de la atención sanitaria
Industria textil
Servicios de edificación y construcción
Product Index
Filtre Elemanları
Filtre Tekstilleri
Hava Filtresi Ortamı
Sentetik Elyaf
Sentetik Elyaf Medya
Sıvılar için Filtre Ortamı
Tek Kullanımlık Filtreler
Yağ Filtreleri
Market Scope
Bina ve İnşaat Hizmetleri
Filtrasyon ve Ayırma Endüstrisi
Gıda, İçecek Endüstrisi
Otomotiv Endüstrisi
Tekstil Endüstrisi
Tıp, Sağlık Sektörü
Çevre Koruma
Product Index
공기 여과재
액체 여과재
오일 필터
일회용 필터
필터 엘리먼트
필터 직물
합성섬유
합성섬유 매체
Market Scope
건축 및 건설 용역
섬유 산업
식음료 산업
여과 및 분리 산업
의료, 보건 산업
자동차 산업
환경 보호
Product Index
エアフィルターメディア
オイルフィルター
フィルターエレメント
フィルター繊維
使い捨てフィルター
合成繊維
合成繊維媒体
液体フィルター媒体
Market Scope
医療、ヘルスケア業界
建築・建設業
濾過および分離技術工業
環境保護
繊維業界
自動車産業
食品、飲料業界
Press release
Beaulieu Fibres International offering efficiency solutions for the filtration industry
Beaulieu Fibres International offering efficiency solutions for the filtration industry
• Visit Stand R12 Hall 7 for innovative polypropylene mono-component and bi-component fibres
• Spotlight on co-development to increase efficiency at affordable cost
• Discover our pilot line in Terni, Italy, reducing development cycles and accelerating new product commercialisation
Wielsbeke, Belgium – March 7, 2022 – Beaulieu Fibres International is heading to Filtech set on fostering collaborative product development to address the industry's increasing clean air and energy management priorities. The leading European polyolefin and BICO fibre supplier is exhibiting at Europe's largest filtration event for the first time (Hall 7 Stand R12).
"The market is constantly looking for new solutions that help to improve air quality and increase the quality of food and industrial liquids, in an energy efficient way. Improving filter efficiency with a low pressure drop is a key challenge in this constant process of setting new standards, and we are very excited about the capabilities of our polypropylene fibres to bring innovation to this area. It's a big focus for our R&D teams," comments Jefrem Jennard, Sales Director Industrial Fibres, Beaulieu Fibres International.
"Close collaboration and co-development are so important for quickly and effectively targeting emerging needs. Filtech will provide an excellent platform for kick-starting conversations with visitors and exploring possibilities to benefit a whole host of applications."
Beaulieu Fibres International offers an extensive range of mono-component and bi-component polypropylene (PP) fibres for air and liquid filtration. The company continues to develop and grow the market for food contact filtration and is committed to extending its fibres' potential to improve filtration efficiency in air filtration markets.
Its wide variety of fibre diameters, tenacities, textures, bulk and surface areas, create unique opportunities for manufacturers to further push filtration efficiency without compromising on pressure drop. This results in filter media delivering improved air quality in the case of HVAC systems or automotive cabin air filters and increased particle retention in the food processing industry.
PP is particularly relevant to the heightened focus on clean air, as it is chemically inert, resistant to microbial attack. It does not take on humidity and allows a static charging. BFI's latest Ultrabond fibre, allows the design of fully recyclable single polymer filter media, with improved bonding and stiffness properties.
To support customers in accelerating the commercialization of new filter media, Beaulieu Fibres International has a Pilot Line at its production site in Terni, Italy available for joint development. It gives customers the flexibility to test and adapt new solutions at an early stage, saving them time and costs.
Visit the filtration team at Filtech Stand R12 Hall 7 or register in advance for an appointment with Sales Managers Dietmar Monschauer and/or Gillis Beun.