C.M. S.r.l. Hall 7 / R24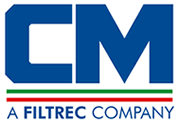 Exhibitor Profile
In 1979 CM s.r.l. started its activity with metal carpentry.
Over the years we have developed a own specialization in the production of metal screen filters for use in the most varied fields of application:
Solid/liquid separation
Air filtration
Fluid filtration
Fuel filtration
Food industry
Etc.
Our filtration screens are manufactured with coated steel, stainless steel, brass
Our experience and our technological know how enable us to produce the items you need in the most different sizes and conformations. . . we shape it!
Products / Markets
Product Index
Edelstahlfilter
Feinsiebe
Filterelemente
Filterpatronen
Filterröhren, Röhrenfilter
Filterröhrenendkappen
Hydraulikfilter
Korbfilter
Röhrenfilter
Market Scope
Agrarwirtschaft
Bergbauindustrie
Filtrations- und Separationsindustrie
Schwerindustrie
Zellstoff-, Papierindustrie
Product Index
Basket Filters (Strainers)
Filter Cartridges
Filter Elements
Filter Tube End Caps
Filter Tubes
Hydraulic Filters
Stainless Steel Filters
Strainers
Tube Filters
Market Scope
Agriculture
Filtration and Separation Industry
Heavy Industry
Mining Industry
Pulp, Paper Industry
Product Index
不锈钢过滤器
液压过滤器
滤筒
滤管
滤管端盖
滤芯
管式过滤器
篮式过滤器
过滤器
Product Index
المصافي
خراطيش فلتر
فلاتر الرطوبة
فلاتر السلة
فلاتر انبوبية
فلاتر انبوبية
فلاتر انبوبية مفتوحة النهايات
فلاتر من معادن مقاومة للصدأ
قطع فلاتر
Market Scope
الصناعات الثقيلة
الصناعة الورقية
الهندسة المعمارية
صناعات الفلترة وفصل المواد
صناعة التعدين
Product Index
Bouchons d'extrémité de tubes de filtres
Cartouches de filtres
Eléments de filtre
Filtres en acier inoxydable
Filtres hydrauliques
Filtres à bols
Filtres à tubes
Tamis
Tubes de filtres
Market Scope
Agriculture
Industrie de filtration et de séparation
Industrie de la pâte de cellulose et du papier
Industrie lourde
Industrie minière
Product Index
Cartucce filtri
Elementi filtranti
Filtri
Filtri a cestello (filtri)
Filtri idraulici
Filtri in acciaio inossidabile
Filtri per tubi
Tappi terminali tubi filtro
Tubi filtri
Market Scope
Agricoltura
Settore filtrazione e separazione
Settore industria dell carta e della cellulosa
Settore industria pesante
Settore minerario
Product Index
Elementy filtra
Filtry hydrauliczne
Filtry koszowe (sitka)
Filtry rurowe
Filtry ze stali nierdzewnej
Rury filtracyjne
Sitka
Wkłady filtra
Zaślepki do rur filtracyjnych
Market Scope
Filtrowanie i separacja
Przemysł celulozowo-papierniczy
Przemysł ciężki
Przemysł wydobywczy
Rolnictwo
Product Index
Cartuchos filtrantes
Elementos filtrantes
Filtros de aço inoxidável
Filtros de rede
Filtros de tubos
Filtros hidráulicos
Peneiras finas
Tampas para extremidades de tubos de filtros
Tubos de filtros
Market Scope
Agricultura
Indústria de filtragem e separação
Indústria mineira
Indústria pesada
Pasta, indústria do papel
Product Index
Гидравлические фильтры
Корзинчатые фильтры
Сетчатые фильтры
Торцевые крышки трубного фильтра
Трубные фильтры
Трубные фильтры
Фильтрующие патроны
Фильтрующие элементы
Фильтры из нержавеющей стали
Market Scope
Бумажная промышленность
Горнодобывающая промышленность
Отрасль фильтрации и сепарирования
Сельское хозяйство
Тяжёлая промышленность
Product Index
Caperuzas de tubos de filtros
Cartuchos de filtro
Coladores
Elementos de filtro
Filtros de acero inoxidable
Filtros de cesta
Filtros de tubo
Filtros hidráulicos
Tubos de filtros
Market Scope
Agricultura
Industria de la filtración y la separación
Industria de la minería
Industria de la pasta de madera, el papel
Industria pesada
Product Index
Filtre Boruları
Filtre Borusu Uç Kapakları
Filtre Elemanları
Filtre Kartuşları
Hidrolik Filtreler
Paslanmaz Çelik Filtreler
Sepet Filtreler
Süzgeçler
Tüp Filtreler
Market Scope
Ağır Sanayi
Filtrasyon ve Ayırma Endüstrisi
Madencilik Endüstrisi
Selüloz, Kağıt Endüstrisi
Tarım
Product Index
바스켓 필터(스트레이너)
스텐레스 스틸 필터
스트레이너
유압 필터
튜브 필터
필터 엘리먼트
필터 카트리지
필터 튜브
필터 튜브 엔드 캡
Market Scope
광업
농업
여과 및 분리 산업
제지, 종이 산업
중공업
Product Index
ステンレス鋼フィルター
ストレーナー
チューブフィルター
バスケットフィルター(ストレーナー)
フィルターエレメント
フィルターカートリッジ
フィルターチューブ
フィルターチューブ・エンドキャップ
油圧フィルター
Market Scope
パルプ、製紙業界
濾過および分離技術工業
農業
重工業
鉱業