Fresh Filter Co. Ltd. Hall 8 / F3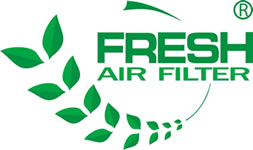 Exhibitor Profile
Guangdong Fresh Filter Co.,Ltd (Known as Fresh Filter®) is a leading edge manufacturing company specialized in Air Purification field since 2007.
Fresh Filter® developed diverse EU standard filter products such as pre-filter, medium efficiency, HEPA filter, activated carbon cloth and filter products series, fiber glass(LH/PA), pocket filter, HEPA filter as well as medium efficiency filter panels.
Fresh Filter® products are widely applied in coating production line, automobile, furniture coating booth, high-tech, electronics workshop, surgery operation ward and laboratories.
In the future, Fresh Filter® will strive to the vision "to build a cleaner world". With market demand driven concept and enhanced entrepreneur spirits to develop and deliver core technic centralized products to worldwide customers. A new era is on its way for Fresh Filter® to grow new business and wealth together with our global and domestic customers.
Products / Markets
Product Index
Aktivkohle Medien
Beutel-/Taschenfilter
Filterbeutel
Filtermedien
Glasfaserfilter
Hepa-Filter
Lackfilter
Luftfilter
Luftfiltermedien
Market Scope
Automobilindustrie
Bergbauindustrie
Elektronik-, Mikroelektronikindustrie
Energieerzeugung,-versorgung
Farben-, Pigment-, Beschichtungsindustrie
Halbleiterindustrie
Medizintechnik, Health Care Industrie
Product Index
Activated Carbon Media
Air Filter Media
Air Filters
Bag Filters
Filter Bags
Filter Media
Glass Fibre Filter
HEPA Filters
Paint Filters
Market Scope
Automotive Industry
Electronic, Microelectronic Industry
Energy, Energy Supply
Medical, Health Care Industry
Mining Industry
Paint, Pigments, Coatings Industry
Semiconductor Industry
Product Index
活性碳介质
漆雾过滤器
玻璃纤维过滤器
空气过滤器
空气过滤器介质
袋式过滤器
过滤介质
过滤袋
高效粒子空气过滤器
Market Scope
 汽车工业
医疗卫生保健业
半导体工业
油漆、颜料、涂料工业
电子、微电子工业
能源、能源供应
采矿业
Product Index
"فلاتر هواء عالية الفاعلية ""هـيبا"" HEPA"
أكياس فلاتر
أكياس فلترة
فلاتر الهواء
فلاتر دهانات
فلتر صوف زجاجي
مواد الكربون المنشط
مواد فلاتر الهواء
مواد فلترة
Market Scope
الصناعات الطبية والعناية الصحية
الطاقة والإمداد بالطاقة
حماية البيئة
صناعة أنصاف النواقل
صناعة التعدين
صناعة الدهانات والصبغات والتلبيس
صناعة السيارات
Product Index
Filtres HEPA
Filtres en fibres de verre
Filtres à air
Filtres à pentures
Filtres à sacs
Fluide à charbon actif
Fluides pour filtres à air
Médias de filtre
Sacs de filtres
Market Scope
Energies et fourniture d'énergies
Industrie automobile
Industrie de peintures, pigments et revêtements
Industrie des semi-conducteurs
Industrie minière
Industrie médicale et de la santé
Protection de l'environnement
Product Index
Filtri a tasche
Filtri aria
Filtri hepa
Filtri per pittura
Filtro fibra di vetro
Mezzi filtranti
Mezzi filtranti aria
Mezzi filtranti carbone attivo
Tasche filtri
Market Scope
Energia, approvvigionamento energetico
Settore automobilistico
Settore elettronico, microelettronico
Settore industria dei semiconduttori
Settore medicale e sanità
Settore minerario
Settore pitture, pigmenti e rivestimenti
Product Index
Filtry HEPA
Filtry powietrza
Filtry powlekane
Filtry workowe
Filtry z włókna szklanego
Media filtrów
Media filtrów powietrza
Media węgla aktywowanego
Worki filtracyjne
Market Scope
Ochrona zdrowia
Produkcja farb i lakierów
Produkcja półprzewodników
Przemysł elektroniczny i mikroelektroniczny
Przemysł energetyczny
Przemysł samochodowy
Przemysł wydobywczy
Product Index
Filtro de fibra de vidro
Filtros absolutos (HEPA)
Filtros de ar
Filtros de saco
Filtros de tinta
Meios de carvão activado
Meios de filtragem
Meios de filtro do ar
Sacos filtrantes
Market Scope
Energia, abastecimento de energia
Indústria automóvel
Indústria de semicondutores
Indústria mineira
Indústria médica, cuidados de saúde
Pintura, pigmentos, indústria de revestimentos
Protecção ambiental
Product Index
Воздушные фильтры
Материал активированного угля
Рукавные фильтры
Стекловолоконный фильтр
Фильтровальные мешки
Фильтрующий материал
Фильтрующий материал
Фильтры красок
Фильтры тонкой очистки
Market Scope
Автомобильная промышленность
Горнодобывающая промышленность
Защита окружающей среды
Лакокрасочная промышленность
Медицина, здравоохранение
Полупроводниковая промышленность
Энергетика, электроснабжение
Product Index
Bolsas de filtro
Filtro de fibra de vidrio
Filtros HEPA
Filtros de aire
Filtros de bolsa
Filtros de pintura
Medios de carbón activado
Medios de filtro
Medios de filtros de aire
Market Scope
Energía, suministro de energía
Industria de la automoción
Industria de la minería
Industria de las pinturas, pigmentos, revestimientos
Industria de los semiconductores
Industria médica, de la atención sanitaria
Protección del medio ambiente
Product Index
Aktif Karbon Ortamı
Boya Filtreleri
Cam Elyaf Filtre
Filtre Ortamı
Filtre Torbaları
HEPA Filtreler
Hava Filtreleri
Hava Filtresi Ortamı
Torba Filtreler
Market Scope
Boya, Pigment, Kaplama Endüstrisi
Elektronik, Mikroelektronik Endüstrisi
Enerji, Enerji İkmali
Madencilik Endüstrisi
Otomotiv Endüstrisi
Tıp, Sağlık Sektörü
Yarıiletken Endüstrisi
Product Index
HEPA 필터
공기 여과재
공기 필터
백 필터
여과재
유리 섬유 필터
페인트 필터
필터 백
활성탄 매체
Market Scope
광업
반도체 산업
에너지, 에너지 공급
의료, 보건 산업
자동차 산업
전자, 마이크로 전자 산업
페인트, 안료, 도장 산업
Product Index
HEPAフィルター
エアフィルター
エアフィルターメディア
ガラス繊維フィルター
バッグフィルター
フィルターバッグ
フィルターメディア
ペイントフィルター
活性炭メディア
Market Scope
エネルギー、エネルギー供給
医療、ヘルスケア業界
半導体業界
塗料、顔料、コーティング産業
自動車産業
鉱業
電子、マイクロエレクトロニクス産業
Press release
Fresh Air Filter® will strive to the vision "to build a cleaner world"
Fresh Air Filter® is the largest air filter manufacturer since 2007 in South of China, with annual revenue about $4 million. Fresh Air Filter company has world-wide customers and global sales channels. Advanced production line and high-precision testing equipment ensure our products quality keeping in high level. You can also look at our company website (www.gd-fresh.com or http://airfilterfresh.en.alibaba.com or https://gdfresh.en.made-in-china.com) for more detailed information.