Hydro Press Industries Hall 8 / A25

Exhibitor Profile
Hydro Press Industries is a recognized leader in filter press manufacturing in India and has marked its growth for its demonstrable excellence in the filtration technology sector since 1991, with the mission of providing effective filtration solutions for all filtration needs.
Hydro Press manufacturers Automatic, High pressure, Electro Hydraulic and Membrane filter presses.
Hydro Press Industries ™ is one of the first enterprises in South India to manufacture Filter presses and equipped with In-House Filter plate moulding Technology.
Hydro Press Industries has more than 30 years of vast experience in catering to wide range of applications such as waste water treatment, edible oils , food processing , chemicals , mines and minerals applications.
Hydro press Industries has been trusted by thousands of customers worldwide and known in market for reliable process performance and Long equipment lifetime. The manufacturing range starts from 470 mm to 2000 mm of either recessed or membrane plates with pressure ranging from 7 to 30 bar.
Products / Markets
Market Scope
Filtrations- und Separationsindustrie
Market Scope
Filtration and Separation Industry
Market Scope
صناعات الفلترة وفصل المواد
Market Scope
Industrie de filtration et de séparation
Market Scope
Settore filtrazione e separazione
Market Scope
Indústria de filtragem e separação
Market Scope
Отрасль фильтрации и сепарирования
Market Scope
Industria de la filtración y la separación
Market Scope
Filtrasyon ve Ayırma Endüstrisi
Press release
HYDRO PRESS - RICE BRAN WAX FILTER PRESS (RBWF SERIES)
Is your traditional wax press labour intensive?
Do you like to extract maximum oil from the wax?
Hydro Press Introduces Rice Bran Wax filter press with High Pressure technology to achieve dry cakes with minimal effort
High pressure filter presses are recommended for the application which requires dry cakes. If the cake is a value-added product, then the retention of liquid from the cake can be extracted using high pressure filter press. With our unparallel level of engineering expertise in filter press manufacturing, Hydro Press offers High Pressure filter press series which has benefitted clients from various Industries for last 30 years.
Hydro Press has introduced the same concept in Rice Bran application with lot of R&D to provide an effective solution. High pressure technology replaces the traditional Hydraulic wax press machine. The wax which is obtained in the form of cake from first filtration has oil retention of 55 % approx in the cake solids. Traditionally, a vertical wax filter press is employed in recovering maximum oil from this cake by pressing at higher tonnage. Using traditional wax press the oil retention is reduced from 55 % to 35-40 %. But it is seemingly a laborious process. Using high pressure RBWF series filter press, the oil retention is reduced from 55 % to 27 % with less labour requirement.
The High-pressure filter press is coupled with High pressure pump feeding system. This involves feeding the raw material with higher operating pressure using progressive cavity pump which squeezes the wax and thereby achieving a dry wax cake with low moisture and maximum throughput.
Features
Recommended Operating pressure in Various ranges:

10 bar, 12 bar, 16 bar, 20 bar.

Heavy Duty Machine Structure

Specially designed High Density Polypropylene Filter plates

Double acting Heavy duty Hydraulic system with automatic pressure compensation

system with PLC panel

Semi / Fully auto control options available

Double, Triple or Four stage progressive cavity pumps for high pressure feeding

Tailor made filter cloths to withstand high pressure and absorb maximum oil for dry cakes

Automatic Feed pump pressure control system

Optional cake airing / core blow provision

Available in all sizes from 800 mm to 1200 mm
Traditional Hydraulic wax press

Hydropress RBWF series

1

Daily production capacity: 1- 1.5 tons per day

Daily production capacity using 1200 mm RBWF series filter press: 13 tons

2

Number of wax press required to process 1-1.5 tons wax per day: 10 wax press machines

Number of machines required to process 13 tons per day wax: 1 RBWF series

3

Labour requisites: 10 labours required for processing 1.5 tons per day

Labour requisites: 2 labours max required for processing 13 tons per day

4

Wax cake moisture reduced from

55 % to 35-40%

Wax cake moisture reduced from

55 % to 27 %
Your Benefits
Higher recovery of oil from the cake

Huge cost savings in terms of labour

Time and power savings

Higher Productivity

Stackable dry cakes with easy cake storage feature
Images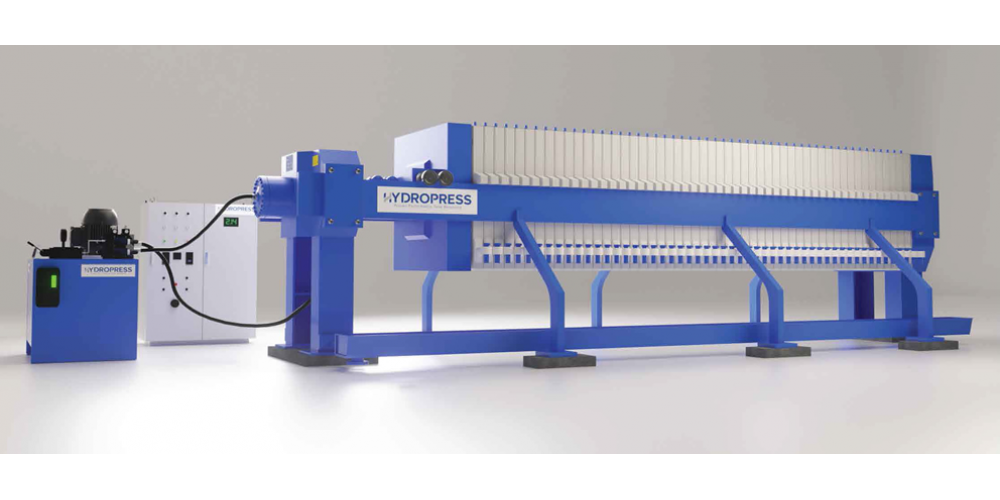 Rice bran wax filter press with high pressure technology to achieve dry cakes with minimal effort