ISKA KAUCUK METAL PLASTIK SAN. VE TIC. A.S. Hall 8 / B6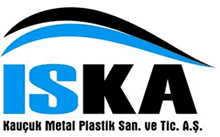 Exhibitor Profile
İSKA Rubber Metal Plastic Industry and Trade Inc. founded in 2008 in İskenderun/Turkey.
İSKA which started manufacturing with gasket, operates the biggest filter factories in Turkey and all over the world in it is portfolio.
İSKA has been awarded with ISO 9001:2008 quality sertificate which has crownded the high quality production process whose main principle is customer satisfaction.
Begining from 2009, anti-vibration and safeted mounts ,diaphragms ,conical shaped vibration mounts ,and many kind of rubber-based materials have been started to produce.Our company has been exporting to Europe and Middle East.
The industries which are in our product group:
Automotive Industry
Agricultural Industries
Industrial Products
Anti-Vibration Mounts
About ISKA
ISKA KAUÇUK METAL PLASTİK SAN. Ve TİC. A.Ş. It was established on 15.03.2008 in İskenderun bay of Hatay and continues its production activities in a 3,500 m² factory building, with 2.250 m² of it closed. ISKA KAUÇUK A.Ş., which used to be producing only for the rubber element needs of the filter industry in the beginning, has today become one of the most wanted brands in the Turkish Rubber industry with its automotive supplier industry, agricultural and livestock sectors, antivibration products, machinery industry and industrial elastomeric products, with the filter industry still as its primary sector.
ISKA KAUCUK A.Ş., which has always been pleased to meet the needs and expectations of its customers in the domestic market without sacrificing quality, has started its export activities since 2010 and continues to supply products for different sectors to four continents today. Our organization, which is the favorite of the European market especially with its antivibration products, has become a brand that Middle East filter manufacturers are looking for.
ISKA KAUCUK A.Ş., acting with 100% customer satisfaction principle in the supply of rubber based elastomeric products, guarantees this with its staff, each specialized in their own field, and the ISO 9001 certificate that the company has possessed since its establishment.
Our organization continues to grow every year from the beginning anÜberschrift 3d continues to claim to be the locomotive of the Turkish Rubber Sector with an ever-increasing capacity to become a reliable brand in the sectors it addresses.
Our Quality Policy
To prioritize Customer Satisfaction
To continuously improve and enhance the product and system quality
To give maximum attention to saving resources
Delivery on time and at the quantity requested
To follow the technological developments in the world related to all the sectors we work with and apply them in the same way or by improving them
To continuously educate our employees, increase their knowledge and personal development
To create a clean, tidy and regular working environment and ensure its continuity
To achieve the quality objectives of our company's business results and processes with the participation of all ISKA personnel
Our Mission
To be a company that meets the expectations of customers in all the markets in which it manufactures,
Provides advantage to its customers within the global competition as a reliable supplier,
Adopts participant management approach by prioritizing employee satisfaction,
Has gained the trust of all stakeholders.
Our Vision
Our vision as ISKA KAUÇUK A.Ş. is; With the participation of all employees, to be a world company that adapts to technological developments in the automotive, industrial sealing and vibration elements market, produces information, technology and keeps the quality of products and services at the highest level in the sector.
Our Values
Accountability
Transparency
Customer Focus
Innovativeness
Justice
Honesty
Team Spirit
Sense of Belonging
Occupational Health and Environmental Awareness
Continuous improvement
Products / Markets
Product Index
Dichtungen für Filter
Filterelemente
Gasfilter
Kraftstoff-Filter
Luftfilter
Membranen
Wasserfilter
Ölfilter
Market Scope
Abwasserwirtschaft
Agrarwirtschaft
Automobilindustrie
Bauindustrie
Energieerzeugung,-versorgung
Filtrations- und Separationsindustrie
Schwerindustrie
Product Index
Air Filters
Filter Elements
Fuel Filters
Gas Filters
Gaskets for Filters
Membranes
Oil Filters
Water Filters
Market Scope
Agriculture
Automotive Industry
Building & Construction Services
Energy, Energy Supply
Filtration and Separation Industry
Heavy Industry
Waste Water Treatment
Product Index
气体过滤器
水过滤器
滤油器
滤芯
燃油过滤器
空气过滤器
过滤器垫片
隔膜
Market Scope
 农业
 汽车工业
废水处理
建筑与施工服务业
能源、能源供应
过滤与分离工业
重工业
Product Index
اسطوانات
فلاتر الهواء
فلاتر زيوت
فلاتر غازات
فلاتر ماء
قطع فلاتر
مانعات تسرب للفلاتر
مواد فلاتر المحروقات
Market Scope
الصناعات الثقيلة
الهندسة المعمارية
حماية البيئة
خدمات البناء والإنشاء
صناعات الفلترة وفصل المواد
صناعة السيارات
معالجة مياه الصرف
Product Index
Eléments de filtre
Filtres à air
Filtres à carburant
Filtres à eau
Filtres à gaz
Filtres à huile
Joints pour filtres
Membranes
Market Scope
Agriculture
Industrie automobile
Industrie de filtration et de séparation
Industrie du bâtiment et de la construction
Industrie lourde
Protection de l'environnement
Traitement des eaux usées
Product Index
Elementi filtranti
Filtri aria
Filtri carburante
Filtri gas
Filtri olio
Filtri per acqua
Guarnizioni per gas
Membrane
Market Scope
Agricoltura
Energia, approvvigionamento energetico
Servizi settore edile
Settore automobilistico
Settore filtrazione e separazione
Settore industria pesante
Trattamento acque reflue
Product Index
Elementy filtra
Filtry do wody pitnej
Filtry gazu
Filtry oleju
Filtry paliwa
Filtry powietrza
Membrany
Uszczelki do filtrów
Market Scope
Filtrowanie i separacja
Oczyszczanie ścieków (waste water)
Przemysł budowlany
Przemysł ciężki
Przemysł energetyczny
Przemysł samochodowy
Rolnictwo
Product Index
Elementos filtrantes
Filtros de ar
Filtros de combustível
Filtros de gases
Filtros de água
Filtros de óleo
Membranas
Vedações para filtros
Market Scope
Agricultura
Indústria automóvel
Indústria de filtragem e separação
Indústria pesada
Protecção ambiental
Serviços de fabrico & construção
Tratamento de água de despejo
Product Index
Водяные фильтры
Воздушные фильтры
Газовые фильтры
Масляные фильтры
Мембраны
Прокладки фильтров
Топливные фильтры
Фильтрующие элементы
Market Scope
Автомобильная промышленность
Защита окружающей среды
Отрасль фильтрации и сепарирования
Очистка сточных вод
Сельское хозяйство
Строительство жилых и общественных зданий
Тяжёлая промышленность
Product Index
Elementos de filtro
Filtros de aceite
Filtros de agua
Filtros de aire
Filtros de combustible
Filtros de gas
Juntas para filtros
Membranas
Market Scope
Agricultura
Industria de la automoción
Industria de la filtración y la separación
Industria pesada
Protección del medio ambiente
Servicios de edificación y construcción
Tratamiento de aguas residuales
Product Index
Filtre Contaları
Filtre Elemanları
Gaz Filtreleri
Hava Filtreleri
Membranlar
Su Filtreleri
Yakıt Filtreleri
Yağ Filtreleri
Market Scope
Atıksu Arıtma
Ağır Sanayi
Bina ve İnşaat Hizmetleri
Enerji, Enerji İkmali
Filtrasyon ve Ayırma Endüstrisi
Otomotiv Endüstrisi
Tarım
Product Index
가스 필터
공기 필터
물 필터
분리막
연료 필터
오일 필터
필터 엘리먼트
필터용 가스켓
Market Scope
건축 및 건설 용역
농업
에너지, 에너지 공급
여과 및 분리 산업
자동차 산업
중공업
폐수 처리
Product Index
エアフィルター
オイルフィルター
ガスフィルター
フィルターエレメント
フィルター用ガスケット
水フィルター
燃料フィルター
膜
Market Scope
エネルギー、エネルギー供給
建築・建設業
汚水処理
濾過および分離技術工業
自動車産業
農業
重工業