Khosla Profil Pvt. Ltd. Hall 7 / M5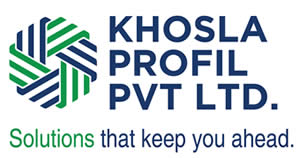 Exhibitor Profile
Asia's largest composite manufacturing plant (ISO 9001:2015) having state-of-the-art facilities right from fibre/chips to made-ups with exports to 60 countries around the world.
1. Fabrics for modern filtration equipments:
Horizontal Belt Filters
Vertical Filter Presses (Tower Press)
Membrane Filter Presses.
Antistatic Fabrics.
FDA approved Fibreless Fabrics.
Ready made-ups for Filter Press, Centrifuge, FBD, RVDF, Disc Filter.
Fabrics in Monofilament, Multifilament & Spun in Polyester, PBT, Polypropylene, Polyamide (Nylon) 6, 6.6, 12, Rilsan 11, Carbon,
Steel, Cotton, Poly-Cotton, Steel etc.
2. Nonwoven Fabrics – Dust Collection Bags.
3. Airslide (Fluidising) Fabrics.
Products / Markets
Product Index
Abwasserfilter
Bandfilter
Beutel-/Taschenfilter
Filterbeutel
Filterfilze
Filtergewebe
Filtermedien f. Flüssigkeiten
Filtermedien f. Gase
Filterpressen
Filtertextilien
Filtertücher
Filterzentrifugen
Glasfaserschläuche
Luftfiltermedien
Scheibenfilter
Staubabscheider
Trommelfilter
Zentrifugen
Market Scope
Bergbauindustrie
Chemische Industrie
Druckindustrie
Eisen-, Stahlherstellung
Farben-, Pigment-, Beschichtungsindustrie
Filtrations- und Separationsindustrie
Keramik-, Glasindustrie
Milchindustrie / Molkerei
Mineralöl/Öl/Gasproduktion
Pharmazeutische Industrie
Product Index
Air Filter Media
Bag Filters
Belt Filters
Centrifuges
Disc Filters
Drum Filters
Dust Collectors
Effluent Filters
Filter Bags
Filter Centrifuges
Filter Cloth
Filter Fabrics
Filter Felts
Filter Media for Gases
Filter Media for Liquids
Filter Presses
Filter Textiles
Glass Filter Bags
Market Scope
Ceramic, Glass Industry
Chemical Industries
Dairy Industry
Filtration and Separation Industry
Iron, Steel Manufacturing
Mineral / Oil / Gas Production
Mining Industry
Paint, Pigments, Coatings Industry
Pharmaceutical Industry
Printing Industry
Product Index
压滤机
带式过滤器
气体过滤器介质
污水过滤器
液体过滤器介质
滤布
滤布
玻璃过滤袋
盘式过滤器
离心式过滤器
离心机
空气过滤器介质
袋式过滤器
过滤毡
过滤织物
过滤袋
集尘器
鼓式过滤器
Market Scope
乳品加工业
制药工业
化学工业
印刷业
油漆、颜料、涂料工业
矿产/石油/天然气业
过滤与分离工业
采矿业
钢铁制造业
陶瓷、玻璃工业
Product Index
أقمشة فلاتر
أكياس زجاج تصفية
أكياس فلاتر
أكياس فلترة
فلاتر اسطوانية
فلاتر النفايات السائلة
فلاتر شريطية
فلاتر شعرية
فلاتر قرصية
فلاتر نسيجية
قلاتر الطرد المركزي
مجمعات الغبار
مكبس فلاتر صفائحي
مواد فلاتر الهواء
مواد فلترة السوائل
مواد فلترة الغازات
نسيج فلاتر
وحدات الطرد المركزي
Market Scope
إنتاج المعادن والزيوت والغاز
الصناعات الدوائية
الصناعة الإلكترونية والإلكترونيات الدقيقة
الصناعة الكيماوية
الطباعة
صناعات الفلترة وفصل المواد
صناعة التعدين
صناعة الحديد والصلب
صناعة الدهانات والصبغات والتلبيس
صناعة الزجاج والفخار / السيراميك
Product Index
Centrifugeuses
Centrifugeuses à filtre
Collecteurs de poussières
Feutres de filtres
Filtres à disques
Filtres à effluents
Filtres à sacs
Filtres à sangles
Filtres à tambours
Fluides pour filtres à air
Médias de filtre pour gaz
Médias de filtre pour liquides
Presses de filtres
Sacs de filtre en verre
Sacs de filtres
Textiles pour filtres
Tissus de filtre
Tissus de filtres
Market Scope
Industrie chimique
Industrie de filtration et de séparation
Industrie de la céramique et du verre
Industrie de peintures, pigments et revêtements
Industrie minière
Industrie pharmaceutique
Industrie typographique
Industrie électronique et microélectrique
Productions minérales / pétrolière / du gaz
Sidérurgie
Product Index
Centrifughe
Centrifughe filtri
Collettori di polvere
Feltri filtro
Filtri a disco
Filtri a tamburo
Filtri a tasche
Filtri banda
Filtro per effluente
Mezzi filtranti aria
Mezzi filtranti per gas
Mezzi filtranti per liquidi
Panno filtrante
Presse filtranti
Tasche filtri
Tasche in fibra di vetro
Tessuti filtro
Tessuti per filtri
Market Scope
Produzione ferro e acciaio
Produzioni minerali / petrolio / gas
Settore caseario
Settore ceramica e vetro
Settore chimico
Settore filtrazione e separazione
Settore industria stampaggio
Settore minerario
Settore parafarmaceutico
Settore pitture, pigmenti e rivestimenti
Product Index
Filtry bębnowe
Filtry tarczowe
Filtry taśmowe
Filtry workowe
Filtry workowe z włókna szklanego
Filtry ściekowe
Media filtrów cieczy
Media filtrów gazu
Media filtrów powietrza
Odpylacze
Prasy filtracyjne
Tkanina filtracyjna
Tkaniny filcowe
Tkaniny filtracyjne
Tkaniny filtracyjne
Wirówki
Wirówki filtracyjne
Worki filtracyjne
Market Scope
Filtrowanie i separacja
Produkcja farb i lakierów
Produkcja szkła i ceramiki
Przemysł chemiczny
Przemysł drukarski
Przemysł farmaceutyczny
Przemysł hutniczy
Przemysł mleczarski
Przemysł wydobywczy
Wydobycie minerałów, ropy i gazu
Product Index
Centrifugadores
Centrifugadores de filtros
Colectores de poeiras (aspiradores)
Feltros de filtros
Filtros de bandas
Filtros de discos
Filtros de efluentes
Filtros de saco
Filtros de saco de vidro
Filtros de tambor
Filtros-prensa
Meios de filtragem para gases
Meios de filtragem para líquidos
Meios de filtro do ar
Sacos filtrantes
Tecidos filtrantes
Tela filtrante
Têxteis de filtros
Market Scope
Cerâmica, indústria vidreira
Electrónica, indústria microelectrónica
Fabrico de ferro, aço
Indústria da impressão
Indústria de filtragem e separação
Indústria farmacêutica
Indústria mineira
Indústrias químicas
Pintura, pigmentos, indústria de revestimentos
Produção mineral / óleo / gás
Product Index
Барабанные фильтры
Дисковые фильтры
Ленточные фильтры
Пылесборники
Рукавные фильтры
Сливные фильтры
Сумки стеклянный фильтр
Фильтр-прессы
Фильтровальные мешки
Фильтровальные ткани
Фильтровальный войлок
Фильтровальный текстиль
Фильтрующая ткань
Фильтрующие центрифуги
Фильтрующий материал
Фильтрующий материал для газов
Фильтрующий материал для жидкостей
Центрифуги
Market Scope
Горнодобывающая промышленность
Добыча минералов/ нефти/ газа
Керамическая, стекольная промышленность
Лакокрасочная промышленность
Отрасль фильтрации и сепарирования
Полиграфическая промышленность
Производство железа, стали
Фармацевтическая промышленность
Химическая промышленность
Электроника, микроэлектроника
Product Index
Bolsas de filtro
Centrífugas
Centrífugas de filtro
Colectores de polvo
Fieltros de filtro
Filtro de vidrio Bolsas
Filtros de bolsa
Filtros de correa
Filtros de disco
Filtros de efluente
Filtros de tambor
Medios de filtros de aire
Medios de filtros para gases
Medios de filtros para líquidos
Prensas de filtro
Tejidos de filtro
Tejidos de filtros
Tela de filtro
Market Scope
Fabricación de hierro, acero
Industria de la cerámica y el cristal
Industria de la electrónica, microelectrónica
Industria de la filtración y la separación
Industria de la impresión
Industria de la minería
Industria de las pinturas, pigmentos, revestimientos
Industria farmacéutica
Industrias químicas
Producción de minerales / petróleo / gas
Product Index
Bant Filtreler
Cam Elyaf Torbalar
Disk Filtreler
Filtre Bezleri
Filtre Keçeleri
Filtre Kumaşı
Filtre Presleri
Filtre Santrifüjleri
Filtre Tekstilleri
Filtre Torbaları
Gazlar için Filtre Ortamı
Hava Filtresi Ortamı
Santrifüjler
Sıvı Atık Filtreleri
Sıvılar için Filtre Ortamı
Tambur Filtreler
Torba Filtreler
Toz Toplayıcılar
Market Scope
Basın Endüstrisi
Boya, Pigment, Kaplama Endüstrisi
Demir, Çelik Üretimi
Filtrasyon ve Ayırma Endüstrisi
Kimya Endüstrisi
Madencilik Endüstrisi
Mineral / Petrol / Gaz Üretimi
Seramik, Cam Endüstrisi
Süt Endüstrisi
İlaç Endüstrisi
Product Index
가스용 여과재
공기 여과재
드럼 필터
디스크 필터
백 필터
벨트 필터
분리기
압착식 필터
액체용 여과재
여과천
오수 필터
유리 필터 백
집진기
필터 백
필터 원심분리기
필터 직물
필터 패브릭
필터 펠트
Market Scope
광물 / 석유 / 가스 생산
광업
세라믹, 유리 산업
여과 및 분리 산업
유제품 산업
인쇄 산업
제약 산업
철, 철강 제조
페인트, 안료, 도장 산업
화학 산업
Product Index
エアフィルターメディア
ガス用濾過材
ガラス繊維フィルターバッグ
ディスクフィルター
ドラムフィルター
バッグフィルター
フィルターバッグ
フィルターフェルト
フィルタープレス
フィルター布
フィルター繊維
フィルター遠心機
ベルトフィルター
排水フィルター
液体用濾過材
濾過布
遠心分離機
集塵機
Market Scope
セラミック、ガラス産業
化学工業
医薬品業界
印刷業界
塗料、顔料、コーティング産業
濾過および分離技術工業
製鉄、製鋼業
酪農産業
鉱業
鉱物・石油・ガス生産