MELTBLO FRANCE Hall 7 / R15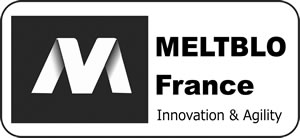 Exhibitor Profile
MELTBLO France, created in 2020, manufactures a wide range of meltblown fabrics for various type of applications like surgical masks, FFP2 & FFP3 respiratory masks, medical applications, air cabin filters and many more.
MELTBLO France current production capacity is approximatively 700 tons per year of meltblown based of PP, PBT, TPU and PLA polymer. MELTBLO France also propose nonwoven fabrics composed by a meltblown and a carrier which can be spunbond, spunlace and many more other composite possibilities. The know-how of MELTBLO France is based on a team led by Nicolas BURNY its president, who has more than 33 years of experience to his credit in the field of nonwovens.
MELTBLO France also has a solid R&D team and its own control laboratory equipped with state-of-theart equipment to ensure the filtration quality of its meltblown and composites. Raw material savings make its products competitive and significantly reduce their carbon footprint. Innovation, light products, high filtration quality, long lasting, this is the DNA of MELTBLO France. Its great technical knowledge of these precious filtration materials and its desire for innovation make MELTBLO France an essential leader in this sector of activity. In two years, MELTBLO France became the leader of innovative meltblown producers as well as a key player in respiratory protection in Europe. Visit the MELTBLO France team on stand R15 in hall 7. You can also contact Nicolas BURNY beforehand for more info.
Products / Markets
Product Index
Filtergewebe
Filtermedien
Filtermedien f. Gase
Hepa-Filter
Kabinenfilter
Kraftstoff-Filter
Kühlmittelfilter
Luftfiltermedien
Medizinische Filter
Vliesmaterialien, Meltblown
Vliesmaterialien, Spunbonded
Market Scope
Automobilindustrie
Biotechnologie/Biopharmazie
Chemische Industrie
Filtrations- und Separationsindustrie
Medizintechnik, Health Care Industrie
Metallverarbeitende Industrie
Pharmazeutische Industrie
Umweltschutz
Product Index
Air Filter Media
Cabin Air Filters
Coolant Filters
Filter Fabrics
Filter Media
Filter Media for Gases
Fuel Filters
HEPA Filters
Medical Filters
Nonwovens, Meltblown
Nonwovens, Spunbonded
Market Scope
Automotive Industry
Biotechnology/Biopharmac. Industry
Chemical Industries
Environmental Protection
Filtration and Separation Industry
Medical, Health Care Industry
Metal Processing Industry
Pharmaceutical Industry
Product Index
冷却液过滤器
医用过滤器
气体过滤器介质
汽车空调过滤器
滤布
熔喷无纺布
燃油过滤器
空气过滤器介质
纺粘型无纺布
过滤介质
高效粒子空气过滤器
Market Scope
 汽车工业
制药工业
化学工业
医疗卫生保健业
环境保护
生物技术/生物制药业
过滤与分离工业
金属加工业
Product Index
"فلاتر هواء عالية الفاعلية ""هـيبا"" HEPA"
اللانسيج، تذويب وتنفيش
اللانسيج، غزل ولصق
فلاتر المقصورات والحُجرات
فلاتر سائل التبريد
فلاتر طبية
فلاتر نسيجية
مواد فلاتر المحروقات
مواد فلاتر الهواء
مواد فلترة
مواد فلترة السوائل
Market Scope
الصناعات الدوائية
الصناعات الطبية والعناية الصحية
الصناعة الكيماوية
صناعات الفلترة وفصل المواد
صناعة الألبان
صناعة التقنية البيولوجية والبيوصيدلية
صناعة السيارات
صناعة معالجة المعادن
Product Index
Filtres HEPA
Filtres de fluide réfrigérant
Filtres médicaux
Filtres à air de cabines
Filtres à carburant
Fluides pour filtres à air
Médias de filtre
Médias de filtre pour gaz
Non tissés, feutres
Non tissés, toiles soufflées à chaud
Tissus de filtres
Market Scope
Industrie automobile
Industrie biotechnologie/biopharmaceutique
Industrie chimique
Industrie de filtration et de séparation
Industrie laitière
Industrie médicale et de la santé
Industrie métallurgique
Industrie pharmaceutique
Product Index
Filtri aria abitacolo
Filtri carburante
Filtri hepa
Filtri medicali
Filtri refrigeranti
Mezzi filtranti
Mezzi filtranti aria
Mezzi filtranti per gas
Non tessuti, meltblown
Non tessuti, spunbonded
Tessuti filtro
Market Scope
Biotecnologie/biofarmaceutica
Protezione ambientale
Settore automobilistico
Settore chimico
Settore filtrazione e separazione
Settore lavorazione metallo
Settore medicale e sanità
Settore parafarmaceutico
Product Index
Filtry HEPA
Filtry chłodziwa
Filtry do zastosowań medycznych
Filtry paliwa
Kabinowe filtry powietrza
Materiały nietkane, formowane
Materiały nietkane, zgrzewalne
Media filtrów
Media filtrów gazu
Media filtrów powietrza
Tkaniny filtracyjne
Market Scope
Biotechnologia/biofarmaceutyka
Filtrowanie i separacja
Obróbka metali
Ochrona zdrowia
Ochrona środowiska
Przemysł chemiczny
Przemysł farmaceutyczny
Przemysł samochodowy
Product Index
Filtros absolutos (HEPA)
Filtros de ar para cabines
Filtros de combustível
Filtros medicinais
Filtros para líquidos de refrigeração
Meios de filtragem
Meios de filtragem para gases
Meios de filtro do ar
Não-tecidos, em forma enrolada
Não-tecidos, fusão
Tecidos filtrantes
Market Scope
Ind. de biotecnologia/biofarmac.
Indústria automóvel
Indústria de filtragem e separação
Indústria de processamento de metal
Indústria farmacêutica
Indústria leiteira
Indústria médica, cuidados de saúde
Indústrias químicas
Product Index
Медицинские фильтры
Нетканые материалы, плавление
Нетканые материалы, формование
Охлаждающие фильтры
Топливные фильтры
Фильтровальные ткани
Фильтрующий материал
Фильтрующий материал
Фильтрующий материал для газов
Фильтры воздуха в кабине
Фильтры тонкой очистки
Market Scope
Автомобильная промышленность
Биотехнология / Биофармацевтическая промышленность
Медицина, здравоохранение
Металлообрабатывающая промышленность
Молочная промышленность
Отрасль фильтрации и сепарирования
Фармацевтическая промышленность
Химическая промышленность
Product Index
Filtros HEPA
Filtros de aire de cabina
Filtros de combustible
Filtros de refrigerante
Filtros médicos
Medios de filtro
Medios de filtros de aire
Medios de filtros para gases
Non-Wowens, Meltblown
Non-Wowens, Spunbonded
Tejidos de filtro
Market Scope
Industria de la automoción
Industria de la biotecnología/biofarmacéutica
Industria de la filtración y la separación
Industria de los productos lácteos
Industria de procesamiento de metales
Industria farmacéutica
Industria médica, de la atención sanitaria
Industrias químicas
Product Index
Dokunmamış Mamuller, Meltblown
Dokunmamış Mamuller, Spunbond
Filtre Bezleri
Filtre Ortamı
Gazlar için Filtre Ortamı
HEPA Filtreler
Hava Filtresi Ortamı
Kabin Hava Filtreleri
Soğutucu Filtreler
Tıbbi Filtreler
Yakıt Filtreleri
Market Scope
Biyoteknoloji/Biyoeczacılık Endüstrisi
Filtrasyon ve Ayırma Endüstrisi
Kimya Endüstrisi
Metal İşleme Endüstrisi
Otomotiv Endüstrisi
Tıp, Sağlık Sektörü
Çevre Koruma
İlaç Endüstrisi
Product Index
HEPA 필터
가스용 여과재
공기 여과재
냉각수 필터
멜트블로운 부직포
스펀본드 부직포
여과재
연료 필터
의료 필터
캐빈 에어 필터
필터 패브릭
Market Scope
금속 가공 산업
생명공학/생물 약제학 산업
여과 및 분리 산업
의료, 보건 산업
자동차 산업
제약 산업
화학 산업
환경 보호
Product Index
HEPAフィルター
エアフィルターメディア
ガス用濾過材
キャビン用エアフィルター
クーラントフィルター
フィルターメディア
フィルター布
不織布, Meltblown
不織布, Spunbonded
医療用フィルター
燃料フィルター
Market Scope
バイオテクノロジー・バイオ医薬品産業
化学工業
医療、ヘルスケア業界
医薬品業界
濾過および分離技術工業
環境保護
自動車産業
金属加工業界