NXTNANO Hall 7 / M17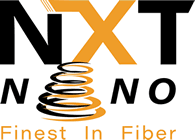 Exhibitor Profile
NXTNANO is an innovative technology company specializing in the mass manufacture of nanofibers for use in various applications including: Air filtration, liquid/microfiltration, microporous breathable films, micron rated venting, even electrical and acoustic insulation.
Nanofiber science is our passion; we deliver unmatched fiber performance with the newest & broadest range of technologies. Our partners enjoy superior analytical testing abilities, experienced application expertise, and a unique customer service experience.
Combining multiple nanofiber polymer technologies, the array of end use applications for our medias are vast. Fortunately, we love a challenge & our engineers are passionate about developing innovative products to give our partners a competitive edge in their markets.
Products / Markets
Product Index
Automobilfilter
Filtermedien
Filtermedien f. Flüssigkeiten
Filterpatronen
Flüssig-Filtermedien
Kabinenfilter
Kraftstoff-Filtermedien
Luftfiltermedien
Medizinische Filter
Membranen
Membranherstellung
Mikrofiltration
Nanofiltration
Nanomedien
Patronenfilter
Vliesmaterialien
Ölfiltermedien
Market Scope
Automobilindustrie
Filtrations- und Separationsindustrie
Luft- und Raumfahrtindustrie
Medizintechnik, Health Care Industrie
Umweltschutz
Product Index
Air Filter Media
Automotive Filters
Cabin Air Filters
Cartridge Filters
Filter Cartridges
Filter Media
Filter Media for Liquids
Fuel Filter Media
Liquid Filter Media
Medical Filters
Membrane Manufacturing
Membranes
Microfiltration
Nano Media
Nanofiltration
Nonwovens
Oil Filter Media
Market Scope
Aerospace Industry
Automotive Industry
Environmental Protection
Filtration and Separation Industry
Medical, Health Care Industry
Product Index
医用过滤器
微孔过滤
无纺布
汽车空调过滤器
汽车过滤器
液体过滤器介质
液体过滤滤材
滤油器介质
滤筒
滤筒
燃油过滤器介质
空气过滤器介质
纳米介质
纳米过滤
薄膜制作
过滤介质
隔膜
Market Scope
 汽车工业
医疗卫生保健业
环境保护
航空航天业
过滤与分离工业
Product Index
اسطوانات
الفلترة الدقيقة
الفلترة الميكروية
تصنيع الاسطوانات
خراطيش فلتر
غير المنسوجات / اللانسيج
فلاتر السيارات
فلاتر الكارترج / الخراطيش
فلاتر المحروقات
فلاتر المقصورات والحُجرات
فلاتر طبية
مواد فلاتر الزيوت
مواد فلاتر الهواء
مواد فلترة
مواد فلترة الغازات
مواد فلترة الغازات
مواد في غاية الدقة
Market Scope
الصناعات الطبية والعناية الصحية
صناعات الفلترة وفصل المواد
صناعة الألبان
صناعة السيارات
صناعة الفضاء
Product Index
Cartouches de filtres
Cartouches de filtres
Fabrication de membranes
Filtres automobiles
Filtres médicaux
Filtres à air de cabines
Fluides pour filtres à air
Membranes
Microfiltration
Médias de filtre
Médias de filtre pour liquides
Médias de filtre pour liquides
Médias de filtres à carburant
Médias pour filtres à huile
Nanofiltration
Nanomédias
Non tissés
Market Scope
Industrie automobile
Industrie aérospatiale
Industrie de filtration et de séparation
Industrie laitière
Industrie médicale et de la santé
Product Index
Cartucce filtri
Filtri aria abitacolo
Filtri cartuccia
Filtri medicali
Filtri settore automobilistico
Membrane
Mezzi filtraggio liquidi
Mezzi filtranti
Mezzi filtranti aria
Mezzi filtranti carburante
Mezzi filtranti per liquidi
Mezzi filtro olio
Microfiltrazione
Nano media
Nanofiltrazione
Non tessuti
Produzione membrana
Market Scope
Protezione ambientale
Settore aerospaziale
Settore automobilistico
Settore filtrazione e separazione
Settore medicale e sanità
Product Index
Filtry do zastosowań medycznych
Filtry samochodowe
Kabinowe filtry powietrza
Materiały nietkane
Media filtrów
Media filtrów cieczy
Media filtrów cieczy
Media filtrów oleju
Media filtrów paliwa
Media filtrów powietrza
Membrany
Mikrofiltracja
Nanofiltracja
Nanomedia
Produkcja membran
Wkłady filtra
Wkłady filtracyjne
Market Scope
Filtrowanie i separacja
Ochrona zdrowia
Ochrona środowiska
Przemysł lotniczy
Przemysł samochodowy
Product Index
Cartuchos filtrantes
Filtros de ar para cabines
Filtros de cartuchos
Filtros medicinais
Filtros para automóveis
Meios de filtragem
Meios de filtragem de combustível
Meios de filtragem de óleo
Meios de filtragem para líquidos
Meios de filtragem para líquidos
Meios de filtro do ar
Meios de nanotecnologia
Membranas
Microfiltração
Nanofiltração
Não-tecidos
Produção de membranas
Market Scope
Indústria aeroespacial
Indústria automóvel
Indústria de filtragem e separação
Indústria leiteira
Indústria médica, cuidados de saúde
Product Index
Автомеханические фильтры
Изготовление мембран
Медицинские фильтры
Мембраны
Микрофильтрование
Нано-вещества
Нанофильтрация
Нетканые материалы
Фильтрующие патроны
Фильтрующий материал
Фильтрующий материал
Фильтрующий материал для жидкостей
Фильтрующий материал для жидкостей
Фильтрующий элемент масляного фильтра
Фильтрующий элемент топливного фильтра
Фильтры воздуха в кабине
Фильтры со сменным фильтрующим элементом
Market Scope
Авиакосмическая промышленность
Автомобильная промышленность
Медицина, здравоохранение
Молочная промышленность
Отрасль фильтрации и сепарирования
Product Index
Cartuchos de filtro
Fabricación de membranas
Filtros de aire de cabina
Filtros de automoción
Filtros de cartucho
Filtros médicos
Medios de filtro
Medios de filtros de aceite
Medios de filtros de aire
Medios de filtros de combustible
Medios de filtros para líquidos
Medios de filtros para líquidos
Membranas
Microfiltración
Nanofiltración
Nanomedios
Non-Wowens
Market Scope
Industria aeroespacial
Industria de la automoción
Industria de la filtración y la separación
Industria de los productos lácteos
Industria médica, de la atención sanitaria
Product Index
Dokunmamış Mamuller
Filtre Kartuşları
Filtre Ortamı
Hava Filtresi Ortamı
Kabin Hava Filtreleri
Kartuşlu Filtreler
Membran Üretimi
Membranlar
Mikrofiltrasyon
Nano Ortam
Nanofiltrasyon
Otomobil Filtreleri
Sıvılar için Filtre Ortamı
Sıvılar için Filtre Ortamı
Tıbbi Filtreler
Yakıt Filtresi Ortamı
Yağ Filtresi Ortamı
Market Scope
Filtrasyon ve Ayırma Endüstrisi
Havacılık Endüstrisi
Otomotiv Endüstrisi
Tıp, Sağlık Sektörü
Çevre Koruma
Product Index
공기 여과재
나노 매체
나노 여과
부직포
분리막
분리막 제조
액체 여과재
액체용 여과재
여과재
연료 여과재
오일 여과재
의료 필터
자동차 필터
정밀 여과
카트리지 필터
캐빈 에어 필터
필터 카트리지
Market Scope
여과 및 분리 산업
의료, 보건 산업
자동차 산업
항공우주 산업
환경 보호
Product Index
エアフィルターメディア
オイルフィルターメディア
カートリッジ・フィルター
キャビン用エアフィルター
ナノメディア
ナノ濾過
フィルターカートリッジ
フィルターメディア
不織布
医療用フィルター
液体フィルター媒体
液体用濾過材
燃料フィルター媒体
精密濾過
膜
膜製造
自動車用フィルター
Market Scope
医療、ヘルスケア業界
濾過および分離技術工業
環境保護
自動車産業
航空宇宙産業