OKUTANI Ltd. Hall 8 / B38

Exhibitor Profile
Perforated metal, wire mesh, expanded metal, and more....... OKUTANI fulfills your demands with superior technology and 129 years experiences in filtration and separation industry.
Products / Markets
Product Index
Abwasserfilter
Filtergehäuse
Filterzentrifugen
Gewebelaminate, Metal
Korbfilter
Luftfiltermedien
Perforierte Metalle
Scheibenfilter
Siebe
Tropfenabscheider
Ölfilter
Market Scope
Abwasserwirtschaft
Chemische Industrie
Energieerzeugung,-versorgung
Filtrations- und Separationsindustrie
Kunststoffverarbeitende Industrie
Lebensmittel-,Getränkeindustrie
Luft- und Raumfahrtindustrie
Product Index
Air Filter Media
Basket Filters (Strainers)
Demisters
Disc Filters
Filter Centrifuges
Filter Housings
Oil Filters
Perforated Metals
Sieves
Waste Water Filters
Wire Mesh Laminates, metal
Market Scope
Aerospace Industry
Chemical Industries
Energy, Energy Supply
Filtration and Separation Industry
Food, Beverage Industry
Plastic Industry
Waste Water Treatment
Product Index
废水过滤器
滤壳
滤油器
盘式过滤器
离心式过滤器
空气过滤器介质
穿孔金属板
筛
篮式过滤器
金属网层板
除雾器
Market Scope
化学工业
塑料工业
废水处理
能源、能源供应
航空航天业
过滤与分离工业
食品、饮料工业
Product Index
تصفية العلب
رقائق الشبك المعدني
فلاتر السلة
فلاتر زيوت
فلاتر قرصية
فلاتر ماء التصريف
قلاتر الطرد المركزي
مزيل الضباب / الغشاوة
معادن مثقبة
مناخل
مواد فلاتر الهواء
Market Scope
الصناعات الغذائية وصناعة المشروبات
الصناعة الكيماوية
حماية البيئة
صناعات الفلترة وفصل المواد
صناعة البلاستيك
صناعة الفضاء
معالجة مياه الصرف
Product Index
Centrifugeuses à filtre
Dispositif antibuée
Filtres pour eau usées
Filtres à bols
Filtres à disques
Filtres à huile
Fluides pour filtres à air
Laminés en mailles de fil, métalliques
Les boîtiers de filtre
Métaux perforés
Tamis
Market Scope
Industrie aérospatiale
Industrie chimique
Industrie de filtration et de séparation
Industrie des matières synthétiques
Industries alimentaires et des boissons
Protection de l'environnement
Traitement des eaux usées
Product Index
Alloggiamenti filtro
Centrifughe filtri
Dispositivi antiappannanti
Filtri a cestello (filtri)
Filtri a disco
Filtri acque reflue
Filtri olio
Laminato a rete, metallo
Metalli perforati
Mezzi filtranti aria
Setacci
Market Scope
Energia, approvvigionamento energetico
Settore aerospaziale
Settore alimenti e bevande
Settore chimico
Settore filtrazione e separazione
Settore plastica
Trattamento acque reflue
Product Index
Filtry koszowe (sitka)
Filtry oleju
Filtry tarczowe
Filtry ścieków
Media filtrów powietrza
Metalowe połączenia wielowarstwowe siatek drucianych
Obudowy filtrów
Odmgławiacze
Perforowane płyty metalowe
Sita
Wirówki filtracyjne
Market Scope
Filtrowanie i separacja
Oczyszczanie ścieków (waste water)
Przemysł chemiczny
Przemysł energetyczny
Przemysł lotniczy
Przemysł spożywczy
Przemysł tworzyw sztucznych
Product Index
Carcaças de Filtro
Centrifugadores de filtros
Crivos
Desumidificadores
Filtros de discos
Filtros de rede
Filtros de águas residuais
Filtros de óleo
Laminados de malha metálica
Meios de filtro do ar
Metais perfurados
Market Scope
Indústria aeroespacial
Indústria alimentar, de bebidas
Indústria de filtragem e separação
Indústria dos plásticos
Indústrias químicas
Protecção ambiental
Tratamento de água de despejo
Product Index
Антизапотеватели
Дисковые фильтры
Корзинчатые фильтры
Корпуса фильтров
Масляные фильтры
Перфорированные металлы
Сетчатые ламинаты, металл
Сетчатые фильтры
Фильтрующие центрифуги
Фильтрующий материал
Фильтры сточных вод
Market Scope
Авиакосмическая промышленность
Защита окружающей среды
Отрасль фильтрации и сепарирования
Очистка сточных вод
Производство пластмасс
Производство продуктов питания и напитков
Химическая промышленность
Product Index
Aireadores
Centrífugas de filtro
Filtro de Viviendas
Filtros de aceite
Filtros de agua residual
Filtros de cesta
Filtros de disco
Material laminar de malla de alambre, metal.
Medios de filtros de aire
Metales perforados
Tamices
Market Scope
Industria aeroespacial
Industria de la alimentación y las bebidas
Industria de la filtración y la separación
Industria de los plásticos
Industrias químicas
Protección del medio ambiente
Tratamiento de aguas residuales
Product Index
Atıksu Filtreleri
Buğu Önleyiciler
Delikli Metaller
Disk Filtreler
Elekler
Filtre Gövdeleri
Filtre Santrifüjleri
Hasır Tel Tabakaları, metal
Hava Filtresi Ortamı
Sepet Filtreler
Yağ Filtreleri
Market Scope
Atıksu Arıtma
Enerji, Enerji İkmali
Filtrasyon ve Ayırma Endüstrisi
Gıda, İçecek Endüstrisi
Havacılık Endüstrisi
Kimya Endüstrisi
Plastik Endüstrisi
Product Index
공기 여과재
금속 철망 라미네이트
데미스터
디스크 필터
바스켓 필터(스트레이너)
오일 필터
체
타공판
폐수 필터
필터 원심분리기
필터 하우징
Market Scope
식음료 산업
에너지, 에너지 공급
여과 및 분리 산업
폐수 처리
플라스틱 산업
항공우주 산업
화학 산업
Product Index
ふるい
エアフィルターメディア
オイルフィルター
ディスクフィルター
バスケットフィルター(ストレーナー)
フィルターハウジング
フィルター遠心機
ワイヤーメッシュラミネート
剥離器
廃水フィルター
穴あきメタル
Market Scope
エネルギー、エネルギー供給
プラスチック業界
化学工業
汚水処理
濾過および分離技術工業
航空宇宙産業
食品、飲料業界
Press release
We will introduce 2 new products at FILTECH 2023
OKUTANI already has broken the mold and made the impossible possible.
OKUTANI was established in 1895 and has been supplying Wire Mesh and Perforated Metl over 125 years.
Our history is a history of challenges, we have always tried and will continue to try new things to meet the demands of our customers.
We are going to introduce 2 new products at FILTECH 2023 in addition to Xtreme High Open Area and Super Punching introduced in 2022.
The first product is ULTRA SUPER PUNCHING.
Realizes material thickness twice the hole diameter by punching press.
Our new technology allows us to perforate 3 mm holes in 6 mm stainless steel sheet.
6mm's Tensile Strength increased approx. 2.2~2.7 times and Flexural Strength increased approx. 4.6 times compared with 3mm stainless steel sheet.
Also production costs of punching press are significantly lower compared to drill and laser.
The second is "Sanitary Strainer using perforated Duplex stainless steel"
By replacing wire mesh with perforated duplex stainless steel,
we can achieve,
Longer service life by greatly improving durability and pressure resistance.
High strength, High corrosion resistance, Thermal low-expansion, Polishability and Saving compared with general stainless steel.
Easy foreign substance detection and removal by magnets.
Okutani's advanced perforating technology enables a wide range of hole diameters from 0.035mm to 1.00mm. Available in two thickness of 0.5mm and 0.8mm.
Images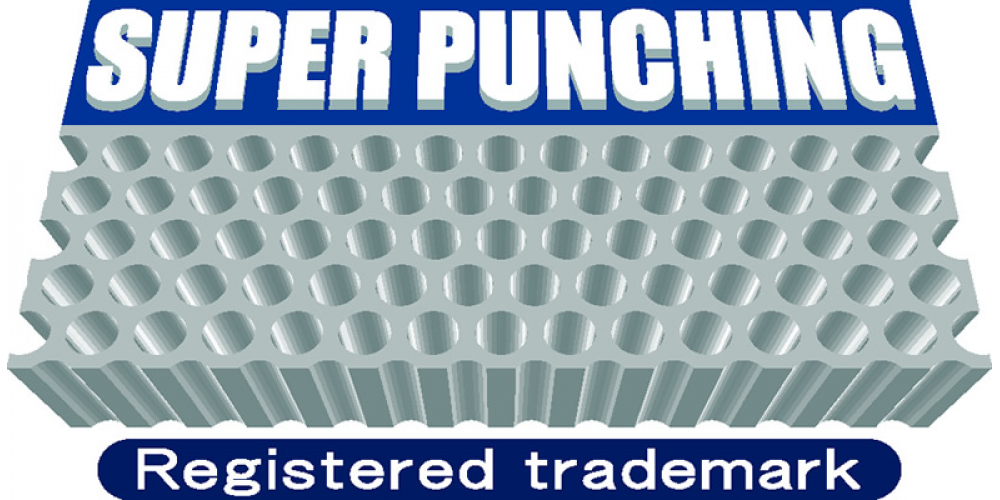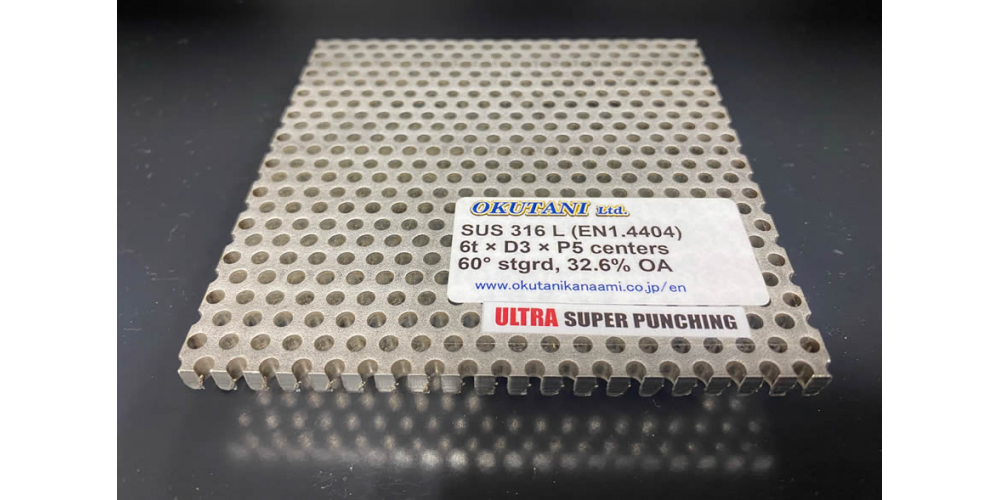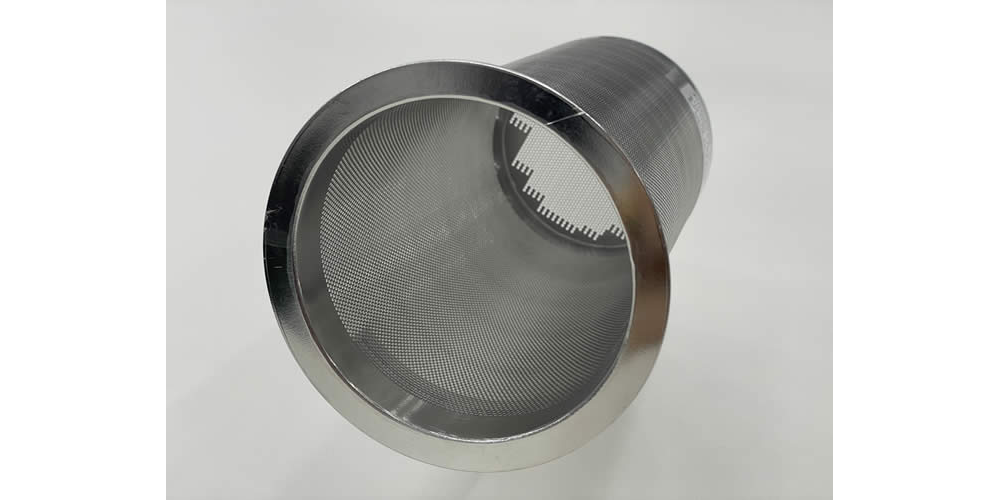 Sanitary Strainer using perforated Duplex stainless steel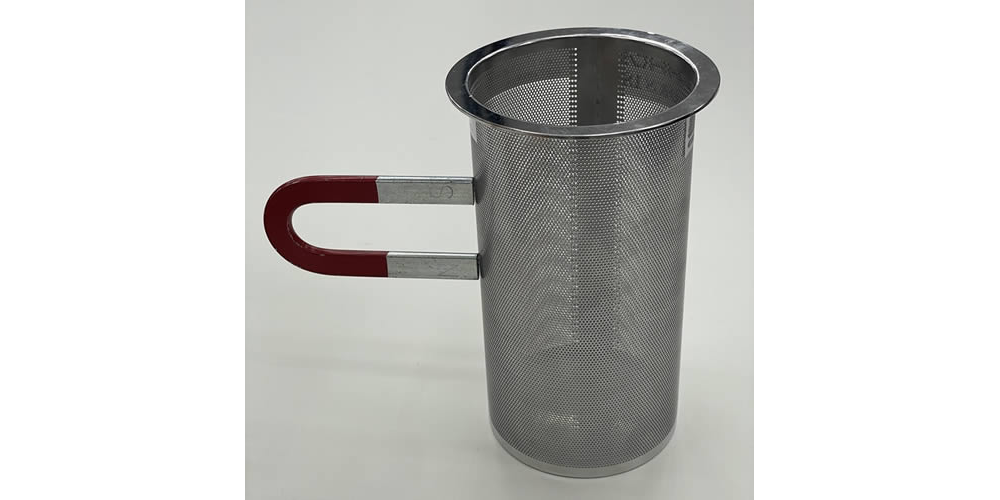 Sanitary Strainer using perforated Duplex stainless steel