ORV Manufacturing SpA Hall 7 / H16

Exhibitor Profile
ORV Manufacturing is part of IMP Group with 70 years' experience in the production of technical non-woven and synthetic media for air filtration.
ORV Manufacturing applies the latest technologies to manufacture filter medias for:
HVAC
Spray booths
Process and air cabin
Engine air filtration
compressor nd vacuum pump
houselhold appliances
Masks-personal protective equipment
ORVM combines know how, technology and performing raw materials to offer innovative products, among wich particularly stand out:
Zeroglass (synthetic paint arrestor offering an ecological alternative to fiber glass)
ATEX (conductive material)
Polyolefin media for oil fog and for alkaline areas
Multi-layer progressive medias for engine air filter
antibacterial media
ORVM focuses on products certified for recycled content, silicon, formaldehyde and VOCs free, and is certified ISO9001, ISO14021, Oeko-tex
Since 2018 ORVM is part of CTI 42 for the development of the parameters applied in the new ISO 16890
ZeroGlass - Una soluzione innovativa
ZeroGlass è ottenuto mediante una speciale Sovrapposizione distrati fibrosi che danno al materiale un elevato potere di raccolta di ogni tipo vernice.
Personalizzabile
Zero Glass può essere prodotto in diverse misure e personalizzato su un lato con loghi e/o normative tecniche.
Performante, sicuro, ecologico
ZeroGlass è un filtro innovativo altamente performante, facile e sicuro da maneggiare perché 100% in fibra di polistere. Ideale per sostituire il Paint Stop in fibra di ventro in tutte le cabine de verniciatura per il suo elevato potere di raccolta e filtrazione.
Zero rischi per te
Grazie alla sua composizione 100% Poliestere, riduce a Zero rischi derivati dalla sua manopolazione. ZeroGlass infatti é perfettamente sicuro per chi lo produce, per chi lavora e per chi lo installa, si può dispositivo di protezione individuale, a differenza di quanto richiesto per la manopolazione della fibra vetro.
Zero rischi per l'ambiente
ZeroGlass è prodotto per il 90% con fibra di poliestere rigenerata recuperata dallo smaltimento delle bottiglie, ed è smaltibile nel pieno rispetto della salute e dell'ambiente.
ZeroGlass 2013
Mono-strato per assorbire e raccogliere la vernice in eccesso. 95%fibra di poliestere rigenerata utilizzabile per cabine di Verniciatura.
ZeroGlass 4013
Strato paint arrestor con particolare distribuzione delle fibre più strato filtrante che consente di eliminare l'uso di filtri a valle 90% fibra di poliestere rigenerata. Utilizzable per cabine di verniciatura a pavimento o a parete.
Products / Markets
Product Index
Automobilfilter
Batterieseparatoren
Drehfilter
Kabinenfilter
Lackfilter
Luftfiltermedien
Vliesmaterialien
Vliesmaterialien, Spunbonded
Vliesmaterialien, Spunlace
Market Scope
Automobilindustrie
Filtrations- und Separationsindustrie
Product Index
Air Filter Media
Automotive Filters
Battery Separators
Cabin Air Filters
Nonwovens
Nonwovens, Spunbonded
Nonwovens, Spunlaced
Paint Filters
Rotary Filters
Market Scope
Automotive Industry
Filtration and Separation Industry
Product Index
旋转过滤器
无纺布
汽车空调过滤器
汽车过滤器
漆雾过滤器
空气过滤器介质
纺粘型无纺布
蓄电池隔板
非織造布, Spunlaced
Product Index
اللانسيج، غزل ولصق
خرطوشات فلترة
غير المنسوجات / اللانسيج
فلاتر السيارات
فلاتر المقصورات والحُجرات
فلاتر دهانات
فلاتر سحب دورانية
منسوجات ، Spunlaced
مواد فلاتر الهواء
Market Scope
صناعات الفلترة وفصل المواد
صناعة السيارات
Product Index
Filtres automobiles
Filtres rotatifs
Filtres à air de cabines
Filtres à pentures
Fluides pour filtres à air
Non tissés
Non tissés, Spunlaced
Non tissés, feutres
Séparateurs de batterie
Market Scope
Industrie automobile
Industrie de filtration et de séparation
Product Index
Filtri aria abitacolo
Filtri per pittura
Filtri rotanti
Filtri settore automobilistico
Mezzi filtranti aria
Non tessuti
Non tessuti, spunbonded
Non tessuti, spunlaced
Separatori di batterie
Market Scope
Settore automobilistico
Settore filtrazione e separazione
Product Index
Filtry obrotowe
Filtry powlekane
Filtry samochodowe
Kabinowe filtry powietrza
Materiały nietkane
Materiały nietkane, formowane
Materiały nietkane, wodnoigłowane
Media filtrów powietrza
Separatory baterii
Market Scope
Filtrowanie i separacja
Przemysł samochodowy
Product Index
Filtros de ar para cabines
Filtros de tinta
Filtros para automóveis
Filtros rotativos
Meios de filtro do ar
Não-tecidos
Não-tecidos, Spunlaced
Não-tecidos, em forma enrolada
Separadores de baterias
Market Scope
Indústria automóvel
Indústria de filtragem e separação
Product Index
Автомеханические фильтры
Нетканые материалы
Нетканые материалы, Spunlaced
Нетканые материалы, формование
Разделитель аккумуляторной батареи
Ротационные фильтры
Фильтрующий материал
Фильтры воздуха в кабине
Фильтры красок
Market Scope
Автомобильная промышленность
Отрасль фильтрации и сепарирования
Product Index
Filtros de aire de cabina
Filtros de automoción
Filtros de pintura
Filtros giratorios
Medios de filtros de aire
Non-Wowens
Non-Wowens, Spunbonded
Non-Wowens, Spunlaced
Separadores de batería
Market Scope
Industria de la automoción
Industria de la filtración y la separación
Product Index
Batarya Separatörleri
Boya Filtreleri
Dokunmamış Mamuller
Dokunmamış Mamuller, Spunbond
Dokunmamış Mamuller, Spunlace
Döner Filtreler
Hava Filtresi Ortamı
Kabin Hava Filtreleri
Otomobil Filtreleri
Market Scope
Filtrasyon ve Ayırma Endüstrisi
Otomotiv Endüstrisi
Product Index
공기 여과재
배터리 분리기
부직포
스펀레이스 부직포
스펀본드 부직포
자동차 필터
캐빈 에어 필터
페인트 필터
회전 필터
Product Index
エアフィルターメディア
キャビン用エアフィルター
ペイントフィルター
ロータリーフィルター
不織布
不織布, Spunbonded
不織布, Spunlaced
自動車用フィルター
電池セパレーター
Press release
ZeroGlass - The paint stop that starts from Zero
ZeroGlass - An innovative solution
ZeroGlass is obtained by a special overlapping of fibrous layers that give the material a high capacity to collect any type of paint.
Customizable
ZeroGlass can be produced in different sizes and customized on its side with logos and/or technical standards.
Performance, safety and ecology
Zeroglass is an innovative high performance filter, easy and safe to handle as it is made of 100% polyester fiber. Ideal for replacing Paint Stop fiberglass in all paint booths thanks to its high collection and filtering capacity.
Zero risc to the environnement
ZeroGlass is produced with 90% regenerated polyester fiber recovered through the disposal of bottles and is stored in full respect of health and environnement.
ZeroGlass 2013
Single-layer to absorp and collect the excess paint 95% of regenerated polyester fiber. Suitable for spray bottles.
ZeroGlass 4013
Layer paint arrestor with particular distribution of fibers plus the filtering layer which allows eliminating the use of filters. Downstream 90% of regenerated polyester fiber. Suitable for paint booths on the floor of wall.i
Images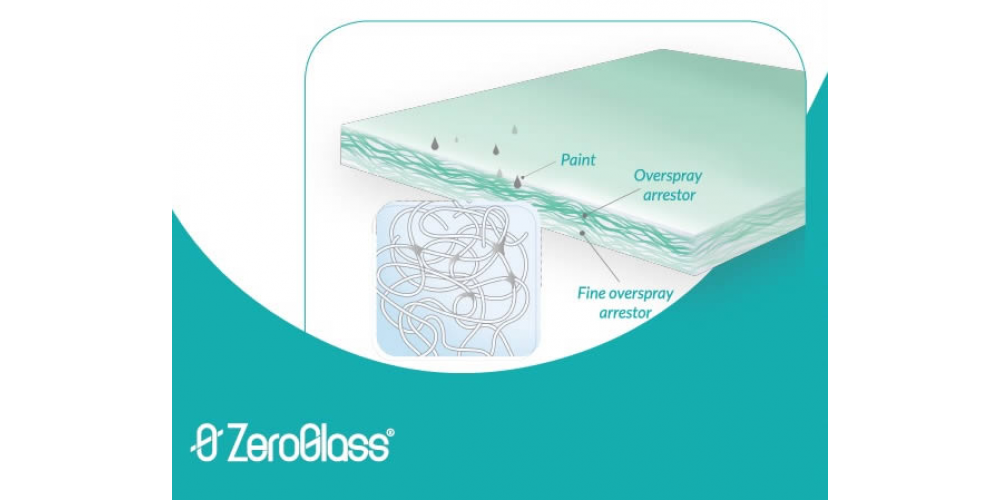 ORV Peruzzo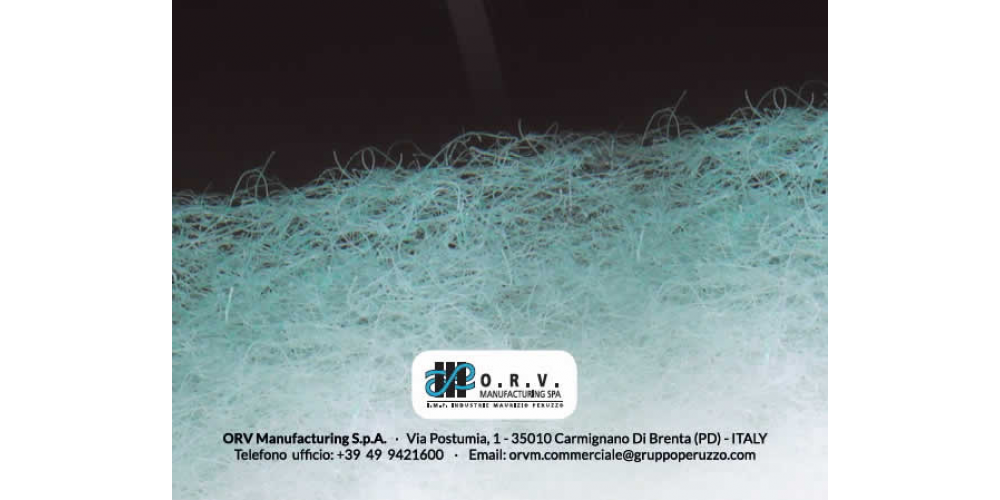 ORV Peruzzo