Supertech Fabrics Pvt. Ltd Hall 8 / E43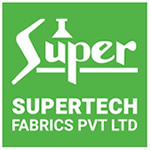 Exhibitor Profile
Supertech Fabrics Pvt Ltd, located on the outskirts of Vadodara , is one of the leading manufacturer and exporter of High Performance Technical Textiles.
Mainly Fibreglass filter fabrics (both woven and nonwoven), PTFE Coated Fiber Glass Fabric, one Side Adhesive Tapes, Belts, Silicon Coated Fiber Glass Fabric, Filter Bags, Protective fabrics like Aluminium laminated Glass Fabrics etc.
The company has wide range of applications in different industries. We have established ourselves as an extremely reliable customer friendly company, with a track record of extreme high quality products and timely delivery.
Supertech Fabrics Pvt Ltd is a part of Super Group of Companies, which holds respect in global market for its consistent quality products since 3 decades. The group is multifaceted with product and talent. Super Industrial Lining Pvt Ltd is an ISO 9001:2015 certified company which manufactures Fluoropolymers lined pipes, fittings, valves, etc
Chemcon Specialty Chemicals Ltd manufactures Pharma Intermediates and Drilling chemicals.
Products / Markets
Product Index
Bandfilter
Beschichtete Filter,antibakteriell
Beutel-/Taschenfilter
Filterbeutel
Filterfilze
Filtergewebe
Filtertextilien
Filtertücher
Gasfilter
Glasfaserfilter
Glasfaserschläuche
Luftfiltermedien
Röhrenfilter
Rückspülfilter
Staub-/Tropfenfilter
Staubabscheider
Technische Textilien
Vliesmaterialien
Market Scope
Bergbauindustrie
Chemische Industrie
Eisen-, Stahlherstellung
Energieerzeugung,-versorgung
Filtrations- und Separationsindustrie
Keramik-, Glasindustrie
Luft- und Raumfahrtindustrie
Mineralöl/Öl/Gasproduktion
Schwerindustrie
Umweltschutz
Product Index
Air Filter Media
Back Flush Filters
Bag Filters
Belt Filters
Coated Filters, antibacterical
Dust Collectors
Dust/Mist Filters
Filter Bags
Filter Cloth
Filter Fabrics
Filter Felts
Filter Textiles
Gas Filters
Glass Fibre Filter
Glass Filter Bags
Nonwovens
Technical Textiles
Tubular Filters
Market Scope
Aerospace Industry
Ceramic, Glass Industry
Chemical Industries
Energy, Energy Supply
Environmental Protection
Filtration and Separation Industry
Heavy Industry
Iron, Steel Manufacturing
Mineral / Oil / Gas Production
Mining Industry
Product Index
尘/雾过滤器
工业用纺织品
带式过滤器
无纺布
气体过滤器
滤布
滤布
玻璃纤维过滤器
玻璃过滤袋
空气过滤器介质
管状过滤器
袋式平槽过滤器
袋式过滤器
过滤毡
过滤织物
过滤袋
镀膜滤色镜,抗菌式
集尘器
Market Scope
化学工业
环境保护
矿产/石油/天然气业
能源、能源供应
航空航天业
过滤与分离工业
采矿业
重工业
钢铁制造业
陶瓷、玻璃工业
Product Index
أقمشة تقنية
أقمشة فلاتر
أكياس زجاج تصفية
أكياس فلاتر
أكياس فلترة
أكياس فلترة للدفق العالي
غير المنسوجات / اللانسيج
فلاتر الغبار / الضباب
فلاتر انبوبية
فلاتر شريطية
فلاتر شعرية
فلاتر غازات
فلاتر مغلفة، مضادة للجراثيم
فلاتر نسيجية
فلتر صوف زجاجي
مجمعات الغبار
مواد فلاتر الهواء
نسيج فلاتر
Market Scope
إنتاج المعادن والزيوت والغاز
الصناعات الثقيلة
الصناعة الكيماوية
حماية البيئة
صناعات الفلترة وفصل المواد
صناعة الألبان
صناعة التعدين
صناعة الحديد والصلب
صناعة الزجاج والفخار / السيراميك
صناعة الفضاء
Product Index
Collecteurs de poussières
Feutres de filtres
Filtres en fibres de verre
Filtres tubulaires
Filtres à gaz
Filtres à poussières/buées
Filtres à revêtement, antibactérien
Filtres à sacs
Filtres à sangles
Fluides pour filtres à air
Non tissés
Sacs de filtre en verre
Sacs de filtres
Sacs de filtres de décolmatage
Textiles pour filtres
Textiles techniques
Tissus de filtre
Tissus de filtres
Market Scope
Industrie aérospatiale
Industrie chimique
Industrie de filtration et de séparation
Industrie de la céramique et du verre
Industrie laitière
Industrie lourde
Industrie minière
Productions minérales / pétrolière / du gaz
Protection de l'environnement
Sidérurgie
Product Index
Collettori di polvere
Feltri filtro
Filtri a tasche
Filtri banda
Filtri di risciacquo
Filtri gas
Filtri polvere/nebbie
Filtri rivestiti, antibatterici
Filtri tubolari
Filtro fibra di vetro
Mezzi filtranti aria
Non tessuti
Panno filtrante
Tasche filtri
Tasche in fibra di vetro
Tessuti filtro
Tessuti per filtri
Tessuti tecnici
Market Scope
Energia, approvvigionamento energetico
Produzione ferro e acciaio
Produzioni minerali / petrolio / gas
Protezione ambientale
Settore aerospaziale
Settore ceramica e vetro
Settore chimico
Settore filtrazione e separazione
Settore industria pesante
Settore minerario
Product Index
Filtry ciśnieniowe
Filtry gazu
Filtry powlekane, antybakteryjne
Filtry przeciwpyłowe/przeciwmgielne
Filtry rurowe
Filtry taśmowe
Filtry workowe
Filtry workowe z włókna szklanego
Filtry z włókna szklanego
Materiały nietkane
Media filtrów powietrza
Odpylacze
Tekstylia techniczne
Tkanina filtracyjna
Tkaniny filcowe
Tkaniny filtracyjne
Tkaniny filtracyjne
Worki filtracyjne
Market Scope
Filtrowanie i separacja
Ochrona środowiska
Produkcja szkła i ceramiki
Przemysł chemiczny
Przemysł ciężki
Przemysł energetyczny
Przemysł hutniczy
Przemysł lotniczy
Przemysł wydobywczy
Wydobycie minerałów, ropy i gazu
Product Index
Colectores de poeiras (aspiradores)
Feltros de filtros
Filtro de fibra de vidro
Filtros de bandas
Filtros de gases
Filtros de poeiras/vapores
Filtros de saco
Filtros de saco de vidro
Filtros de saco de águas residuais
Filtros revestidos, antibacteriano
Filtros tubulares
Meios de filtro do ar
Não-tecidos
Sacos filtrantes
Tecidos filtrantes
Tela filtrante
Têxteis de filtros
Têxteis para usos técnicos
Market Scope
Cerâmica, indústria vidreira
Fabrico de ferro, aço
Indústria aeroespacial
Indústria de filtragem e separação
Indústria leiteira
Indústria mineira
Indústria pesada
Indústrias químicas
Produção mineral / óleo / gás
Protecção ambiental
Product Index
Газовые фильтры
Ленточные фильтры
Нетканые материалы
Пылевые / масляные фильтры
Пылесборники
Рукавные проточные фильтры
Рукавные фильтры
Стекловолоконный фильтр
Сумки стеклянный фильтр
Технический текстиль
Трубные фильтры
Фильтровальные мешки
Фильтровальные ткани
Фильтровальный войлок
Фильтровальный текстиль
Фильтрующая ткань
Фильтрующий материал
Фильтры с покрытием, антибактериальные
Market Scope
Авиакосмическая промышленность
Горнодобывающая промышленность
Добыча минералов/ нефти/ газа
Защита окружающей среды
Керамическая, стекольная промышленность
Молочная промышленность
Отрасль фильтрации и сепарирования
Производство железа, стали
Тяжёлая промышленность
Химическая промышленность
Product Index
Bolsas de filtro
Colectores de polvo
Fieltros de filtro
Filtro de fibra de vidrio
Filtro de vidrio Bolsas
Filtros de bolsa
Filtros de correa
Filtros de descarga de bolsa
Filtros de gas
Filtros de polvo/neblina
Filtros revestidos, antibacteriológicos
Filtros tubulares
Medios de filtros de aire
Non-Wowens
Tejidos de filtro
Tejidos de filtros
Tejidos técnicos
Tela de filtro
Market Scope
Fabricación de hierro, acero
Industria aeroespacial
Industria de la cerámica y el cristal
Industria de la filtración y la separación
Industria de la minería
Industria de los productos lácteos
Industria pesada
Industrias químicas
Producción de minerales / petróleo / gas
Protección del medio ambiente
Product Index
Bant Filtreler
Cam Elyaf Filtre
Cam Elyaf Torbalar
Dokunmamış Mamuller
Filtre Bezleri
Filtre Keçeleri
Filtre Kumaşı
Filtre Tekstilleri
Filtre Torbaları
Gaz Filtreleri
Hava Filtresi Ortamı
Kaplı Filtreler, antibakteriyel
Silindirik Filtreler
Teknik Tekstiller
Ters Yıkamalı Filtreler
Torba Filtreler
Toz Toplayıcılar
Toz/Buğu Filtreleri
Market Scope
Ağır Sanayi
Demir, Çelik Üretimi
Enerji, Enerji İkmali
Filtrasyon ve Ayırma Endüstrisi
Havacılık Endüstrisi
Kimya Endüstrisi
Madencilik Endüstrisi
Mineral / Petrol / Gaz Üretimi
Seramik, Cam Endüstrisi
Çevre Koruma
Product Index
가스 필터
공기 여과재
관형 필터
기능성 섬유
먼지/안개 필터
백 플러시 필터
백 필터
벨트 필터
부직포
여과천
유리 섬유 필터
유리 필터 백
집진기
코팅 필터, 항균성
필터 백
필터 직물
필터 패브릭
필터 펠트
Market Scope
광물 / 석유 / 가스 생산
광업
세라믹, 유리 산업
에너지, 에너지 공급
여과 및 분리 산업
중공업
철, 철강 제조
항공우주 산업
화학 산업
환경 보호
Product Index
エアフィルターメディア
ガスフィルター
ガラス繊維フィルター
ガラス繊維フィルターバッグ
コーティングフィルター
ダスト・ミストフィルター
テクニカル繊維
バックフラッシュフィルター
バッグフィルター
フィルターバッグ
フィルターフェルト
フィルター布
フィルター繊維
ベルトフィルター
不織布
濾過布
管状フィルター
集塵機
Market Scope
エネルギー、エネルギー供給
セラミック、ガラス産業
化学工業
濾過および分離技術工業
環境保護
航空宇宙産業
製鉄、製鋼業
重工業
鉱業
鉱物・石油・ガス生産