test FILTECH 2021 will again be held at the Koelnmesse in Cologne. Cologne is one of the most important centres for economy, trade and science. Cologne also hosts various cultural highlights such as the Cathedral, Romanesque churches, the historic "old town", museums etc.
Business
Cologne is Germany's fourth-largest city and one of it's dynamic business hubs for international trade representing all business sectors. Within a radius of just 100 kilometres of Cologne, around 17 million people live, more than in practically all the other metropolises of Europe.
Cologne is also an international city. Around 1.075.000 people from more than 180 nations live in Cologne and enjoy the lively coexistence. Cologne is a "multi-culti city" in which 30 percent of the total population come from abroad making the city an international metropolis.
Leisure
The magnificent Cologne Cathedral hovers above the roofs of the city. It is not only used as a point of orientation but is the pride of the people in Cologne. The panorama of the city has been dominated by the Cathedral's gigantic pair of towers since their completion in 1880.
Enjoy the unique Rhine panorama of the Old Town with the Cathedral, the Roman church Groß St. Martin and the historical Town Hall. Enjoy a glas of the famous local "Koelsch" bere and take a stroll through the narrow, cobble-stoned alleys by the river Rhine.
Cologne's originals: Kölsch & breweries
Travelers to Cologne should enjoy their evening time in a traditional brew house. The brewery, Früh am Dom, is not only geographically the center of the city, but it's also only a stone-throw away from the Cathedral.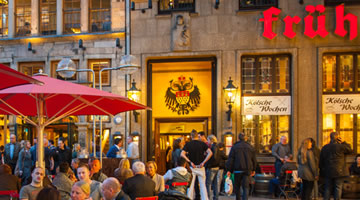 A Kölsch beer is a smooth, light, top-fermented beer. You drink a Kölsch from a so-called "Kölschstange", a thin cylindrical glass. In Cologne breweries Kölsch is served by "Köbes" who take over the job of the waiter. Tip: "Köbes" serve you one Koelsch after another if you don't say "no" and put the beer pad on your glass. The Früh brewery is open daily until midnight.
Eating Kölsch: Halver Hahn & Flönz
Anyone who orders a "Halver Hahn" in a brewery expecting half of a chicken will be astounded: the Köbes will bring, in a Roggen bun, butter and piece of aged gouda cheese. On top of that one spreads a little mustard. Sounds curious, actually tastes really delicious with a Kölsch. Also the Rhine "Sauerbraten" (marinated pot roast) with raisin sauce, dumplings and red cabbage isn't missing.
Restaurant Service
Whatever you feel like eating – you can have it in Cologne. Here you will find more than 3000 pubs, cafes and restaurants serving everything.
Cologne Gastro-Guide
Shopping in Cologne
Cologne's Schildergasse is the most-visited shopping street in Germany. Just like the neighbouring Hohe Strasse, it accommodates large department stores and branches of familiar brands. Exclusive designer shops on the other hand have opened on Mittelstraße and Pfeilstraße.