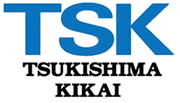 Tsukishima Kikai Co., Ltd. has over more than a century developed the specialized technology in areas of equipment design, manufacturing, and the integrated plants worldwide.
In 1905, TSK was founded as a manufacturer of machinery and equipment to the sugar refinery and expanded its business field into food plants, fertilizer plants, chemical and petrochemical plants. Recently, TSK was able to provide the technology for the materials of secondary battery.
"To protect our precious planet and contribute the development of industry for society", TSK has been fully committed to achieve these two major objectives.
Product Index
Activated Carbon
Dewatering Equipment
Dryers
Filtration Plants
Pilot Plants
Porous Metals
Porous Plastics
Precoat Filters
Pressure Filtration/Dewatering
Vacuum Filters
Market Scope
Ceramic, Glass Industry
Chemical Industries
Environmental Protection
Filtration and Separation Industry
Metal Processing Industry
Mining Industry
Paint, Pigments, Coatings Industry
Petrochemical Industry
Pharmaceutical Industry
Plastic Industry
---
Printed on 2020-07-02