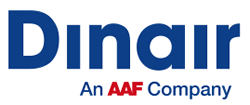 Dinair is one of Europes largest manufacturers and supplier of air filters.
The company has over 350 employees, its own production and product development and a turnover exceeding SEK 350 million(€ 38 M) annually. The Head Office is situated in Vadstena and sales offices with pick-up warehouse depots are located in Stockholm, Göteborg, Malmö, Oslo, Helsinki and Riga.
Dinair can be found on a market where filtration needs can vary enormously. For many existing ventilation units the needs are obvious. By contrast, unit upgrades, rebuilds or where the business activity changes, filtration becomes a science. Where filtration in technical production is involved, the demands are determined by the end product's specifications.
To meet the market's highly diverse requirements, Dinair develops and manufactures its own filter solutions which can provide your company with a better environment and improved competitiveness! Dinair stands for a balanced filter choice. We provide clean air in your surroundings in all situations and together with our product programme and competence we satisfy the market demands for air filters.
Product Index
Absorption Filters
Air Filter Media
Air Filters
Analytical Instruments
Bag Filters
Cabin Air Filters
Carbon Filters
Cartridge Filters
Gas Filters
Glass Fibre Filter
HEPA Filters
Intake Filters
Medical Filters
Microfiltration
Nanofiltration
Market Scope
Aerospace Industry
Building & Construction Services
Chemical Industries
Energy, Energy Supply
Environmental Protection
Food, Beverage Industry
Medical, Health Care Industry
Metal Processing Industry
Mineral / Oil / Gas Production
Pulp, Paper Industry
---
Printed on 2020-07-08