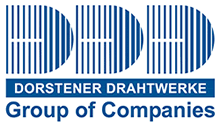 Liquid, Solids and Gas - Filtration and Separation
The Dorstener Group offers innovative solutions for a wide range of woven wire cloth, welded wire mesh, diffusion bonded media and filtration products.
We produce metal filter media and design filtration products.
Air Filtration, droplet separators, hot gas filter, polymer filter, solid-fluid separation, wet/dry screening – We have experiences in all major markets. Developing solutions for challenging filtration and screening demands is our strong suit.
Product Index
Additive Manufacturing
Aeration Systems
Air Filters
Basket Filters (Strainers)
Filter Elements
Filter Fabrics
Metal Cloth
Mist Collectors
Porous Filter Media
Powder Classifiers
Sand Screens
Screening Machines
Sieves
Sludge Dewatering
Stainless Steel Filters
Strainers
Water Filters
Wire Mesh Laminates, metal
Market Scope
Aerospace Industry
Chemical Industries
Filtration and Separation Industry
Food, Beverage Industry
Mineral / Oil / Gas Production
Mining Industry
Paint, Pigments, Coatings Industry
Petrochemical Industry
Plastic Industry
Waste Water Treatment
---
Printed on 2020-07-04