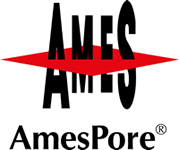 Since 1951, AMES is dedicated to the manufacturing and sales of metallic sintered parts. Our headquarter is located close to Barcelona (Spain).
Filters and porous metallic components are sintered metallic parts with high porosity, between 35 and 80% in volume, typically made of Bronze 89/11 or Stainless Steel 316L.
AMES offers the following range of filters and sintered porous components: – Filters and porous components of Bronze. They are made of spherical particles of Bronze 89/11. The mean pore pitch is variable from 8 µm up to 210 µm, and also its thickness. AMES offers two standard products inside this range:
– Filters and porous components of Stainless Steel. They are made of Stainless Steel 316L. They are manufactured by compacting stainless steel powder in a rigid tool under high pressure. They have high corrosion resistance, and they resist elevated working temperatures (up to 800ºC). The mean pore pitch is variable, from 2 µm up to 16 µm.
AMES also offers the Filters CIP inside this range of product. They are cylindrical filters of small wall thickness and high length, made by isostatic compacting.
AMES offers its R&D department to customers, with the aim of generate specific solutions in shapes, materials, and performance of components where porosity is a highly appreciated factor from the technical point of view.
Product Index
Candle Filters
Disc Filters
Filter Discs
Filter Elements
Filter Media
Filter Plates
Gas Filters
Hydraulic Filters
Porous Filter Media
Pressure Disc Filters
Pressure Plate Filters
Stainless Steel Filters
Tube Filters
Water Filters
Market Scope
Automotive Industry
Chemical Industries
Electronic, Microelectronic Industry
Filtration and Separation Industry
Food, Beverage Industry
Medical, Health Care Industry
Mineral / Oil / Gas Production
Petrochemical Industry
Pharmaceutical Industry
Plastic Industry
---
Printed on 2020-07-05