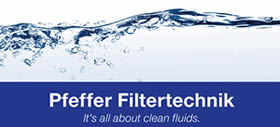 Pfeffer Filtertechnik, specialist in solid fluid separation and filtration, provides a vast range of automatic backflush filters and cyclonic separators for the water treatment sector.
Filtration grades from 5 to 2000 micron and flow rates from 1 to 10.000 m³/h are possible. We are experienced in many fields from ground to waste water. Pfeffer Filtertechnik´s systems are especially suited for water that contains organics, bacterial load and fibrous matter. Low backflush pressure (from 0,8 bar) and minimal waste flow volumes are key features of the equipment. Great as Pre-filter for membrane systems.
Pfeffer Filtertechnik, it´s all about clean fluids!
Product Index
Automatic Filters
Back Flush Filters
Basket Filters (Strainers)
Centrifuges
Cyclones
Desalination
Disc Filters
Drinking Water Filters
Effluent Filters
Fuel Filters
Hydrocyclones
In-Line Filters
Self Cleaning Filters
Separators
Separators - Solid/Liquid
Stainless Steel Filters
Strainers
Ultrafiltration
Market Scope
Agriculture
Automotive Industry
Building & Construction Services
Energy, Energy Supply
Environmental Protection
Filtration and Separation Industry
Heavy Industry
Iron, Steel Manufacturing
Metal Processing Industry
Plastic Industry
---
Printed on 2020-04-04