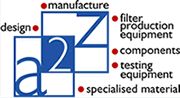 A2Z Filtration Specialities is a Designer and Manufacturer of Filter Production Lines, Filter Testing Equipment and Filter Components with a client base in over 65 countries across six continents.
A2Z exhibits most popular Servo Blade Pleat Techology offered at a better price with top quality components. Note the basic design features:
All known pleat configurations: V, W, M, Step, and Taper.
Automatic Media Thickness Compensation.
CNC Based system
Five or Six Axis Servo Digital Technology.
No cams, No Ball Screws, No Timing Belts, No "Back Lash", Minimal Lubrication.
Pleat set on the fly
Quick Install
Soft Touch for delicate media.
State of the Art Drive Mechanism.
In addition to showing the machine on display, we invite you to discuss with us any other needs you may have in the filter manufacturing activity. We design and manufacture the most complete assortment of pleating and assembly equipment including:
A2Z Assembly Carousels
A2Z Automatic Cabin Filter Lines
A2Z Automatic Seaming Line including J Hook Seamer
A2Z Mini Pleat Rotary and Blade Pleaters
A2Z Pocket Filter Line
A2Z Servo Pusher Bar Pleaters
Quality Pressed Metal Components, Gaskets, etc. (samples on display)
Please visit us at our stand C3 !
Product Index
Cabin Air Filter Production Line
Cutting Systems
Expanded Metal
Filter Seaming Machines
Filter Tube Making Machines
Gaskets for Filters
HEPA-/Mini Pleating Machines
Hot-Melt Type Applications
Knife Pleating Machines
Metal Expander
Panel Filter Lines
Perforation Presses
Pleating Machines
Pore Size Meter
Rotary Pleaters
Slitter
Tube Rolling Machine
Ultrasonic Slitting/Cutting
Market Scope
Aerospace Industry
Automotive Industry
Environmental Protection
Filtration and Separation Industry
Iron, Steel Manufacturing
Medical, Health Care Industry
Metal Processing Industry
Pharmaceutical Industry
Pulp, Paper Industry
Water Treatment, Supply
---
Printed on 2020-07-05