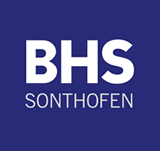 BHS-Sonthofen GmbH is an owner-operated group of companies in the field of machine and plant engineering, based in Sonthofen (Germany).
The company offers technical solutions for mechanical process engineering, concentrating primarily on mixing, crushing, recycling and filtration.
With more than 350 employees and several subsidiaries, BHS-Sonthofen has a global presence.
With more than 60 years of experience in filtration BHS offers filter machines and turn-key filtration units for solid- liquid separation by means of pressure or vacuum filtration. The enormous know-how and the treasure of experience are based on a wide range of realized solutions worldwide and on fully automatic filtration plants.
Key applications are processes in the following industry:
Chemicals
Petrochemical
Oil & Gas
Pharmaceuticals
Food & Feed
Energy
Environment
BHS produces a wide range of filter systems:
Rotary pressure filter (RPF)
Indexing belt filter (BF)
Rubber belt filter (BFR)
Candle filter (CF)
Pressure plate filter (PF)
Autopress (AP)
Lab filters & pilot filters
Product Index
Activated Carbon Plant
Automatic Filters
Belt Filters
Candle Filters
Dewatering Equipment
Drum Filters
Filterability Tester
Filtration Plants
Laboratory Filters
Pilot Plants
Precoat Filters
Pressure Disc Filters
Pressure Drum Filters
Pressure Filtration/Dewatering
Pressure Plate Filters
Rotary Filters
Self Cleaning Filters
Vacuum Filters
Market Scope
Biotechnology/Biopharmac. Industry
Chemical Industries
Environmental Protection
Filtration and Separation Industry
Food, Beverage Industry
Mineral / Oil / Gas Production
Mining Industry
Paint, Pigments, Coatings Industry
Petrochemical Industry
Pharmaceutical Industry
---
Printed on 2020-07-16