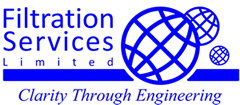 Filtration Services Ltd specialise in the design and manufacture of bespoke solid-liquid process filtration equipment and in particular, the rotary drum vacuum filter.
We are at the forefront of vacuum filtration design, which is evident in the Rotavac One and the Rotavac Lab (pilot and lab scale filters respectively). Filtration Services continue to develop exciting and innovative filtration equipment.
In addition to our expertise in manufacturing bespoke filters we provide a full, technical support service for the correct operation and maintenance for a range of vacuum filtration equipment. This includes the supply of spares and consumables, product and process optimisation, operator training, equipment servicing, process trouble-shooting and unit overhauls.
Filtration Services Ltd provide a unique service for all of the chemical, pharmaceutical and process industries. If your need is to separate solids from liquids then we are here to help solve your problem. Our in-house team of experts offer consultancy services and training programs for managers and operators, to help you get the most out of your process plant.
Filtration Services Ltd, providing clarity through engineering.
Product Index
Drum Filters
Filtration Plants
Laboratory Filters
Laboratory Plants
Pilot Plants
Precoat Filters
Rotary Filters
Rotary Vacuum Filters
Separators - Solid/Liquid
Sludge Dewatering
Table Filters
Test Rigs
Vacuum Drum Filters
Vacuum Filters
Market Scope
Chemical Industries
Filtration and Separation Industry
Food, Beverage Industry
Paint, Pigments, Coatings Industry
Pharmaceutical Industry
Waste Water Treatment
---
Printed on 2020-07-02