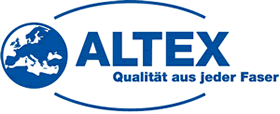 ALTEX is a family-owned company active on the global stage in various markets and industry sectors, formed by the Stienemann family and our staff.

ALTEX offers innovative technological needled nonwoven products and services to customers in the automotive, textile and clothing, building &construction and geotextile sectors with a capacity of approximately 30.000 t per year

Quality, diversity and innovative strength are the company's cornerstones. Reliability and responsible conduct rank among the basic values of the company which was founded more than 80 years ago. ALTEX is committed to partnership and sustainability with customers.
virgin, regenerated, recycled, synthetic and natural fibres
technical nonwovens
weights from 35 - 4.000 g/sqm
thickness from 0,5 - 20 mm
widths from 0,15 - 6,20 m
needled or needled with thermo & chemical bonding
sandwich felts, also with parts of spreaded, recycled material …
pleat-able self-supporting filter-media
filter-media for liquid and solvents
filter frame materials
3D mouldable parts
various coatings & treatments
Product Index
Air Filter Media
Air Filters
Filter Bags
Filter Felts
Filter Frames
Filter Media
Filter Media for Liquids
Filter Textiles
Gaskets for Filters
Liquid Filter Media
Nonwovens
Synthetic Fiber Media
Technical Textiles
Market Scope
Automotive Industry
Chemical Industries
Filtration and Separation Industry
Textile Industry
---
Printed on 2020-07-16