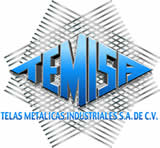 Telas Metálicas Industriales (TEMISA) was established in 1958 as producer of wire mesh, screens, wire mesh filters and conveyor belts.
With our yearlong experience we solve filtration problems and other industry problems. Our company is committed in keeping the operation to the high standards of manufacturing and quality required in the international market.
Our product line covers the following sectors and industries:
Automotive, Plastic and recycling, Petrochemical, Hardware, Mining; Pharmaceutical, Chemical, Steel industry, Agriculture and others
Filters - We manufacture the most extensive range of filters the market requires, in the most diverse materials and alloys. We supply the chemical industry, the dairy, oils, soft drinks industry, laboratories, automotive industry, etc
Our purpose and mission is to cover our customers needs in terms of separation of solid and liquid material in their industrial processes by offering wire mesh, screen, and filters; manufactured with the highest quality standards and technology complying with the specific requirements.
Product Index
Candle Filters
Expanded Metal
Filter Cartridges
Filter Cloth
Filter Discs
Filter Elements
Filter Pads
Meshes, Metal
Metal Cloth
Mist Eliminators
Perforated Metals
Wirecloth Filters
Market Scope
Automotive Industry
Filtration and Separation Industry
Metal Processing Industry
Mineral / Oil / Gas Production
Mining Industry
Plastic Industry
---
Printed on 2020-07-02