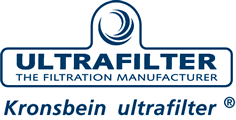 Ultrafilter GmbH is Germany's leading manufacturer of purification components and filters for compressed air, technical gases and liquids.
Many well-known companies around the globe rely on the quality, performance and reliability of the innovative premium products made by Ultrafilter GmbH.
They have evaluated and tested our products and are convinced by the superior. All products are proven and tested according to ISO 9001 quality requirements, ensuring that only the best and most efficient products are supplied to users of ultrafilter products.
Product Index
Absorption Filters
Activated Carbon Media
Air Dryers
Air Filters
Air Sterilization
Cartridge Filters
Cyclones
Drinking Water Filters
Dryers
Filter Cartridges
Filter Elements
Filter Housings
HEPA Filters
Microfiltration
Nanofiltration
Pre-Cleaning Filters
Ultrafiltration
Market Scope
Automotive Industry
Chemical Industries
Dairy Industry
Filtration and Separation Industry
Food, Beverage Industry
Iron, Steel Manufacturing
Mineral / Oil / Gas Production
Paint, Pigments, Coatings Industry
Petrochemical Industry
Pharmaceutical Industry
---
Printed on 2020-07-16