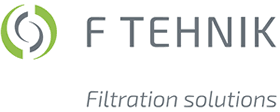 F tehnik is a Slovene business specialising in the development and production of different types of filters.
With our many year experience and successful performance we are trustworthy business partner to many companies dealing with problems on the field of air filtration.
We are proud of fact that more than 90% of our filters are subject to first installation.
Main fields of our operation:
dust-extraction in industry under different filtration conditions (dust-extraction systems, sand blasting machines, flame and laser cutters, paint chambers…),
filtration of air in dust suction systems – industrial and home vacuum cleaners - at different quality levels (micro, hepa…),
development of filters based on customer demand and need.
Product Index
Air Filters
Cartridge Filters
Disposable Filters
Dust/Mist Filters
Filter Cartridges
Filter Elements
Gas Filters
Glass Fibre Filter
HEPA Filters
Medical Filters
Nanofiltration
Odor Removal
Paint Filters
Market Scope
Automotive Industry
Chemical Industries
Filtration and Separation Industry
Food, Beverage Industry
Iron, Steel Manufacturing
Medical, Health Care Industry
Metal Processing Industry
Pharmaceutical Industry
Wood-processing Industry
---
Printed on 2020-07-05