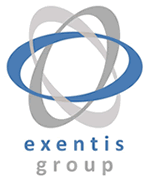 Exentis Group is the inventor of the patented Exentis 3D Mass Customization®, the leading 3D screen print technology.
As a technology company Exentis supplies materials and paste systems, 3D production units and special screens to handle large-scale production with the advantages of free choice of material and ultra-fine structures.
The Exentis technology develops a new flexibility in production processes and replaces time- and cost- consuming tool manufacturing of conventional production. The screens are developed and produced inhouse. Exentis optimizes the complete process from the development project to the customized production of millions of components, for example in the field of industrial solutions or renewable energy. The fast growing company enables customers to decide whether they wish to have their components made by Exentis or purchase their own production licence.
Exentis provides customized Industrialized Additive Manufacturing.
Product Index
Activated Carbon
Air Filter Media
Ceramic Membranes
Ceramic Separators
Dewatering Equipment
Drinking Water Filters
Laboratory Filters
Medical Filters
Membranes
Separators - Magnetic
Stainless Steel Filters
Strainers
Water Filters
Market Scope
Automotive Industry
Biotechnology/Biopharmac. Industry
Ceramic, Glass Industry
Chemical Industries
Energy, Energy Supply
Iron, Steel Manufacturing
Metal Processing Industry
Water Treatment, Supply
---
Printed on 2020-07-16