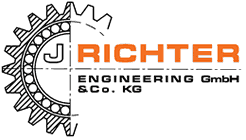 For about 20 years J. Richter Engineering has been a reliable partner in the supply of industrial equipment and components for the metallurgical, paper, plastic, chemical and other industries..
Today we present on the German market a time-tested technical solution for water purification for industrial use in the form of self-cleaning automatic filters by the American company ORIVAL.
ORIVAL was founded in 1986 and today there are tens of thousands of filtration systems operating around the world. Orival products are successfully used both in industrial production and in municipal institutions. Both individual filters and complete systems (with pumps, valves, etc.) are available. One of the principles of the company is the factor that there is no impossible solution to the problems of mechanical filtration of water.
Specialists of J.Richter Engineering are ready to provide a solution for filtering water of any complexity in the shortest possible time.
Product Index
Automatic Filters
Back Flush Filters
Drinking Water Filters
Hydraulic Filters
In-Line Filters
Intake Filters
Medical Filters
Pre-Cleaning Filters
Sand Screens
Self Cleaning Filters
Stainless Steel Filters
Waste Water Filters
Water Filters
Market Scope
Automotive Industry
Chemical Industries
Electronic, Microelectronic Industry
Food, Beverage Industry
Iron, Steel Manufacturing
Mining Industry
Pharmaceutical Industry
Plastic Industry
Pulp, Paper Industry
Textile Industry
---
Printed on 2020-07-05