GANTOIS INDUSTRIES Hall 8 / C45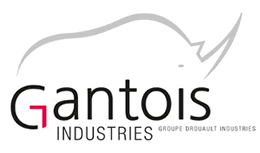 Exhibitor Profile
Created in 1894, Gantois is a true industrial reference in the fields of woven and perforated metals.
Having become Gantois Industries since May 2011 with industrial shareholders Groupe Drouault Industries, our ambition is to combine experience, service and technological innovation to bring you the best solutions today.
With its expertise of 120 years and the passion that drives its teams Gantois Industries develops for you customized and optimized solutions to meet your needs.
Perforated standard sheet metal or customized.
Standard wire cloth in roll or special weave.
Semi-worked or ready-to-use products based on perforated sheet metal and / or wire mesh.
Créée en 1894, GANTOIS INDUSTRIES est une véritable référence industrielle dans les domaines des métaux tissés et perforés.
Products / Markets
Product Index
Drahtgewebe-Faltmaschinen
Gewebefilter
Gewebelaminate, Metal
Perforierte Metalle
Market Scope
Automobilindustrie
Bauindustrie
Bergbauindustrie
Chemische Industrie
Kunststoffverarbeitende Industrie
Lebensmittel-,Getränkeindustrie
Luft- und Raumfahrtindustrie
Mineralöl/Öl/Gasproduktion
Petrochemische Industrie
Pharmazeutische Industrie
Product Index
Perforated Metals
Wire Mesh Laminates, metal
Wire Mesh Pleaters
Wirecloth Filters
Market Scope
Aerospace Industry
Automotive Industry
Building & Construction Services
Chemical Industries
Food, Beverage Industry
Mineral / Oil / Gas Production
Mining Industry
Petrochemical Industry
Pharmaceutical Industry
Plastic Industry
Product Index
穿孔金属板
重型金属丝网Pleaters的
金属丝布过滤器
金属网层板
Market Scope
 汽车工业
制药工业
化学工业
塑料工业
建筑与施工服务业
石化工业
矿产/石油/天然气业
航空航天业
采矿业
食品、饮料工业
Product Index
الثقيلة Pleaters شبكة أسلاك
رقائق الشبك المعدني
فلاتر شبكية
معادن مثقبة
Market Scope
إنتاج المعادن والزيوت والغاز
الصناعات الدوائية
الصناعات الغذائية وصناعة المشروبات
الصناعة البتروكيماوية
الصناعة الكيماوية
خدمات البناء والإنشاء
صناعة البلاستيك
صناعة التعدين
صناعة السيارات
صناعة الفضاء
Product Index
Filtres en tissus de fils
Laminés en mailles de fil, métalliques
Métaux perforés
Plisseurs treillis métallique
Market Scope
Industrie automobile
Industrie aérospatiale
Industrie chimique
Industrie des matières synthétiques
Industrie du bâtiment et de la construction
Industrie minière
Industrie pharmaceutique
Industrie pétrochimique
Industries alimentaires et des boissons
Productions minérales / pétrolière / du gaz
Product Index
Aggraffatrici per rete
Filtri in tela metallica
Laminato a rete, metallo
Metalli perforati
Market Scope
Produzioni minerali / petrolio / gas
Servizi settore edile
Settore aerospaziale
Settore alimenti e bevande
Settore automobilistico
Settore chimico
Settore minerario
Settore parafarmaceutico
Settore petrolchimico
Settore plastica
Product Index
Filtry z tkaniny drucianej
Metalowe połączenia wielowarstwowe siatek drucianych
Nasadki do plisowania filtrów z siatki metalowej
Perforowane płyty metalowe
Market Scope
Przemysł budowlany
Przemysł chemiczny
Przemysł farmaceutyczny
Przemysł lotniczy
Przemysł petrochemiczny
Przemysł samochodowy
Przemysł spożywczy
Przemysł tworzyw sztucznych
Przemysł wydobywczy
Wydobycie minerałów, ropy i gazu
Product Index
Filtros de tela
Laminados de malha metálica
Metais perfurados
Pleaters malha de arame
Market Scope
Indústria aeroespacial
Indústria alimentar, de bebidas
Indústria automóvel
Indústria dos plásticos
Indústria farmacêutica
Indústria mineira
Indústria petroquímica
Indústrias químicas
Produção mineral / óleo / gás
Serviços de fabrico & construção
Product Index
Pleaters Тяжелых условиях сетка
Перфорированные металлы
Сетчатые ламинаты, металл
Фильтры из металлической сетки
Market Scope
Авиакосмическая промышленность
Автомобильная промышленность
Горнодобывающая промышленность
Добыча минералов/ нефти/ газа
Нефтехимическая промышленность
Производство пластмасс
Производство продуктов питания и напитков
Строительство жилых и общественных зданий
Фармацевтическая промышленность
Химическая промышленность
Product Index
Filtros de tela de alambre
Material laminar de malla de alambre, metal.
Metales perforados
​​Pleaters malla de alambre
Market Scope
Industria aeroespacial
Industria de la alimentación y las bebidas
Industria de la automoción
Industria de la minería
Industria de los plásticos
Industria farmacéutica
Industria petroquímica
Industrias químicas
Producción de minerales / petróleo / gas
Servicios de edificación y construcción
Product Index
Ağır Hizmet Tipi Çelik Hasır Plise Makineleri
Delikli Metaller
Hasır Tel Tabakaları, metal
Örgülü Tel Filtreler
Market Scope
Bina ve İnşaat Hizmetleri
Gıda, İçecek Endüstrisi
Havacılık Endüstrisi
Kimya Endüstrisi
Madencilik Endüstrisi
Mineral / Petrol / Gaz Üretimi
Otomotiv Endüstrisi
Petrokimya Endüstrisi
Plastik Endüstrisi
İlaç Endüstrisi
Product Index
금망 필터
금속 철망 라미네이트
철망 플리터
타공판
Market Scope
건축 및 건설 용역
광물 / 석유 / 가스 생산
광업
석유화학 산업
식음료 산업
자동차 산업
제약 산업
플라스틱 산업
항공우주 산업
화학 산업
Product Index
ワイヤークロスフィルター
ワイヤーメッシュプリーター
ワイヤーメッシュラミネート
穴あきメタル
Market Scope
プラスチック業界
化学工業
医薬品業界
建築・建設業
石油化学工業
自動車産業
航空宇宙産業
鉱業
鉱物・石油・ガス生産
食品、飲料業界