Porous Metal Filters Inc. Hall 8 / E46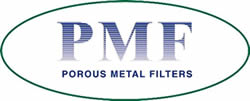 Exhibitor Profile
Porous Metal Filters, Inc. (PMF) provides solutions for filtration, separation, flow control, noise reduction, powder fluidization and other applications through its SinterPore® brand of porous metal materials.
These products are designed for demanding environments requiring accurately controlled pore size and structure and feature high corrosion resistance and high temperature compatibility.
Products / Markets
Product Index
Edelstahlfilter
Filterpatronen
Filterplatten
Filterröhren, Röhrenfilter
Flüssig-Filtermedien
Gasfilter
Gewebefilter
Gewebelaminate, Metal
Heißgasfilter
Heißleimgeräte
Hydraulikfilter
Kerzenfilter
Metallgewebe
Poröse Metalle
Rückspülfilter
Sandsiebe
Vliesmaterialien
Market Scope
Chemische Industrie
Energieerzeugung,-versorgung
Farben-, Pigment-, Beschichtungsindustrie
Filtrations- und Separationsindustrie
Kunststoffverarbeitende Industrie
Mineralöl/Öl/Gasproduktion
Petrochemische Industrie
Product Index
Back Flush Filters
Candle Filters
Filter Cartridges
Filter Plates
Filter Tubes
Gas Filters
Hot-Gas Filters
Hot-Melt Type Applications
Hydraulic Filters
Liquid Filter Media
Metal Cloth
Nonwovens
Porous Metals
Sand Screens
Stainless Steel Filters
Wire Mesh Laminates, metal
Wirecloth Filters
Market Scope
Chemical Industries
Energy, Energy Supply
Filtration and Separation Industry
Mineral / Oil / Gas Production
Paint, Pigments, Coatings Industry
Petrochemical Industry
Plastic Industry
Product Index
不锈钢过滤器
多孔金属
无纺布
气体过滤器
液体过滤滤材
液压过滤器
滤板
滤筒
滤管
烛形过滤器
热气过滤器
热熔型应用
砂筛
袋式平槽过滤器
金属丝布过滤器
金属线织物
金属网层板
Market Scope
化学工业
塑料工业
油漆、颜料、涂料工业
石化工业
矿产/石油/天然气业
能源、能源供应
过滤与分离工业
Product Index
أكياس فلترة للدفق العالي
ألواح رملية
تثقيب المعادن
تطبيقات تميع الشريط الحراري
خراطيش فلتر
رقائق الشبك المعدني
شبك معدني
صفائح فلترة
غير المنسوجات / اللانسيج
فلاتر الرطوبة
فلاتر الغازات الحارة
فلاتر انبوبية
فلاتر شبكية
فلاتر طولانية
فلاتر غازات
فلاتر من معادن مقاومة للصدأ
مواد فلترة الغازات
Market Scope
إنتاج المعادن والزيوت والغاز
الصناعة البتروكيماوية
الصناعة الكيماوية
حماية البيئة
صناعات الفلترة وفصل المواد
صناعة البلاستيك
صناعة الدهانات والصبغات والتلبيس
Product Index
Cartouches de filtres
Ecrans de sable
Filtres en acier inoxydable
Filtres en forme de bougie
Filtres en tissus de fils
Filtres hydrauliques
Filtres à gaz
Filtres à gaz chaud
Laminés en mailles de fil, métalliques
Médias de filtre pour liquides
Métaux poreux
Non tissés
Plaques de filtres
Sacs de filtres de décolmatage
Systèmes pour application à chaud
Tissus métalliques
Tubes de filtres
Market Scope
Industrie chimique
Industrie de filtration et de séparation
Industrie de peintures, pigments et revêtements
Industrie des matières synthétiques
Industrie pétrochimique
Productions minérales / pétrolière / du gaz
Protection de l'environnement
Product Index
Applicazioni fuse
Cartucce filtri
Filtri candele
Filtri di risciacquo
Filtri gas
Filtri gas caldi
Filtri idraulici
Filtri in acciaio inossidabile
Filtri in tela metallica
Laminato a rete, metallo
Metalli porosi
Mezzi filtraggio liquidi
Non tessuti
Piastre di filtraggio
Setacci sabbia
Tessuto metallico
Tubi filtri
Market Scope
Energia, approvvigionamento energetico
Produzioni minerali / petrolio / gas
Settore chimico
Settore filtrazione e separazione
Settore petrolchimico
Settore pitture, pigmenti e rivestimenti
Settore plastica
Product Index
Aplikacja kleju topliwego
Filtry ciśnieniowe
Filtry do oczyszczania gorącego gazu
Filtry gazu
Filtry hydrauliczne
Filtry z tkaniny drucianej
Filtry ze stali nierdzewnej
Filtry świecowe
Materiały nietkane
Media filtrów cieczy
Metale porowate
Metalowe połączenia wielowarstwowe siatek drucianych
Przesiewacze piasku
Płytki filtracyjne
Rury filtracyjne
Tkaniny z włókien metalowych
Wkłady filtra
Market Scope
Filtrowanie i separacja
Produkcja farb i lakierów
Przemysł chemiczny
Przemysł energetyczny
Przemysł petrochemiczny
Przemysł tworzyw sztucznych
Wydobycie minerałów, ropy i gazu
Product Index
Aplicações de cola termofusível
Cartuchos filtrantes
Filtros de aço inoxidável
Filtros de gases
Filtros de gases quentes
Filtros de saco de águas residuais
Filtros de tela
Filtros de velas
Filtros hidráulicos
Laminados de malha metálica
Meios de filtragem para líquidos
Metais porosos
Não-tecidos
Placas de filtros
Tela de metal
Telas de retenção de areia
Tubos de filtros
Market Scope
Indústria de filtragem e separação
Indústria dos plásticos
Indústria petroquímica
Indústrias químicas
Pintura, pigmentos, indústria de revestimentos
Produção mineral / óleo / gás
Protecção ambiental
Product Index
Газовые фильтры
Гидравлические фильтры
Нетканые материалы
Область применения плавких клеев
Пористые металлы
Рукавные проточные фильтры
Свечевые фильтры
Сетчатые ламинаты, металл
Сетчатый фильтр
Ткань из проволочной сетки
Трубные фильтры
Фильтровальные пластины
Фильтрующие патроны
Фильтрующий материал для жидкостей
Фильтры горячих газов
Фильтры из металлической сетки
Фильтры из нержавеющей стали
Market Scope
Добыча минералов/ нефти/ газа
Защита окружающей среды
Лакокрасочная промышленность
Нефтехимическая промышленность
Отрасль фильтрации и сепарирования
Производство пластмасс
Химическая промышленность
Product Index
Aplicaciones de tipo de fusión en caliente
Cartuchos de filtro
Cribas de arena
Filtros de acero inoxidable
Filtros de descarga de bolsa
Filtros de gas
Filtros de gas caliente
Filtros de tela de alambre
Filtros de vela
Filtros hidráulicos
Material laminar de malla de alambre, metal.
Medios de filtros para líquidos
Metales porosos
Non-Wowens
Placas de filtro
Tela metálica
Tubos de filtros
Market Scope
Industria de la filtración y la separación
Industria de las pinturas, pigmentos, revestimientos
Industria de los plásticos
Industria petroquímica
Industrias químicas
Producción de minerales / petróleo / gas
Protección del medio ambiente
Product Index
Dokunmamış Mamuller
Filtre Boruları
Filtre Kartuşları
Filtre Plakaları
Gaz Filtreleri
Gözenekli Metaller
Hasır Tel Tabakaları, metal
Hidrolik Filtreler
Isı Eritmeli Uygulamalar
Kum Elekleri
Metal Kumaş
Mum Filtreler
Paslanmaz Çelik Filtreler
Sıcak Gaz Filtreleri
Sıvılar için Filtre Ortamı
Ters Yıkamalı Filtreler
Örgülü Tel Filtreler
Market Scope
Boya, Pigment, Kaplama Endüstrisi
Enerji, Enerji İkmali
Filtrasyon ve Ayırma Endüstrisi
Kimya Endüstrisi
Mineral / Petrol / Gaz Üretimi
Petrokimya Endüstrisi
Plastik Endüstrisi
Product Index
가스 필터
거름판
고압 가스 필터
금망 필터
금속 철망 라미네이트
다공질 금속
메탈 클로스
모래막이
백 플러시 필터
부직포
속건성 도포
스텐레스 스틸 필터
액체 여과재
유압 필터
캔들 필터
필터 카트리지
필터 튜브
Market Scope
광물 / 석유 / 가스 생산
석유화학 산업
에너지, 에너지 공급
여과 및 분리 산업
페인트, 안료, 도장 산업
플라스틱 산업
화학 산업
Product Index
ガスフィルター
キャンドルフィルター
サンドスクリーン
ステンレス鋼フィルター
バックフラッシュフィルター
フィルターカートリッジ
フィルターチューブ
フィルター板
ホットメルトタイプの用途
ワイヤークロスフィルター
ワイヤーメッシュラミネート
不織布
多孔質メタル
油圧フィルター
液体フィルター媒体
金属布
高温ガスフィルター
Market Scope
エネルギー、エネルギー供給
プラスチック業界
化学工業
塗料、顔料、コーティング産業
濾過および分離技術工業
石油化学工業
鉱物・石油・ガス生産
Press release
Porous Metal Filters develops filters for customer solutions
The need for a metal filter media with superior filtration and workability characteristics is the driving force behind the success of the PMF development of products for challenging applications. Profound understanding of processes and product performance help PMF to develop filters for customer solutions.
SinterPore® porous metal filter products can be constructed from one to multiple layers of stainless wire mesh and they are designed for precision, controlled porosity, uniform pore size distribution. SinterPore® laminates are permanently bonded under precise diffusion bonding (sintering) conditions, yielding robust, monolithic materials used in a wide variety of engineering applications ranging from industrial filtration to aerospace transpiration cooling.

Standard 2- and 3-layer SinterPore® fluidizing laminates with customer-specific permeability and flow rates are often used in bulk powder handling.

Standard 5-layer SinterPore® laminates are used in pharmaceutical, polymer, liquid, and gas filtration.

SinterPore® metal filter cartridges are designed to meet heavy-duty industrial and chemical process conditions. Our SinterPore® cleanable filter element cartridges are available in an infinite range of custom woven and non-woven metal laminate materials that are designed to meet the most stringent specifications. The cartridge custom designs are highly permeable and back washable with superior cake release properties. They are produced of standard 316L materials (custom materials available upon request). Both the filtration media and end fittings and are designed to fit most industrial filter housings, but we can also produce custom retrofits to accommodate any need.

SinterPore® filter element cartridges are available in a broad range of micron ratings, permeability and mechanical strength. The standard 316L stainless steel construction is recommended for continuous temperatures of up to 330 degrees C with maximum pressure differentials of 100 psid O.D. to I.D and 50 psid backwash reverse flow I.D. to O.D.
Images